"Magic grass" promises agricultural development boost
By Adel Fruean

•
03 March 2021, 2:00PM
Fifty local farmers from around Upolu and Savaii have been selected to take part in an ongoing training programme to boost Samoa's agricultural development.
The "Juncao technology training programme" in Samoa is sponsored by the Chinese Ministry of Agriculture and Rural Affairs.
It is implemented by the China National Engineering Research Center of Juncao Technology, and facilitated by the Samoa-China Agricultural Technical Aid Project (S.C.A.T.A.P.) expert team.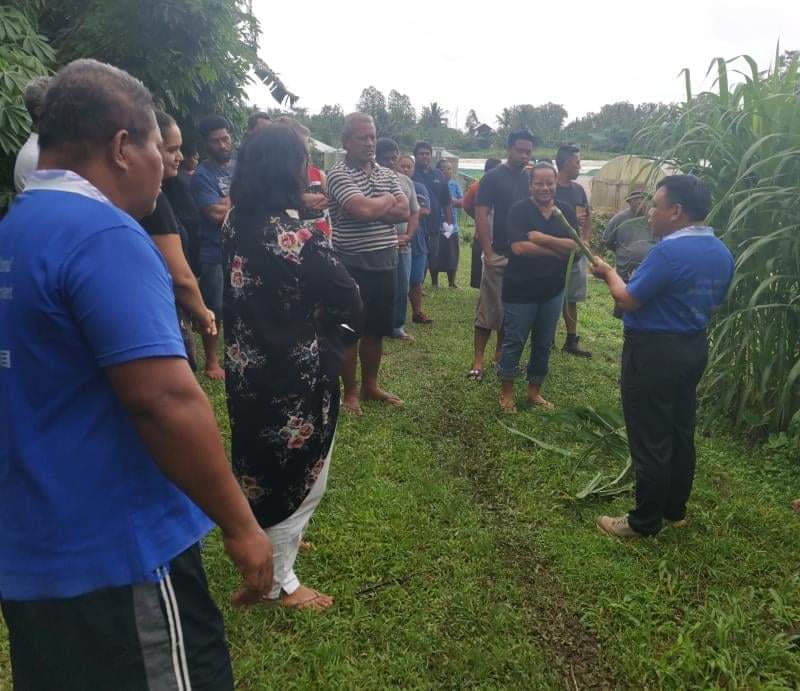 This was confirmed by the Senior Agronomist of S.C.A.T.A.P., Jim Liu in an interview with Samoa Observer.
According to Mr. Liu, two trainings have already been carried out with some sessions completed virtually due to border closures. 
He spoke on the significance of the Juncao technology - the herbal plant for growing edible mushrooms - saying that it has been welcomed by more than 500 counties in China for the alleviation of poverty, and been disseminated to 106 countries through training programmes or on-site demonstrations.
Furthermore, he explained that the technology was invented by National Juncao Technology Research Center, Fujian Agriculture and Forestry University. In their experience, the introduction of Juncao technology could bring about tangible economic, social and environmental benefits to recipient countries and people.
"Juncao is often called 'magic grass' because of its unique values," he said, adding that the herbal plant is also good feed for livestock and soil erosion control.
"Juncao is the best material for cultivating mushroom. The development of mushroom farming and processing industry will surely increase local farmers' income and create job opportunities. 
"Secondly, Juncao is a source of clean energy that helps address the challenges of climate change. 
"A ton of dried Juncao could produce over 450 cubic meters of biogas. Juncao also helps conserve soil and prevent soil erosion."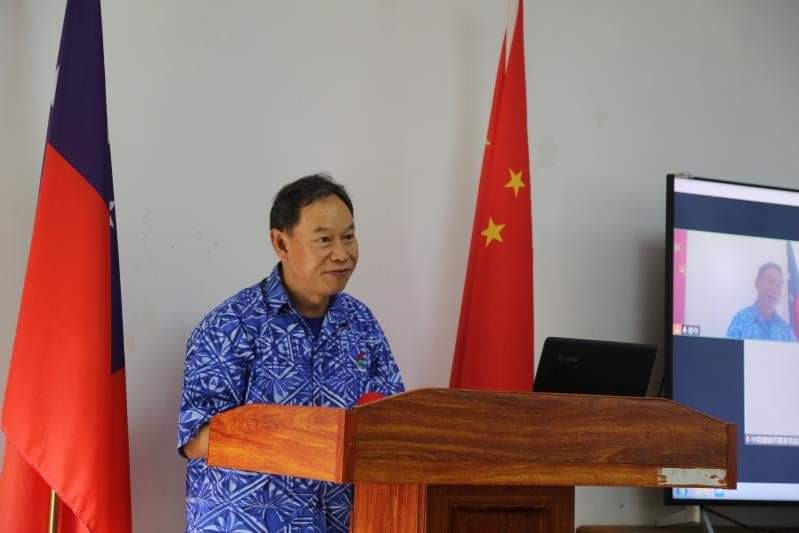 The Senior Agronomist from S.C.A.T.A.P mentioned that one acre of land can produce 120-200 tons of fresh grass per year, which can grow 48-60 tons of fresh mushroom, or feed 12 cattle or 120 goats.
"The crude protein content of 8-month old Juncao grass could reach 12.74 per cent, comparing to local grass only 5.40 per cent."
Mr. Liu also shared that last week, the Chinese Government supplied all the materials and equipment needed for mushroom training in Samoa. 
"They also provided technical support through training and consultancy.
"We have helped to rehabilitate the mushroom laboratory, mushroom fruiting room and Juncao grass demonstration field in the Crops Division, Ministry of Agriculture and Fisheries (M.A.F.). 
"The officers of M.A.F. have learned all the technologies needed for mushroom production. Agriculture is one of the pillar industries in Samoa's national economy."
In addition, he made special reference to Professor Lin Zanxi from Fujian Agriculture and Forestry University, who is known as "the Father of Juncao Technology."
Liu said Professor Lin was awarded by the Chinese Central Government on February 25th, 2021 for his extraordinary contribution to China's National Extreme Poverty Alleviation plan, which was a national initiative that has alleviated poverty for 98.99 million people since 2012.
Mr. Liu said that Professor Lin sent a special message to the Samoa Juncao Technology Training Programme saying that science and technology is the most powerful tool to fight against poverty. 
While Samoa boasts about many advantages in agriculture with its fertile soil, bright sunshine and ample rainfall, China is a large agricultural country and has rich experience in tropical agriculture. 
"There is a broad prospect for agriculture cooperation between China and Samoa," he said. 
He also added that the Juncao Technology Training is the latest example of the agricultural cooperation between China and Samoa, especially under the background of the COVID-19 global pandemic.
"There is an old saying in China which says 'give a man a fish and you feed him for a day. Teach a man to fish and you feed him for a lifetime'," said Mr. Liu. 
The Minister of Agriculture and Fisheries, Lopao'o Natanielu Mu'a, and the Chinese Ambassador to Samoa, Chao Xiaoliang have shared their hopes that the Samoan technicians and farmers participating in the Juncao technology training would make full use of the training and write their own magic story by utilizing the "magic grass".
Mr. Liu said that the Juncao Project is promoted personally by the Chinese President Xi Jinping, since the 1990s; and Fiji and Papua New Guinea have realised the herbal plant has potential to develop commercially through agricultural developments.
By Adel Fruean

•
03 March 2021, 2:00PM