Uso Satalo rebound to beat Lotofaga 1

By Vaelei Von Dincklage

•
20 February 2021, 11:20PM
Uso Satalo clawed back an early lead from Lotofaga 1 to emerge victorious at Saanapu field during Saturday's Safata Rugby Union sevens series.
The victorious team emerged with a thumping 21 - 12 win but the score did not reflect Lotofaga's highly successful first half. 
Lotofaga 1 began with a successful start after securing the game's first try. But their first-five failed to add to the team's total after an unsuccessful conversion attempt.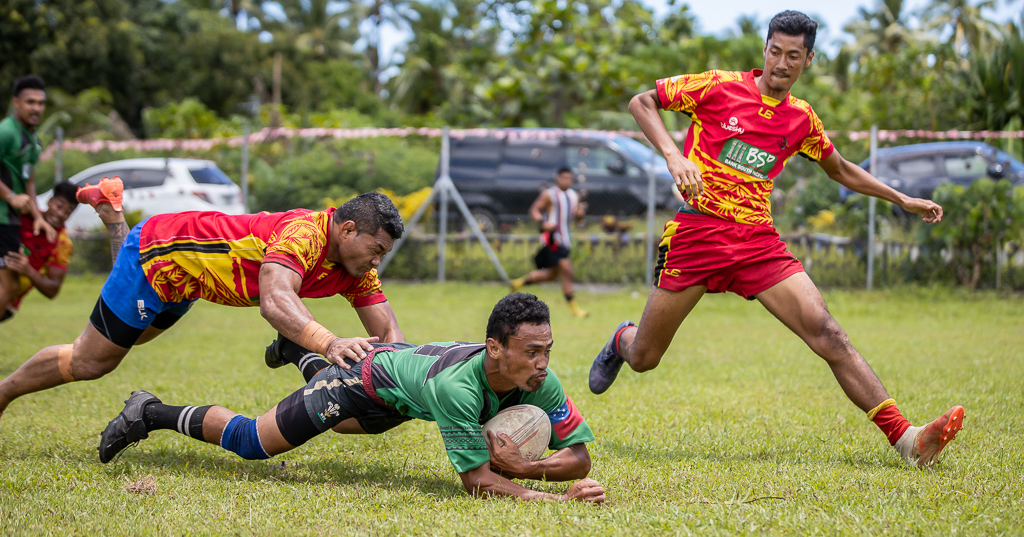 The team executed another successful run, planting a try on the left side of the post. With a successful conversion the team extended their lead going into half time with a 12 - 0 lead. 
But Uso Satala came back in the second half, overturning Lotofaga's first half by securing three consecutive tries; all three were accompanied by successful conversions driving them into the lead position with 21 - 12.
Uso Satalo is the only team from the Safata Rugby Union in the Marist 33rd International sevens. Speaking to the Samoa Observer, the team's assistant coach, Sailimalo Sosiua Silafaga, said that their preparations for the tournament had so far been lacking. 
"At the moment, our preparations for the Marist sevens are not looking good as most of our players are employed. But they will start their camp tomorrow. Our training is not well,  these small sevens tournament helps in getting our fitness but not that much," he said.
Speaking about the Safata rugby union tournament, the assistant coach said having they working on the team's fitness work to rise to the level in the Marist competition.
"For our players, this tournament is not at the same level as the Marist, so our players really need to improve their fitness. I know maybe some of the other team's preparations are also not perfect," he said.
This year will be the team's fifth year entering the Marist International Sevens. The Uso Satalo will start forming their camp for the Marist sevens tournament on Sunday evening.
Some 11 men's teams and 3 women's teams played in the Safata Rugby Union sevens series on Saturday. 
The men's teams included Laulaau mai Farani- Sataoa, Saanapu-Uta, Saanapu-Tai, Tafitoala 1, Fausaga, Tafitoala 2, Sataoa 2, Vaimai, Lotofaga 1, Sataoa 3, and Uso Satalo.
While the women's teams were Tafitoala, Saanapu, and Mulivai Safata.
Satalo fielded three teams in the competition including the one selected for the Marist International sevens beginning on 26 February.

By Vaelei Von Dincklage

•
20 February 2021, 11:20PM