M.P. Va'afusuaga honoured in state funeral
A loving father, faithful husband and a model Member of Parliament, Va'afusuaga Toleafoa Sauafea Kenneth Mark Va'afusuaga Poutoa, was laid to rest at his home in Falease'ela on Saturday.
He was 53-years-old and is survived by his wife, Vaela'a Teresia Vaeluaga-Poutoa and one daughter, Winniefred Silupevaelei Poutoa.
Government officials, families and friends packed the Falease'ela uta Catholic Church for his final service.
Speaking during the service, his daughter said while his dad was known by many names such as 'radio', 'toy wrecker' and 'three seconds', though her favourite was 'dad'.
Winnie said her father never failed to drop her off at school from a very young age, right up to her Foundation Year at the National University of Samoa.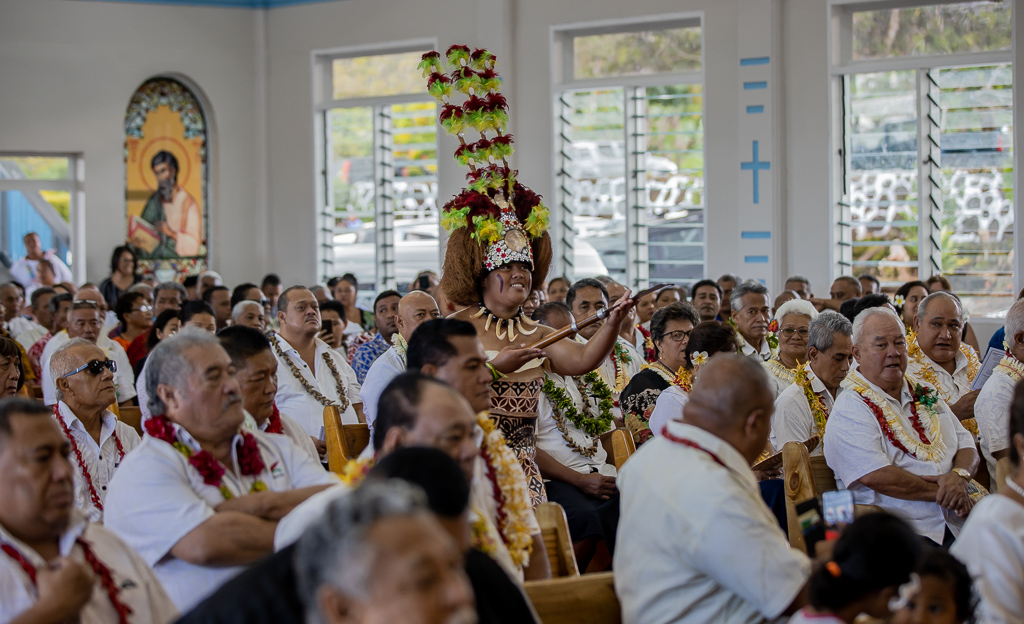 "It wasn't until I was awarded with a scholarship that he no longer took me to school, but I believe that if there was a road from here to Victoria University, I would not have lived there," she said holding back tears.
"I know he would have driven no matter how far to drop me off to school and back.
"He was loving, he enjoyed tidying up his cars, he was like another woman in the family. Whilst my mum is busy in the office, you'd see him with the broom, tidying whatever he could.
"He never differentiated; he would talk to anyone and everyone, young and old. He was many things but there is only one name I know him by and something I am proud of, was calling him dad."
The Prime Minister, Tuilaepa Dr. Sailele Malielegaoi spoke on behalf of the Government, Parliament and Judiciary during the service.
Tuilaepa referred to Va'afusuaga as the Speaker's favourite as he would be the most enthusiastic M.P. on the days when the Parliament convened.
Tuilaepa said Va'afusuaga is sorely missed in Parliament where a wreath lays on his seat since the news of his passing.
"Va'afusuaga would visit the Speaker and urge him to give him the chance to speak first in Parliament, to break the ice and the Speaker would let him," he said.
"The Speaker likes a Member of Parliament like this, a Member who is excited and passionate to carry out his duty, just as he took the oath.
"He was a member of the Human Rights Political Party, he was a dear friend, and he was respectful, his manners will not be easy to forget."

Mrs. Poutoa during her eulogy said Va'afusuaga was the man of her dreams, saying her late husband embodied every quality in a man she prayed for as she was growing up as the seventh of eight children.
Holding back tears, Mrs. Poutoa said she wanted a man who did not smoke, drink and loved his parents.
"I think my friend was hoping to study as a priest, but eventually changed his mind when he met me," she added. "My parents were surprised by how quick I said 'I do' to Ken, when it hasn't been a year since we got together, but little did my parents know that Ken had passed with flying colours already."
She added that while Va'afusuaga did not go far in school, as he drove for a  judge in the Court of Appeal, the Labour Office as well as his parent.
"Maybe if there was a logbook review for visitors to Mulinuu, maybe my friend and his parents would be the first because this was his job; taking his parents for a ride every evening," said Mrs. Poutoa.
She said her late husband's position and businesses is testament to Va'afusuaga's persistence and hard work starting with one taxi.
Mrs. Poutoa told of her sadness on the day her husband died in the hospital in New Zealand while she was stuck in quarantine.
Upon arrival, tests revealed that Va'afusuaga had three blocked arteries and needed to undergo an operation on one of the arteries, while the other two arteries at a later date. 
Recalling a few days after their arrival in New Zealand, Mrs. Poutoa said it was like her husband became a "phone operator" at the hospital, considering how often he called and how quickly he answered the phone.
She said he was chatty, optimistic and had planned to move into the hotel where she was being quarantined as soon as he was discharged.
But a few hours before his operation, Mrs. Poutoa said his chatty tone had shifted.
"He was thanking me; he thanked me for our marriage, and thanking me for our little family and his one and only daughter," she said.
"I asked him if he was scared, and he said no. Then I assured him that I was more thankful to God for giving me you as my husband and the father to my daughter."
Little did she know it was the last time she would speak to Va'afusuaga.
Mrs. Poutoa was notified of her husband's death by the hospital over the phone, saying his heart had "collapsed" and could not be resuscitated after 20 minutes.
Catholic Priest Lafaele Tevaga said Va'afusuaga will always be remembered for his services to the parish as he was the one spearheading the project of the brand new building.
Va'afusuaga was the eldest of six children of Toleafoa Oscar Afa Poutoa and Suivaaia Asiata Poutoa.
He hailed from the villages of Matautu Vaimauga, Levili, Falefa, Faleaseela, Vaiusu, Vaigaga, Satupaitea and Saoluafata.
He was an ex-student of Marist Brothers in Mulivai, St. Joseph's College in Alafua, Samoa College and the University of the South Pacific in Alafua where he graduated with a Certificate in Law.
Va'afusuaga was a businessman and a former Director of the Samoa Shipping Corporation Board and a Member of Parliament for Lefaga and Faleaseela in the 16th Parliament of Samoa.
He was the Chairman of the Constituency Committee, Chairman of the Catholic Church of Faleaseela uta and the Chairman of the Faleaseela Catholic Church.