Tom Brady fans in Samoa celebrate 7th Super Bowl ring
More than a hundred fans of American football crowded into the ballroom at Taumeasina Island Resort to witness legendary quarterback Tom Brady, 43, defy age and clinch his seventh Super Bowl ring with a convincing 31-9 win over the Kansas City Chiefs on Monday.
It was Mr Brady's tenth appearance in a Super Bowl and his first with the Tampa Bay Buccaneers.
Samoan fans of American football, many representing their favourite NFL teams, packed the Manono Ballroom at the resort for the live screening of Super Bowl LV (55).
Jim Weise, 63, a missionary for The Church of God from Springfield, Missouri, who has lived in Samoa for 15 months, was among those fans.
He got to the live screening venue way before the 1:30 p.m. kick-off because he didn't want to stand in the back of the room for the big game like he did for the Super Bowl 2020 watch party.
Arriving early, Mr Weise claimed a front row table in front of a 120-inch widescreen TV.
He is a native of North Dakota but his hometown is Springfield, Missouri, located south of Kansas City.
"I feel a little let down. The game was more lopsided than I like to see. I like to see a close game. I think they (Chiefs) got way too many penalties especially in the first half," said Mr Weise.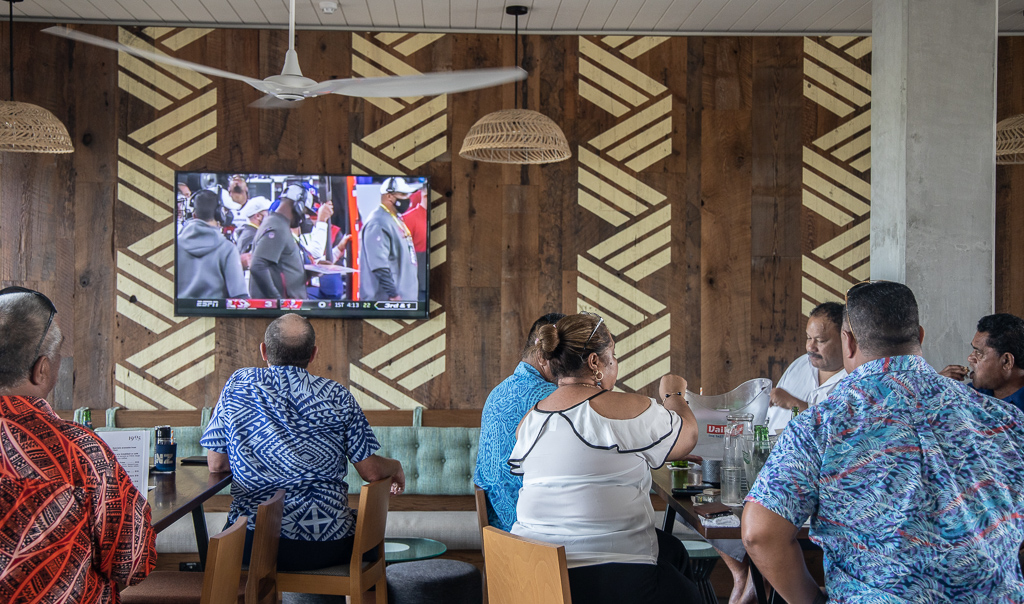 "Last year's game was really exciting. Both teams scored and the score went back and forth and the final score was in the favour of the Chiefs. It could have been the other way just as easy."
Both Mr Brady and Chiefs quarterback Patrick Mahomes "are really cool" he said but "Brady had it together."
"Brady had it together. They are both really cool. Brady had a good frontline that protected him. So he had a real good offensive line that helped save him," said Mr. Weise.
The Kansas City Chiefs is his second favourite team. 
"My favourite team is the Minnesota Vikings but they haven't been to a Super Bowl in a long time. They did it four years in a row and lost every time," Mr. Weise said.
"I am hoping Kansas City will be back [in 2022] but I could also hope my Vikings will be here too."
Local athlete Tulele Masoe, 32, was rooting for Mr Brady and the Tampa Bay Buccaneers.
It was his "first time ever" attending a Super Bowl watch party.
"I feel pretty awesome aye. I'm not really surprised...it was a pretty easy win," said Mr Masoe.
Andrew Pedrana who runs On The Rocks Cocktails in Tauese said he was at the watch party to support Mr Brady.
"I feel great. This is a good changeover for Brady. This was his way of saying he is still the G.O.A.T. (the greatest of all time). You can't beat him," said Mr Pedrana.
"If you want to take over from the G.O.A.T., you better beat him...no matter what team he plays for, you cannot bet against Brady You don't muck around with Brady. Mahomes, he is the next G.O.A.T. I am not saying he isn't great. He is great but he has got to wait until he beats Brady."
Football fans remarked that Taumeasina's watch party was "awesome" with a good atmosphere and good people.
LAVA Hotel also hosted a Super Bowl watch party.
The Buccaneers' victory exceeded expectations and made all kinds of history on Sunday night at Raymond James Stadium, reports CBS Sports. 
In dominating the Kansas City Chiefs 31-9, the Bucs won its second Super Bowl and became the first team to win a Super Bowl in their home stadium. 
Mr Brady secured his seventh Lombardi Trophy, two more than any player in NFL history and one more than any entire NFL franchise has achieved.
"Brady's performance at age 43 was nearly flawless," according to CBS Sports.