Samoan transgender soldier "ecstatic" after army ban lifted
A Samoan U.S. Army soldier, Arrianna Princess Auva'a, is overjoyed after newly sworn in President Joe Biden signed an executive order lifting a ban on transgender people serving in the military. 
President Biden overturned predecessor Donald Trump's ban on transgender people serving in the military as part of a spate of executive orders issued shortly after he took office.
From Fort Stewart, Georgia, United States, Specialist (E-4) Auva'a, 34, told the Samoa Observer she thanked God that the ban was lifted.
"I'm quite ecstatic with the decision and the reversal of the transgender ban on trans soldiers,"  Specialist Auva'a told the Sunday Samoan. 
"It's an overwhelming feeling that we transgender people get to serve and we are honoured for it and we are recognised without any restrictions or any more barriers that will keep us from serving,"
Known simply as Princess among family, friends, and the 100,000 people who follow her on social media, the transgender woman and beauty pageant winner joined the army five years ago.
Specialist Auva'a is one of four children, two boys and two girls, born to Haserota Auva'a and Terry Custodio Auva'a of Malaeloa, American Samoa.
The transgender woman Specialist has roots in American Samoa and Samoa – in Malaeloa and Fagaitua on Tutuila, Vaoala on Upolu and Falealupo in Savai'i.
When Trump banned transgender people from serving, Princess said she felt devastated, 
"It was a shared emotion of defeat and devastation with myself and other transgender soldiers," she said.
"It felt like we ran a mile to come ahead and achieve the goal of serving in our truth only whalto be gutted and held back. 
"There were many transgender soldiers who were actually removed from the military when this ban was put in place. It made serving hard for me. It made serving frightening.
"It made by day-by-day serving even more scary because we have so many transgender women murdered just because they are transgender. For me and my fellow transgender brothers and sisters in arms, we are in the open about who we are. 
"Trying to get medical attention in regard to our transition and our health was difficult and when the ban came in it made things even more difficult. It was a devastating day but I thank God that I saw it through and the many of us saw it through and we're still here."
Specialist Auva'a has previously been stationed at Fort Jackson in the state of South Carolina, Fort Lee in the American state of Virginia, and is now serving her second term at Fort Stewart in Georgia, 
She is a water purification specialist and a ceremonial specialist working in the 3rd Infantry Division Protocol Office.
The team she works with plans and executes all ceremonies at Fort Stewart. 
Ceremonies Specialist Auva'a overseas range from memorials to promotions, changes in command, and retirement ceremonies.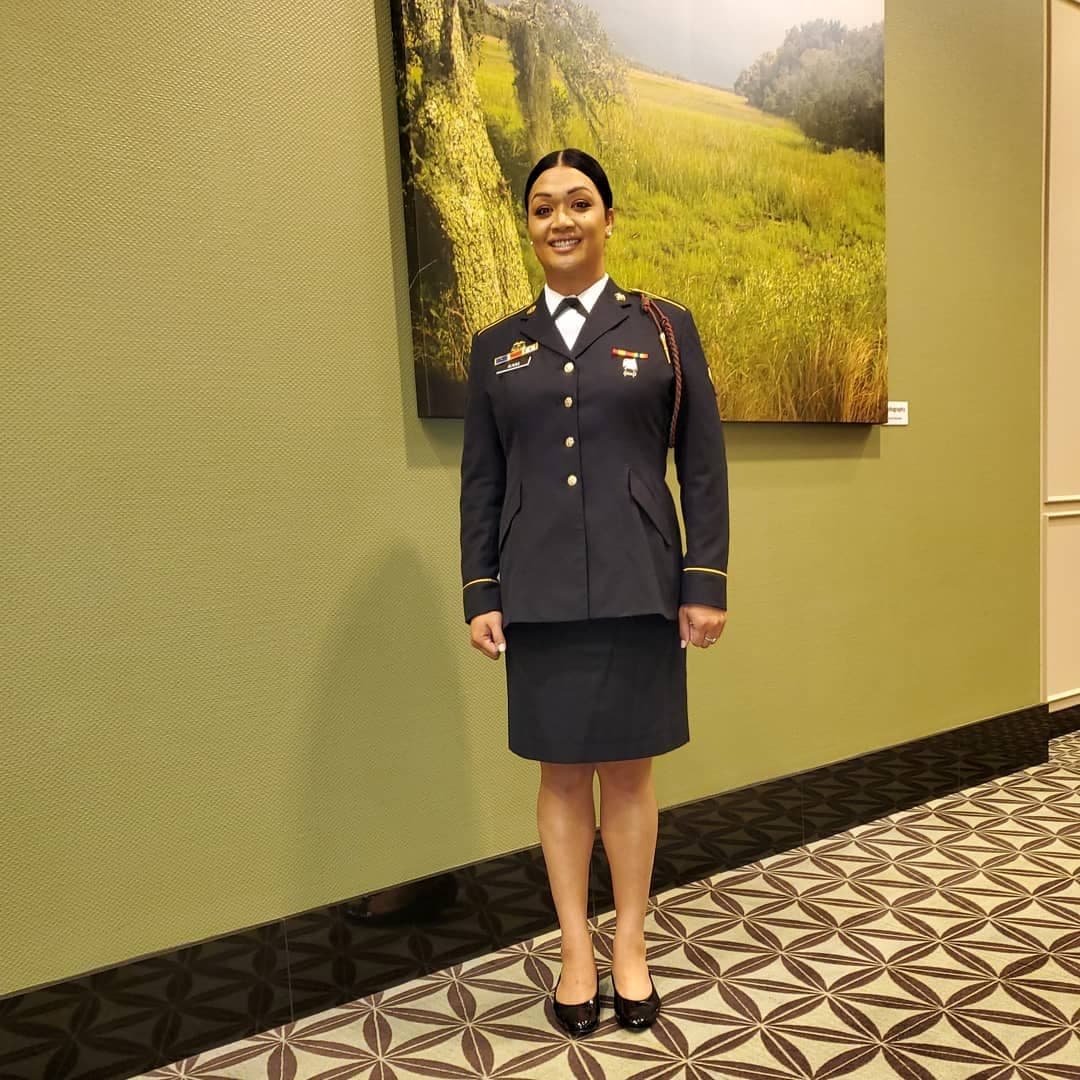 "My office, we write, type out the scripts, we rehearse with entire units – every step, from the marching of the soldiers, to where they stand, to the time they salute, to the time they turn – we office handle all of that. So we can handle ceremonies of up to a thousand soldiers and it's just the four of us," Specialist Auva'a said. 
She says that serving in the army is part of a higher purpose and a family calling that began with her grandfather.
"I am serving a greater purpose and I have made something of myself and I feel fulfilled that I have a higher purpose and that is serving in the United States military," Specialist Auva'a said. 
"I joined the ranks as the rest of my family members like my grandfather and my mom's oldest brother, my many cousins and my sister who served. I wanted to be part of that family legacy."
"The army is a great place for one to grow as an individual and to grow with the team and organisation. I have met the greatest of people who have mentored me, helped me and protected me. These people stood by me when I needed people to support me."
Specialist Auva'a says that serving in the army has been the highlight of her life.
"It has been an honour and a pleasure. I have done a lot of great things but serving in the U.S. Army is the best thing I have ever done in my entire life...serving in this uniform and being a part of this or has been the highlight of my life," Specialist Auva'a said, 
"I met great leaders and I am still working under great leaders...I am very well respected and that goes to show for my upbringing as a Samoan. I respect people...and that respect if reciprocated. I have been recognised not only in writing and verbally."
In the past five years, she has collected a number of awards and recognition for her performance in the army, bestowed upon her by a four-star general; Washington D.C.'s Congress delegate Aumua Amata; a two-star general; and the Governor of American Samoa Lemanu Peleti, among others. 
Her awards include recognition by Forscom Commander General Michael X. Garrett and the 3rd Infantry Division Commander Major General Antonio A. Aguto.
She also received recognition and pin from the former U.S. second Lady of the United States of America, Karen Pence  
"[It was] just for being brave," said Specialist Auva'a. 
"My message to anyone is no matter your age, no matter your skin colour, no matter what gender identity you identify with, whatever goals you have – set them and then reach them," she said. 
"Whatever dreams that you may dream, make them a reality. No one can ever stop you from reaching your goals or living your dreams other than you."
Specialist Auva'a invites all to join her on Facebook's Koko Comedy channel for some "laughs, lessons and some scolding."
"Koko Comedy is now my platform to do this – share my experiences in life and share my experiences on a day-to-day basis," she said. 
"Koko Comedy started from a dark place and Koko Comedy helped save me. 
"We are changing lives and saving lives. We reach out to one person one day at a time and we are able to make that change."
• This story was edited 31/01/2021 to remove the incorrect reference to Arrianna Princess Auva'a as an 'officer' as well as social media details.