Workshop to strengthen Govt. communications strategies underway
A workshop to strengthen Government communication strategies and encourage engagement with media and citizens was held at Tanoa Hotel on Wednesday. 
The three-day National Disasters and COVID-19 Communications workshop is supported by the Pacific Media Assistance Scheme (P.A.C.M.A.S.) in collaboration with the Government of Samoa. 
The main objective of the activity is to strengthen external communications and internal partnerships between Government agencies in the coordination of national emergency responses in times of disaster.

This activity will focus on government communication focal points to provide them with a better understanding of the process of producing and disseminating reliable external communications, as well as timely and coordinated information exchange between stakeholders during times of crisis.
P.A.C.M.A.S. is partnering with Samoa's Ministry of the Prime Minister and Cabinet and the National Emergency Operation Centre (N.E.O.C.) to support Government communications professionals to better share information during times of crisis. 
Improving communications by the Samoan Government will contribute to the P.A.C.M.A.S. objective of facilitating discourse across government, business and civil society, via Pacific media.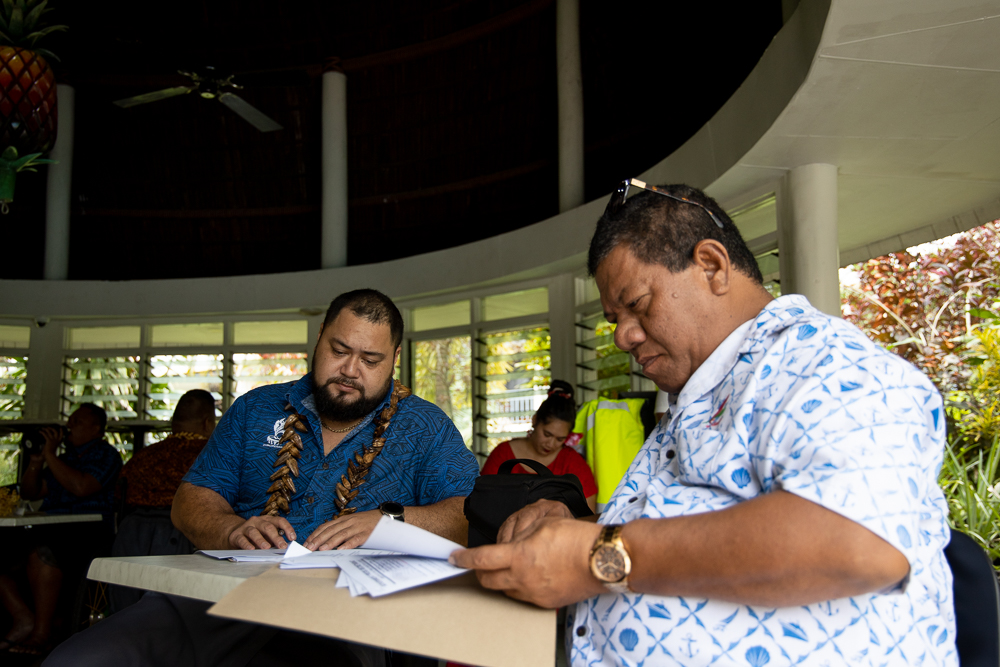 This activity supplements core P.A.C.M.A.S. activities that support journalists, media professionals and regional institutions to report responsibly on and mediate discussion about key issues affecting development.
The opening of the workshop was attended by the Australian High Commissioner to Samoa, Sara Moriarty, Interim Chair of N.E.O.C., Agafili Shem Leo and Government communications officers and officials. 
According to Ms. Moriarty, in August 2020, P.A.C.M.A.S. held a workshop entitled 'Reporting on COVID-19', which aimed at supporting Samoan journalists to improve the quality of reporting on COVID-19 in Samoa and encourage positive interaction between media and government officials responding to the pandemic.


"Following the August workshop, the N.E.O.C. expressed the desire for more effective communication and information exchange between N.E.O.C. and the relevant response agencies and those impacted by disasters or emergency events, as well as the general public," she said. 
She added that they were very happy to support this request. 
Speaking on the workshop aims, she explained that it will equip the workshop participants with tools that will strengthen external communications and internal partnerships between Government Agencies in the coordination of national emergency responses in times of disasters. 
Agafili stated that the role of the media during national disasters is crucial in assisting the Government to disperse accurate information so the public can be well informed on what's happening, also noting that stories written today will be information that future generations can refer back to.
He added that while there is a saying in journalism, "What sells is news," he urged everyone to work together so that correct information is being delivered to the public, quickly, to save lives and build trust in the community. 
It is expected that the improvement of these processes, and awareness of having one focal point for official information (as opposed to different sources, including media and government agencies), will go a long way to diminishing the spread of misinformation.
The Interim Chair of N.E.O.C. also thanked the Government of Australia and P.A.C.M.A.S. for the initiative. 
"Our country is currently dealing with a deadly disease [COVID-19] but we are also in the cyclone season," he added.
Ms. Moriarty added that they want to encourage positive interactions between government officials and media in ensuring dissemination of reliable and timely information. 
"During a crisis - international and national - the relationships between the Government, media and the public become increasingly important.
"Each stakeholder group relies on the other to gain an understanding of what is going on, influence perceptions of the situation and shape responses."
However, the Australian High Commissioner mentioned that it is well documented that media and authorities can sometimes find themselves in conflict springing from their respective roles.
"Fundamentally, for those managing Government responses to disasters, the disaster is the focus, and ensuring public trust and confidence in that response is crucial.
"For the media, disasters are a type of news, one of many. First responders are authorities, whether it be fire, police, or government bureaucrats, who must be criticised just like any other. These two sides need to understand the other's perspectives and to develop a system of working together. 
"In a crisis situation, access to information and how to treat that information, whether it's to inform the public or to write a dramatic story, is a crucial issue." 
In addition, she said that independent and robust media institutions play an important role in keeping the community informed during times of national disasters. 
"But different media have different aims, and it's important to understand that. So, I think it's important that each organisation thinks about what its aims and motivations are and understands how the others operate. 
"Is the media you are working with primarily focused on disseminating information, like a radio station would issue a warning to people at a time of cyclone or bushfire or is the organisation looking for a dramatic "people story" focusing on sensationalising a situation? Your communications response would be different for each.
"Government coordination is absolutely crucial in managing information flows at a time of crisis. There needs to be clearly established communications focal points to deliver agreed messages and to ensure consistency of messaging, transparency, cooperation and mutual trust."
Ms. Moriarty also shared that the workshop will be useful in building systems among government departments and agencies to prepare them to manage crises and navigate the enormous difficulties that national disasters bring.
"Ultimately, we need to make sure that the public is informed with the best quality information so that we can protect all of us, particularly at this most challenging of times."