Spilt milk at Sinamoga costly for firm
A company lost hundreds of tala worth of Devondale milk when cartons filled with the dairy product at the back of a delivery truck fell onto the road at Sinamoga.
The incident occurred on Wednesday afternoon, according to Brown Girl Woke (B.G.W.) employee Temple Lotomau Leaupepetele, who was on his way to Moamoa.
He said he saw the incident and pulled over to help the driver pick up the milk packets, some of them smashing on the road upon impact, to leave a trail of white liquid.
"So as we're driving from Vaimoso uta road towards Sinamoga to see the Moamoa bridge for a project that we're going to conduct next week, and we came across this man with milk spilt all over the road here at Sinamoga," Mr Leaupepetele said in an interview.
"We thought poor man, he must need help so instead of heading to our destination, we decided to park our car beside the road and help this brother out. 
"He was by himself when we got there to pick up all these milk to clear the road. With extra hands, we were able to help him clear up the spilt milk."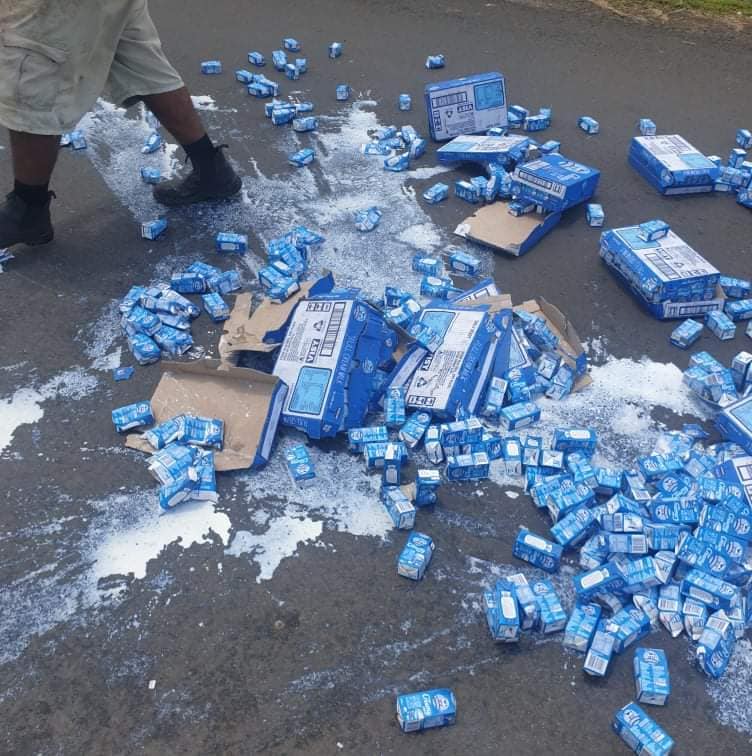 Mr Leaupepetele added that he had his students with him and they knew the driver needed help as the incident led to a traffic jam, further pressuring the man.
The owner of the delivery truck remains unknown, though Mr Leaupepetele said he suspects the milk boxes were not packed properly, which resulted in them falling out of the truck. 
The principles that the B.G.W. promotes of showing kindness and love with action were on the minds of the non-profit organisation's staff member.
He also remembered his mother's advice to lend a hand and live by example.
"Not only that we are under a non-profit organization called Brown Girl Woke and that's our work to be kind and show love through action, not just words," he added. "We just finished visiting a family that was affected by the flood and we are going to help this family next week and our next stop was the Moamoa bridge part of the project and we saw this and we took action."
Attempts by the Samoa Observer to ascertain the business owners of the delivery truck were unsuccessful.