Satupa'itea Methodist dedicates new church building
The COVID-19 global pandemic and border closures may have stopped those with roots at Satupaitea, Savai'i from attending the official opening of a new church building. 
But that did not stop the celebrations this week as the Methodist church at Satupa'itea reached a winding journey to completion.
Despite the pandemic, the congregation completed the project within 15 months at a budget of just over $1 million.
"Initially, we did not plan to build a new church for our congregation during our time here," Reverend Taulafo Avei told the Samoa Observer.  
"As you know, for the Methodist church, we spend six years serving a particular parish before we are moved to another one. 
"So during our time here, we did not plan to build a new church because we understand that it would need a lot of money for such a project.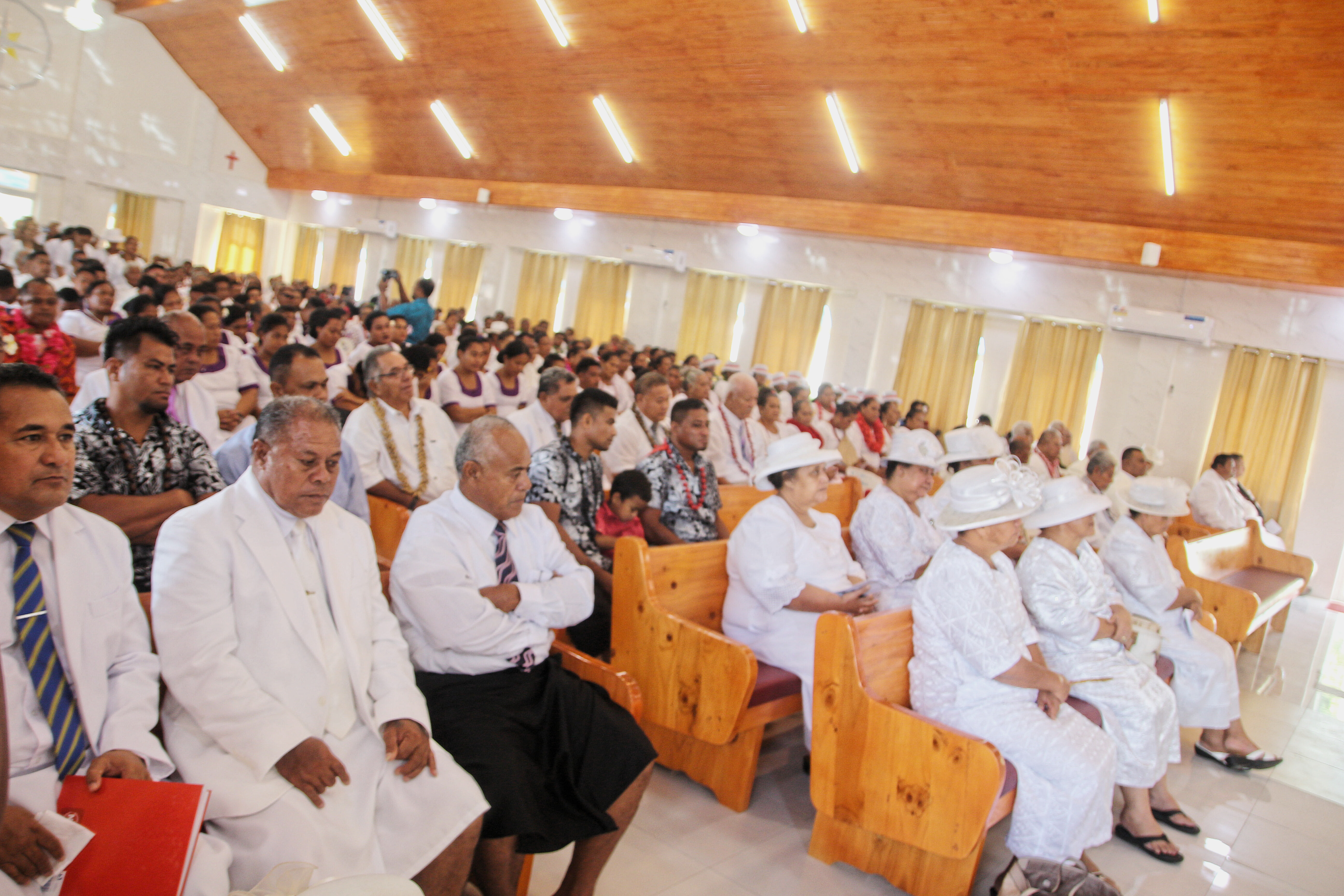 "But the spiritual whispers of God within us and the congregation was what sparked that idea to build a new church for the congregation. 
"And I can say that from the beginning, God has been showing us his love and his blessings upon those who work hard to do and deliver nothing but the best for his glory. 
"We have witnessed so many miracles throughout the fifteen months of the construction works of this new church building."
The plan was to start the construction work for a new church building in May 2019, according to Reverend Taulafo.
"We wanted to complete this project in June 2020 because we (the Methodist denomination) usually have our annual conference in July. 
"And usually, we would know by the end of each conference where we would move to after serving at Satupaitea. 
"However, because of COVID-19, we did not have a conference and we were asked to stay. It is now our eighth year here at Satupaitea."
The congregation did not have money to start the project, says Reverend Taulafo. 
However, they were motivated to begin and carry out their plans with the strong support of the Mafutaga in Sydney Australia. 
In saying that, Reverend Taulafo made special mention to the Mafutaga in Sydney Australia, under the leadership of Reverend Anesone Tavu'i-Leota and his wife, Ofeira. 
"I want to personally express our sincere gratitude to Reverend Anesone Tavu'i-Leota and Ofeira, as well as Reverend Fereti Tuimaseve and Asiata Sa'olotoga.
"This congregation is mostly made up of people from the same bloodline, and have connections to Faleao Tikeri and Siniva. They led this whole project by putting together money and lent their shoulder to help us start the whole project in the beginning. 
"As I mentioned before, we did not have any money to start this project. But our Mafutaga in Sydney Australia raised money to start and help us with the project. 
"They kindly gave us $480, 149.45 because the original plan was to build a new church building with the cost of $500,000-$600,000.
"We then started with the constructions with the belief that the money we got was more than enough to start the project.
"However, that did not stop people with roots at Satupaitea from extending their love through monetary donations to assist us with this project. 
"As I said, we started from nothing but we were motivated and were encouraged to push with the strong support of the people with roots in Satupa'itea who are residing in Australia and New Zealand. 
"They pushed us and lent us their shoulders. 
"I am a strong believer that any work that is done out of love for God and his ministry, will never fail. We are all followers and Christians, but if we do everything for the purpose of glorifying God's name, He will always provide and make way for things to happen. 
"We did not have to force people to do this. Their faith and belief in God were what inspired them to give their best and donate in the name of God. 
"Most of the materials for the new church building were donated by people living overseas. 
"We loaned $70,000 from the church to assist with the work and $51,600 from S.M.I. Hardware.
"Our target was to make sure that we pay off these loans before we officially open and bless the new project. 
"On the 21 of December, we paid off the $70,000 to the Methodist church, and on the 22 of December, we paid off the $51,600 at S.M.I. 
"The total cost of the new church building is $1,042,952.18."
The day of the official opening, a day before Christmas was perfect, and Reverend Taulafo credited God for everything. 
"We prayed to God for a perfect day for us to officially open the church building, and he did not fail. He proved to us time and time again that He is there for his people. 
"Despite the borders being closed and the disruptions on inter-island travel the week before Christmas, God made a way to make sure that we have everything for whatever was needed for our special day."
The Methodist Church at Satupa'itea is made up of 50 church families (matafale) including the Church Minister and his wife. However, the total number of people attending the church including children is more than 300.