Floods won't stop Christmas programme: church
Extensive flooding last Friday affected the Congregational Christian Church of Samoa Fugalei, but Reverend Komisi Samuelu says this has not affected normal services and their Christmas programme.
Members of the church did a clean up of the church and the church minister's home on Saturday with the Fire and Emergency Services Authority (F.E.S.A.) staff also stepping in to assist the cleanup.
Rev. Samuelu told the Samoa Observer on Saturday that water and mud entered the church and his house, due to the location of the buildings compared with their neighbours who lived on elevated land.
He said there was a lot of damage with the water entering the church with mud to get to the piano as well as tiles.
Asked if the impact of the flooding would now affect their Christmas programme for next week, he said it was minimal and their goal is to go on with the church service to thank God for his love during the festive season.
The F.E.S.A. staff assisted the church with the cleanup on Saturday with Rev. Samuelu revealing that they had to use their specialised hose as mud that had entered the property could not be removed with an ordinary water hose.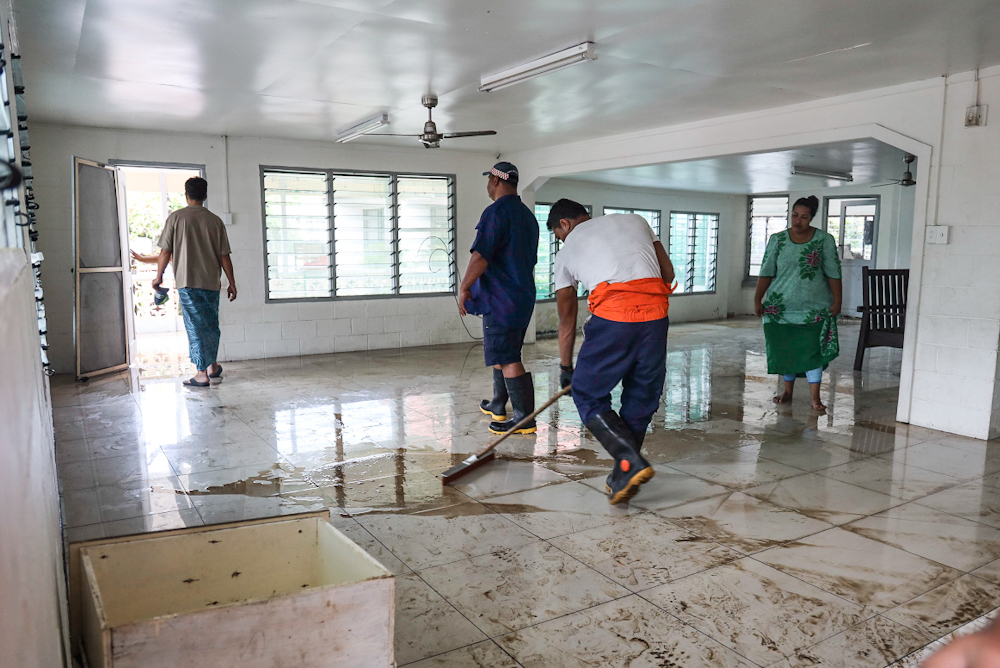 Rev. Samuelu expressed his appreciation to the team from F.E.S.A for responding when their help was needed.
Tutai Tauati of the C.C.C.S Fugalei told this newspaper that the members of the church are doing their best to clean up the church and the church minister's house that were affected by the flooding.
Mrs. Tautai said the flood damaged some parts of the church but they are being fixed. 
According to her, the members of the church and the area have asked the Government to fix and upgrade the drainage system.
There continues to be business expansion in the area, according to the church member, but no one has bothered to fix the drainage system which is making life vulnerable for everyone in the area. 
Mrs. Tautai added that she believes that if the drainage system is fixed then their area would not be affected anymore.
She explained that the money spent by the church to develop the area is not small but she has noticed that their neighbour's premises were on elevated land, which is an issue that the Planning and Urban Management Agency (P.U.M.A) should address.
Despite being at the receiving end of the flood on Friday, Rev. Samuelu wished everyone a Merry Christmas.