Afega chief chronicles millennia of Polynesian quests
Afega orator and Vaimoso native Fata Ariu Levi has penned a book "Navigators' Quest for a Kingdom in Polynesia" that charts Polynesian seafarers' ancient migration across the Eastern Pacific. 
No ancient human migration mystery has been studied, theorized upon and written about more than the Polynesian journey across the Eastern Pacific, said Fata who lives in Salem, Oregon in the United States of America.
Scientists and academia have been waiting for a book like this, the story of ancient Polynesian migrations written from the perspective of experts in Samoan culture, he told the Samoa Observer in an interview. 
"The scientists (social and physical sciences) and the academic world are waiting to hear from the culture, for example, Samoa and the people of American Samoa and Manu'a," Fata said.
Two additional matai contributed to the publication: Papali'i Dr. Failautusi Avegalio from the University of Hawai'i at Manoa and Vui Asiata Dr. Toeutu Faaleava at Portland State University in Oregon.
"My strategy was to bookend my narrative with two high chiefs that have Ph.Ds and are active in the academic field," he said. 
"Thus, Papali'i Dr. Failautusi Avegalio of the University of Hawaii wrote the foreword and High Chief Vui Asiata Dr. Toeutu Fa'aleava of Portland State University at Portland, Oregon wrote the afterword," Fata said. 
As matai, Fata says, they hold important responsibilities – including custodians of the country's culture, history, language, genealogy and heirlooms of the culture such as land, titles and property rights.
He commutes often between the United States and Samoa to fulfill his obligations as a matai of Afega.
Fata was bestowed his in 1992.
"Orators are the poets of the Polynesian navigators, delivering messages from ancient ancestors. They are custodians of culture and the operational management of the family organisation," he said.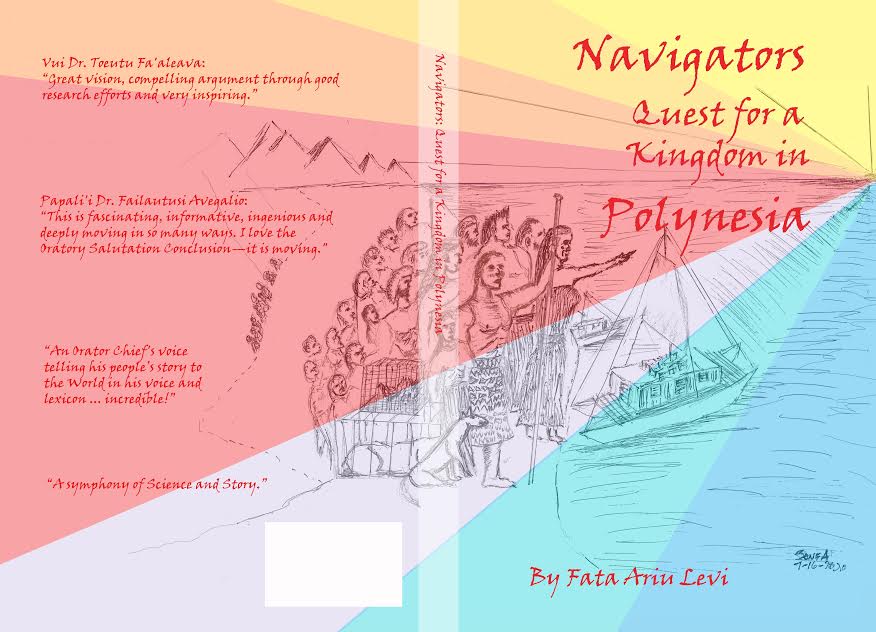 The book describes chiefs as the master storytellers of the culture's mythology, legends, folklore, and family genealogy.
Its description promises to offer readers a chronology of Polynesian Navigators' migration, through waves of voyages from Taiwan to Madagascar following a first migration out of Africa around 60,000; through Asia; the archipelagos of southeast Asia all before the Australasian continent we know today had formed. 
The book describes how Austronesian-speaking people were an amalgamation of migration into Asia's archipelagos.
Fata was born in Vaimoso and attended Seventh-Day Adventist Primary School at Lalovaea.
Two weeks after Samoa celebrated its independence in 1962, he left Samoa for the United States. Fata grew up in the San Francisco Bay Area in California. 
He served in the U.S. Army and was wounded during his tour in Vietnam.
He earned a Bachelor of Arts in Economics and a Bachelor of Science degree in Business Accounting from California State University in East Bay, Hayward, California. 
Fata was previously the Vice President of Bank of America at the Corp Headquarters in San Francisco, California.
In "Navigators Quest for a Kingdom in Polynesia" work Fata names Editor-in-Chief of the Samoa Observer, Gatoa'itele Savea Sano Malifa, in the acknowledgments.
"His (Gatoaitele's) indefatigable resilience is inspiring and admirable. In the orator lexicon, there are no words to express sincere thanks to you other than simply and humbly saying: Thank you, on behalf of all those who believe in the truth," Fata said.
Fata hopes high school and university students take an interest in his book.
"I'm hoping the high school and college or university students would find the book helpful for their advanced studies. I wrote it in a language that balances the academic audience and the curious minds," said Fata.
"I didn't want the social scientists to laugh at me and my work. According to "Anthropologists' Journal", no Samoan Manu'an has ever written this comprehensive effort before."