N.E.O.C. wanted faster testing turnaround
The Director General of the Ministry of Health, Leausa Dr. Take Naseri, said the National Emergency Operations Centre (N.E.O.C.) wanted the suspected COVID-19 positive swabs tested within 48 hours but came up against the courier's schedule over the weekend. 
In a press conference called immediately after a statement was released on Monday evening, Leausa and the Interim Chair of N.E.O.C., Agafili Shem Leo, said despite their wishes for a quicker turn around, results from further testing in New Zealand will not be in Samoa until Tuesday.
The news comes after the recently repatriated sailor suspected of being infected with the coronavirus and his roommate from quarantine were removed to hospital isolation after the first sailor tested positive on Wednesday.
Additional tests cannot confirm whether Samoa has recorded its first coronavirus case or not, with one sailor returning a positive and negative test on Saturday, and the other continuing to test negative.
The first sailor has now undergone five tests for COVID-19 resulting in: one positive on Wednesday, two negative on Thursday, a positive and a negative on Saturday.
Their swabs – several each from the two men – were sent to New Zealand on Friday and arrived in Wellington at 4:30pm on Monday, delivered by FedEx, Leausa said.

New Zealand's High Commission and Ministry of Foreign Affairs helped get the package to Wellington as quickly as possible.
He said the results of further testing at the Institute of Environmental Science and Research will likely be returned on Tuesday, and that a press conference will be called to announce the result.
On Thursday, Leausa said his ministry will investigate to see if human error is to blame for the mixed test results, but on Monday evening said there was "no mistake." 
But he did confirm the sailor's company in Italy have responded to their requests for information about the man's medical history, which he cannot divulge for patient confidentiality reasons. 
Meanwhile the N.E.O.C. is compiling a list of border workers from the across immigration, quarantine, customs, the hospitals, cleaners, the Samoa Airport Authority and Samoa Airways who will be tested for COVID-19.
Leausa said it is too early to say exactly how many workers will be tested, but confirmed he is not asking them to isolate while they wait for testing. 
Neither sailors in hospital quarantine have shown any symptoms of the virus, which typically appear between five and 14 days after infection. Both Agafili and Leausa confirmed the men are "strong and healthy," and continue to have a regular appetite.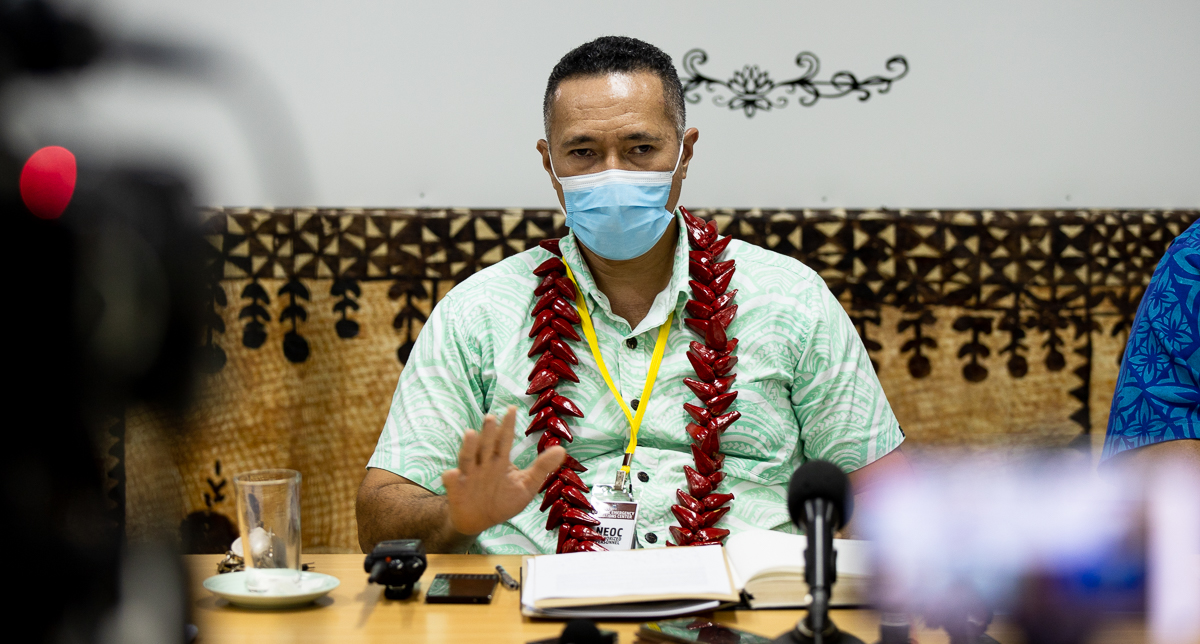 Meanwhile in general quarantine, no other sailors have shown any symptoms of COVID-19, nor have any other passengers, including a group of Tokelauan citizens awaiting their trip home. 
Their final COVID-19 test will be conducted on Friday, the day a flight directly from Los Angeles arrives with another 146 sailors, and several missionaries, returning medical patients and others. 
They will be in quarantine for three weeks instead of two. 
Further, the 19 stevedoring crew and government officials involved with the Fesco Askold shipping container have all returned negative tests towards the end of their quarantine period and will be released soon, the statement continues.
Two weeks ago, three crew onboard the ship tested positive for COVID-19 while in American Samoa's waters, and the 17 people who boarded the ship to clear their health checks and unload supplies in Apia underwent quarantine as a precaution.