Tilafaiga upset Nafanua 24 - 10 at Lakapi Championship
Tilafaiga has learned their lesson from last week when they lost to Taema and upset the favourites Nafanua in the teams' first clash at the Samoa Invest Lakapi Championship, winning the game 24 - 10.
The championship game was held at the Apia Park Stadium on Friday evening.
Twelve minutes into the first-half and a penalty was given against Nafanua for a high tackle. But moments later, when 14 minutes had passed Rebirth Paulo secured a try for Tilafaiga. 
Their first-five Suliando Lafai added another two with their conversion, taking the score to 7 - 0.
Tilafaiga brought the heat upon Nafanua and Perise Tumutumu dive at the far-right of the scoreline. Lafai tried to add the additional two with a conversion but was unsuccessful, 12 - 0.
Before they went into half-time, Saelua Seleti finished their first half with a try and a conversion, extending their lead to 19 - 0.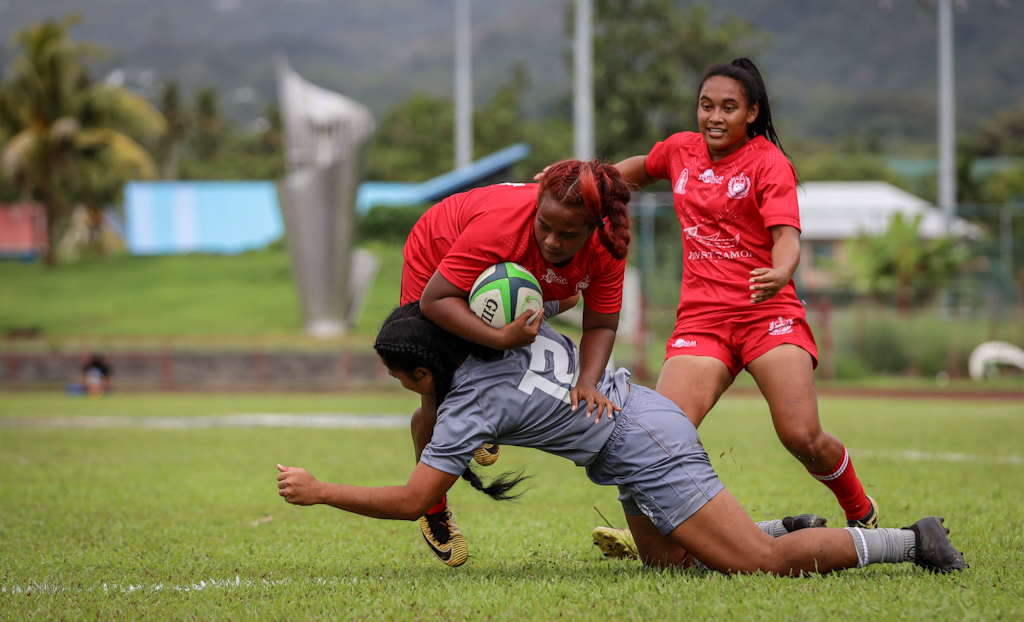 Coming back into the second half, Seleti once again dived under the post, and despite their unsuccessful conversion their lead had now blown out to 24 - 0.
In the last few minutes of the game and Nafanua was able to regain some face with two tries from the team's captain Mariajacinta Tomai Ausai preventing a total wipeout. 
Nafanua head coach, Fetuao Tamala said she was very happy and proud of her team's performance, for her it was never about winning the game but her players having fun on the field.
"I am very proud and very happy about the outcome, we may have lost the game but to me, they won. They have done me proud. It is never about winning, it is about them having fun on that field," she said. 
"This is their first time to play together and today they have proven to me that they can play and they can definitely win."
Nafanua will be back again next week to face Taema.
The team will begin training on Monday for their upcoming clash with Taema. 
After the game, Nafanua came and danced inside their dressing room to celebrate their success, because for them Tilafaiga won by points but they won with their hearts.