S.R.U. launches Invest Samoa Lakapi Championship 2020
Samoa Rugby Union [S.R.U.] launched the Invest Samoa Lakapi Championship on Wednesday night at the Tanoa Tusitala Hotel with the S.R.U. Chairman and Prime Minister calling for the early development of rugby talent.
The S.R.U. Chairman and Prime Minister Tuilaepa Dr. Sa'ilele Malielegaoi was the keynote speaker at the launch that evening.
The event started with a prayer and words of encouragement from Fr Muliau Stowers, who used the occasion to urge players to be physically, mentally and spiritually prepared. 
"There are three things a player should prepare about, they should prepare physically, mentally, and spiritually," Fr Muliau said.
"If a player lacks one of these, then it's a waste of time. The players should develop all these three important values in order to be the best he or she can become."
The Prime Minister, in his keynote address, supported the words of encouragement by the priest and added that they were the key to being a successful player.
"I made an announcement a few days ago, about the decision we made to build a center for Pacific sports in Samoa which includes four sports, soccer, rugby league, rugby union, and basketball," he said.
"This will mean more investment from Australia to Samoa, and the most beneficial people for this development are our children. It is not something that we should take lightly."
Tuilaepa said he also recognises the problems that are faced by the sub-unions and he believes the issue needs to be addressed as soon as possible.
"In the meeting that we held this evening with the union, we were looking at the defects stage our sub-unions are in where there are no tournaments happening. 
"Some only have the sevens, this means that we need more developments and leaders who are keen and are passionate about pushing our youths. That was the point of the whole program that started in 2011.
"Where rugby was encouraged to be taught right from primary levels as that is the way it is how New Zealand and Australia do it and the whole world is working towards it. 
"When kids start playing from a young age it will stay as those are age groups where a child's mind is proactive."
According to the Prime Minister, he once heard a former All Blacks interview, where he said that the secret to their players playing really well is due to their skills being developed from a young age.
"According to psychology for sports, all the instructions on how to play proper rugby and the different ways to play in the age group of eight years old to 16 years old, the skills they get will stay in their mind. 
"A player who was taught from that age group plays better than someone who has just learned how to play at the age of 16."
Tuilaepa said going forward, the development of rugby in Samoa will depend on how the next generation of players are gathered and mentored.
"The moving forward and the development of rugby depends on you the leaders to gather our children. 
"It is very important that our sessions to teach our referees and coaches because if you understand, the players will understand too about the kind of play he or she has to do. 
"To avoid the kind of play from previous years where there is always violence."
There are also reports of Samoan teams getting a high penalty count against them due to how the players tackle, which the Prime Minister said confirms the need for players to learn how to tackle. 
"One of the reports shows that Samoa has the most penalties, especially with the tackles. Then it comes to mind, that we are one of those countries who love to play dirty, so now there is no more dirty play because there are sharp cameras. 
"It is an embarrassment to attend meetings and pictures of those tackles that aren't allowed and it is sad to see it is a Samoan player.
"There is that attitude with our players that if he tackles a player and takes him out, he finds pride in it, we are not supposed to do it. 
"And if someone does it again today, he will be called dumb by those who are experts in rugby. Our old players should teach our young players how to play the game well."
The Prime Minister said he believes there is a lot of talent in the country but a lot of work needs to be done.
The SRU High Performance Unit President, Seumanu Douglas Ngau Chun, then announced the captains and managements of the respective teams after Tuilaepa's keynote address.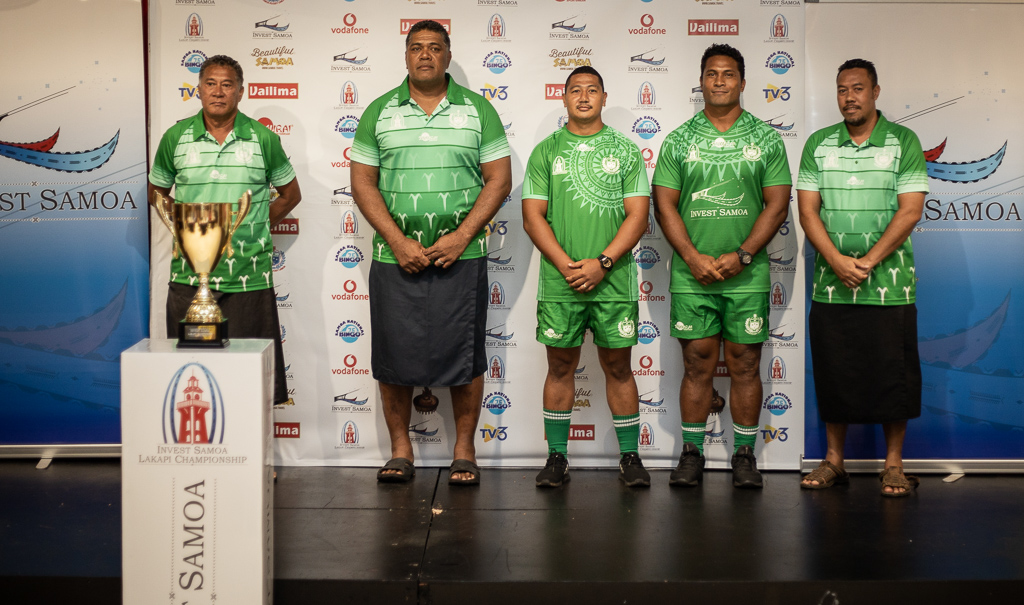 The Savai'i team will play under the leadership of Ripine Fualau, who was a player for Samoa A and was the captain for three consecutive years of Vaimauga Eels. His vice-captain is Alofaaga Sao who was selected in the recent 7s squad.
The captain of Apolima, Afa Aiono, was a former Manu Samoa 7 while his vice-captain is Patrick Faapale who is also a Manu Samoa 7s and 15s player who was with the Vaimauga Eels.
The Manono team captain is Ionatana Tino who is also a Manu Samoa representative and his vice-captain is Liahona Vaegaau, who has played for Manuma and Samoa A.
And the Upolu team captain is Melani Matavao, who was a Manu Samoa player in the Rugby World Cup with his vice-captain AJ Sagaga who played for the Manuma.
For the women's team, the captain for Tilafaiga is Saelua Seleti while Taema is Jasmine Tiatia, and Nafanua is Mariajacinta Ausai.