Candidate denies plan to "knock out" P.M.'s opponent
A candidate contesting the Lepa seat in the General Election, Faletagoai Talosaga, has denied suggestions that his legal challenge is an attempt to "knock out" another candidate running against Prime Minister, Tuilaepa Dr. Sa'ilele Malielegaoi.
The claim was made by lawyer, Unasa Iuni Sapolu, in the Supreme Court on Wednesday, when the hearing of Faletagoai's legal challenge against Tu'ula Kiliri Tuitui, of Saleapaga, began. 
Faletagoai, of Aufaga filed a petition to appeal the Electoral Commissioner's decision to accept Tu'ula's nomination. He alleges that Tu'ula does not satisfy the monotaga qualification. Faletagoai was represented by lawyer, Aumua Ming Leung Wai, while Unasa stood for Tu'ula. 
In his evidence, Faletagoai denied claims that he was asked to register his nomination on the last day of registration so he could "knock out Tu'ula" prior to the election. 
Unasa questioned the applicant if he was approached by Auelua Samuelu Enari to run. Faletagoai said no, adding that he has been a matai for 20 years and does not accept suggestions that he was forced to run. 
"I am a matai sao of our family," he insisted. 
But Faletagoai confirmed that he is related to the Prime Minister.
"A person has many roots, yes [we are related]," he said. 
Unasa then questioned Faletagoai how knew Tu'ula had not rendered his monotaga when he is from Aufaga, and does not sit in the Saleapaga Village Council.

The 56-year-old candidate said Saleapaga villagers had told him. He also claimed that between 2011 to 2016 he had attended Court proceedings where he knew that Tu'ula had not rendered any monotaga. 
"There are also meetings for the constituency and I had not seen Tu'ula there," he said. "If I had not seen him during those meetings, then that tells me he is not doing his monotaga because that is part of the monotaga." 
Put to Faletagoai that he had no knowledge about the affairs of Saleapaga village and therefore he could not be certain about Tu'ula's monotaga, the candidate denied this. 
He pointed out that the definition of monotaga for Aufaga is the same as Salepaga and that requires a person to attend village meetings.
Unasa then asked Faletagoai if he is aware that the person who challenged Tu'ula in a Court separate case in 2011 and 2016 were holders of the title of Auelua. The lawyer put it to the applicant that even he is related to the Auelua title. 
He replied yes. 
"And here you are too from a [member] Auelua suing Tu'ula again," Unasa asked Faletagoai. 
The candidate responded he was not Auelua, he was Faletagoai Talosaga. 
Asked which party he registered his name under for the election, Faletagoai said he was nominated as an independent member. Unasa then suggested that his intention was to switch to the ruling Human Rights Protection Party (H.R.P.P.) should he become successful.
Lawyer Aumua objected to the question from counsel. He argued that Unasa shouldn't head into a political argument but to focus on the matter before the Court. 
Acting Chief Justice, Her Honour Niava Keli Tuatagaloa agreed.  She reminded Unasa to stick to the issues of the case. 
The lawyer then put it to Faletagoai if this was not the reason why he wanted to bring the case to Court is so he can knock out Tu'ula to give way for Auelua, referring to Prime Minister Minister Tuilaepa who also holds the title. 
Faletagoai denied this. He told the Court that if anyone is preparing to run for Parliament, they should do what is right. 
In addition, he made reference to the Bible saying that whoever knows the right thing to do and fails to do it – is a sin. 
"But the Alii and Faipule are witnesses that he did not do his monotaga," said Faletagoai. 
He insisted that although he does not sit in the Saleapaga village council there are documents that the village matai confirmed there was no monotaga done. 
Justice Tuatagaloa queried the applicant if was saying that he does not sit in the village but is aware Tu'ula doesn't render his monotaga because he was told by other matai from Saleapaga.  He said yes.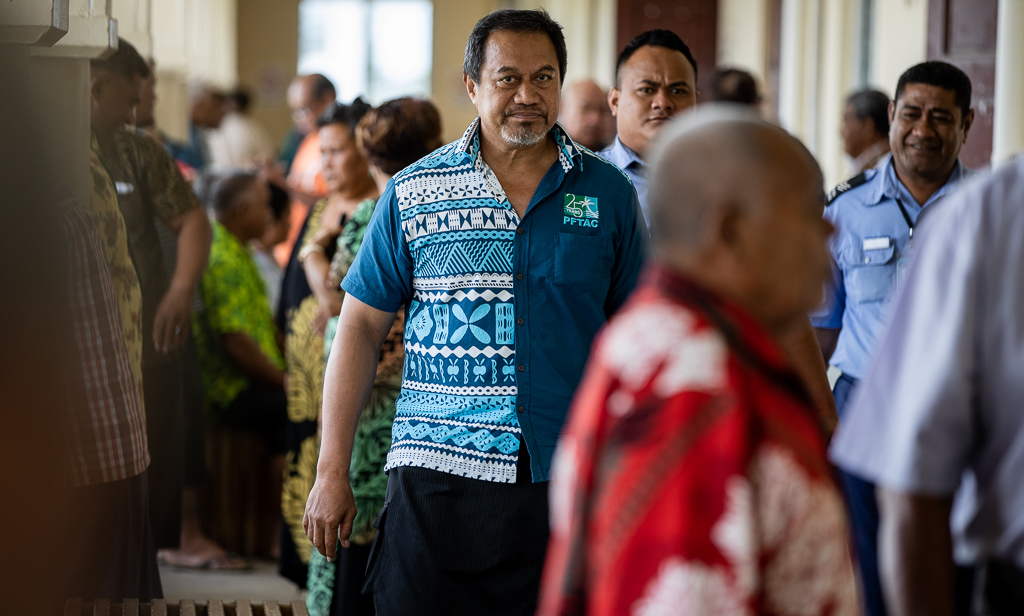 The Acting Chief Justice then told the candidate that there are witnesses from Saleapaga who confirmed that Tu'ula provided monotaga but she cannot put it to him because he does not sit in the village council and would not know.
Faletagoai was then asked of his view of food and monetary contribution being presented and accepted village for the intention of monotaga.  He replied that such contribution is taken as assistance (asiga) or gift but it cannot be called a monotaga. 
Justice Tuatagaloa put to the witness if he was saying that if the village accepts it then its called a gift and assistance rather than a monotaga. 
"The asiga is accepted whether they are banished or not because it's a gift for the village," he said.  
Justice Fepuleai Ameperosa Roma also asked Faletagoai about the practice for his village of Aufaga in terms of people who are banished from the village. 
The Lepa candidate said once a person is banished they no longer provide monotaga. 
Another witness to testify in the trial is Sogimaletavai Ualesi Sagapolutele, a matai of Saleapaga. 
The 60-year-old matai of Saleapaga claimed that the village mayor knows that Tu'ula did not perform his monotaga and should have never signed the nomination form. He denied Tu'ula performing monotaga for the village in the past years. 
According to Sogimaletavai the food and monetary contribution presented by Tu'ula was accepted under his title Toi because the Tu'ula family is banished from the village. 
He said that the contribution was also a "one off" per year as opposed to attending village meetings and other village affairs as part of the monotaga. 
The contribution he was referring to are boxes of chicken and $100 tala from Tu'ula for the tsunami anniversary event and other contribution for funerals and renovation of a school in the district. 
During cross examination, Unasa told the witness that he seemed to be very upset about Tu'ula running and if it was because he lost a Court case where Tu'ula was banished. 
Sogimaletavai raised that there is no connection between that case and the current proceedings. 
He maintained that Tu'ula has not performed his monotaga to the village for the last 3 years and has been for a long time. 
The Acting Chief Justice queried the witness to explain his evidence that the village accepted food and monetary contributions from Tu'ula under his Toi title. 
She asked that the title Toi does not come from the village and why the contribution was accepted otherwise. 
In response, he said it wouldn't be culturally accepted for Tu'ula to return home with his contribution of two boxes of chicken and $100tala and was decided to accept it on that condition. 
But Justice Tuatagaloa put it to the witness that Toi and Tu'ula is referring to the same person. 
Sogimaletavai said that was the reason why it was accepted but not because it was a monotaga. 
Matai from the constituency of Lepa and members of the Tautua Samoa party crowded the Court room during proceedings. 
The hearing continues.