Singer puts down mic for White Sunday
By Tina Mata'afa-Tufele

•
11 October 2020, 8:00AM
Samoan songstress, Tofaga Meke, hasn't had time for music over the past few weeks as she puts on her seamstress hat to meet the demand for White Sunday tailoring.
The multitalented businesswoman, who is also a seamstress and has her own tailoring company, has been busy in the last couple of days filling orders connected to Samoa's biggest religious celebration in White Sunday.
On the Saturday afternoon, three girls and a boy rushed into Ms. Meke's T&H Creations shop for their fittings. The letter T stands for Tofaga and H is the initial of her husband's first name.
"We are very busy," said Alofa Elesita, who brought the children to Meke's shop. "I have four kids and they have got me so busy!"
The children are her daughters Cyra Elesita, 10, Chantel Elesita, 5, son Maletino Jeffrey Elesita, 3, and her niece Faasaina Jeanne Faalele, 11.
"There are four children so a lot of money is being spent for one Sunday. We have ordered their puletasi here and their dresses so the bill is at $700 tala right now," said Alofa.
"We have been doing shopping, doing feaus (chores) shopping for food for their White Sunday. I am so busy with chores and I got to do their shopping. 
"This Sunday can't come soon enough so my mind can have a rest from all these things I am doing for the kids."
But she does all of it for a reason. 
Alofa's favourite part of White Sunday is when the children take their place front and center stage to recite their Bible verses and perform.
"My favourite part is when they go up to present," she said.
Meke added that "toonai" is her favourite and then both women laugh.
"And toonai because there is lots of food. What we are having for toonai is what the children like – rice, chicken, beef brisket and all the food they like to eat," she added.
Meanwhile, the girls look into the mirror, admiring themselves in their new white elei puletasi.
Alofa and the children are members of the Congregational Christian Church of Samoa at Faleula.
"I feel excited and nervous," 11-year-old Faasaina says. "But I am also very happy because it's our day."
Meke cuts in saying: "Ice cream!" 
The singer, who has some popular music videos on YouTube, says her shop has been very busy. In fact so busy she hasn't had any sleep this week.
"I have not slept this entire week trying to complete these White Sunday orders. I have the usual customers but the new walk-in customers have got me very busy," said Meke.
"The new customers are the ones going all around trying to find someone to take their orders. Last night I worked until the sun came up. I can't wait until tonight because I am going to sleep in until Monday."
Her daughter and two sons will have their White Sunday clothes sewn last. They attend Nasareta church in Vaitele.
"My kids will be my last customers," Meke says laughing.
Some T&H customers are Samoans residing in Australia and New Zealand, who placed their orders early on.
"Customers really need to prepare early on. Some of them rush in at the last minute and then they will take their clothes and it won't fit so I have to be burdened with altering them. I just know I won't get any sleep tonight," Meke said.
"I took care of my customers in Australia and New Zealand first so we could ship them last week to get them there on time, and for my customers in Savai'i."
She has more customers living outside of Samoa than in Samoa.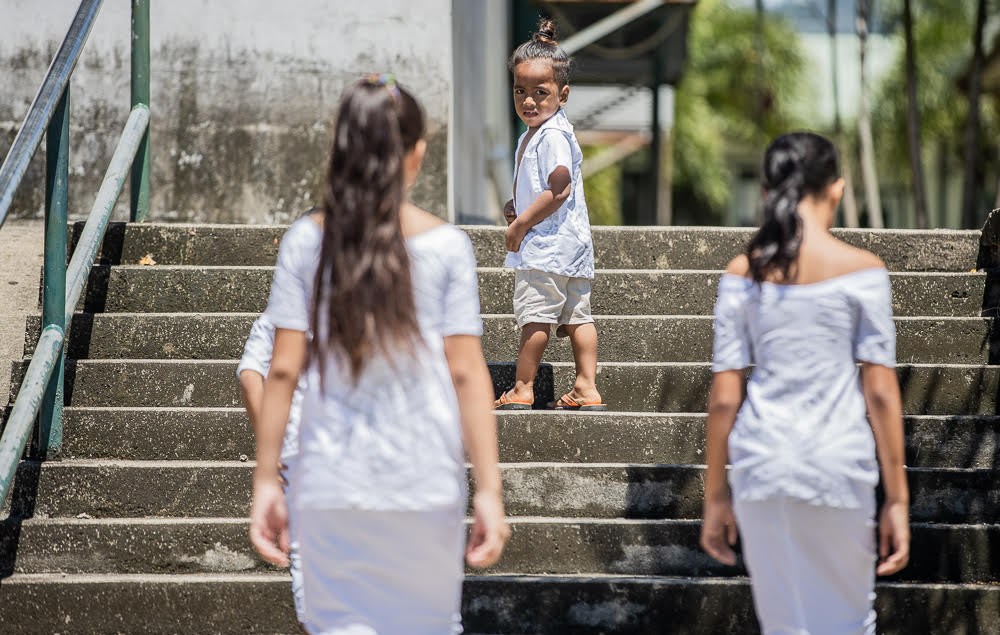 When White Sunday is out of the way, Meke looks forward to putting on her singer hat again.
"When I am done being busy with this, then I will do music again," she said.
As for the stars of White Sunday, Cyra says they have been rehearsing for four weeks and that she is ready.
She is looking forward to reciting her "tauloto."
Cyra recites Proverbs  (Faataoto) 11:20-21 without skipping a beat, but in the Samoan language.
"They that are of a froward heart are abomination to the Lord: but such as are upright in their way are his delight. Though hand join in hand, the wicked shall not be unpunished: but the seed of the righteous shall be delivered," she added.
Her little brother Maletino offered his comments, to wish Samoa a blessed happy White Sunday! 
By Tina Mata'afa-Tufele

•
11 October 2020, 8:00AM