Apia Hash presents $41,000 to Goshen Trust
More support staff, more beds for clients and safer housing.
These are just some of the things the Goshen Trust Mental Health Services plan to do with the $41,000 donation they received the Apia Hash House Harriers on Wednesday.
The group, who last month ran and walked the annual perimeter relay event, handed over their fundraising efforts at the Goshen residence in Moamoa. In doing so, the group more than doubled their efforts last year, bringing their total contributions to the organisation over the last five years to around $110,000.
Goshen's Chief Executive Officer, Naomi Eshraghi, said she was totally shocked by the amount of money raised, and said it was an extraordinary effort.
The money will enable the group to upgrade the kitchen equipment, employ more social workers and specialist helpers, and expand the bed capacity and stop having to turn people away when the residence is full.
"The way people value their family members and work alongside these organisations and achieve the result we are all looking for. 
"Families can't do it by themselves, organisations can't do it by themselves, we all have to work together."
Around a dozen Hash House members visited the Goshen residence on Wednesday to be part of the handover ceremony. They were greeted by the 13 respite care clients who sang to them, and Chair of the Board Tuaena Lomano Paulo.
Hash House Founder and affectionately known as The Godfather, Tuatagaloa Joe Annandale told the staff and residents that the money came from people in Samoa, Australia, New Zealand and America.
A visibly emotional Nelson Annandale, who was in the perimeter relay team that braved the hours long event said he values the Goshen Trust and their work, and thanked them for their service to Samoa.
He was amazed at the amount raised, especially considering the global economic and health situation, he told the Samoa Observer later.
"Of all the years Hash have been supporting this is my first time up here and seeing everyone, so it was quite emotional.
"We tend to take for granted how lucky we are. A lot of people have been going through a lot struggles this year with what is going on in the world so I have a lot of appreciation for what is being done here.
"It just goes to show that every small bit of effort can really make a huge difference."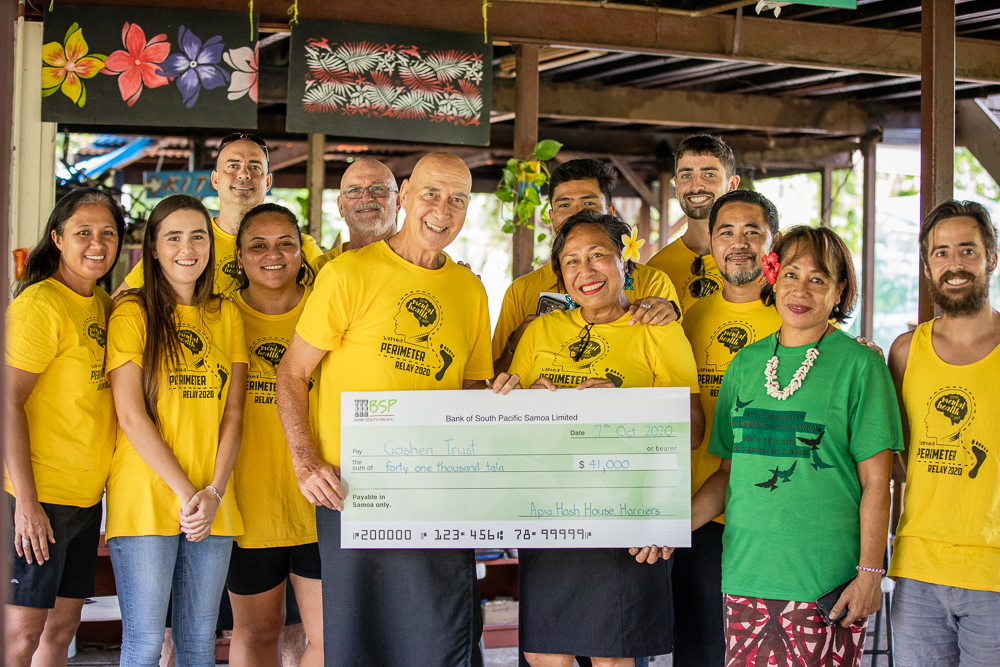 This week is international Mental Health Week. To celebrate, the residents and staff wore green shirts with messages on the front and back, such as "not all wounds are visible."
Hash member, Ariane Stevenson, said the group originally planned to hand over their donation last week, but decided instead to honour Mental Health day instead. 
"For all of us it's a great charity to support because they don't get a lot of support from elsewhere, mental health is really gaining traction about how important and how unrecognised it is," she said.
"It is particularly pertinent right now where a lot of people struggle in different ways, with different pressures brought about as a result of the pandemic.
"It's perfectly normal for people to have mental health issues and there are people they can go to for support if they are feeling they need help."
Majority of the donation came from local donors and some corporate sponsors, while the rest came from overseas via crowdfunding platform. 
Around 50 people were involved in the fundraising effort, collection donations of all sizes for several weeks leading up to, and after the perimeter relay event. 
After the formalities, Hash members toured the residence site, including the blooming vegetable garden developed over the last year entirely by the residents, some of whom are working at Sunshine Farms in Tanumapua as part of their rehabilitation programme.