Management course strengthens Samoa's disaster resilience
By Adel Fruean

•
01 October 2020, 4:00PM
Twenty-two participants, including mid-level managers of Government departments, non-governmental organisations and representatives from the private sector were awarded certificates after completing a Project Management course. 
The course was supported by the United States Agency for International Development (U.S.A.I.D.).
The course is part of the U.S.A.I.D. Ready project's partnership with the University of the South Pacific/Pacific TAFE to help Pacific Island countries become more resilient to environmental changes.

The five-month course strengthened management skills to design and implement disaster resilience projects.
The project is rolling out the course across 10 other pacific island countries.
U.S.A.I.D. works with 11 target countries: Federated States of Micronesia, Fiji, Kiribati, Republic of the Marshall Islands, Palau, Papua New Guinea, Samoa, Solomon Islands, Tonga, Tuvalu and Vanuatu –to achieve their climate change adaptation goals by assisting them to develop policies and legislation, access climate finance and build capacity to manage adaptation projects. 
This most recent course was conducted fully online due to measles and COVID-19 pandemic.

The U.S. Embassy Charge d'Affaires, Jonathan Yoo, commended the commitment of the participants in completing the course.
"The U.S. Government is pleased to work with Pacific governments, the private sector, and civil society to address your most pressing development needs," he said.     
A representative from the Land Transport Authority, Maverick Wetzell, said that they underwent studies for Certificate 4 Project Management course.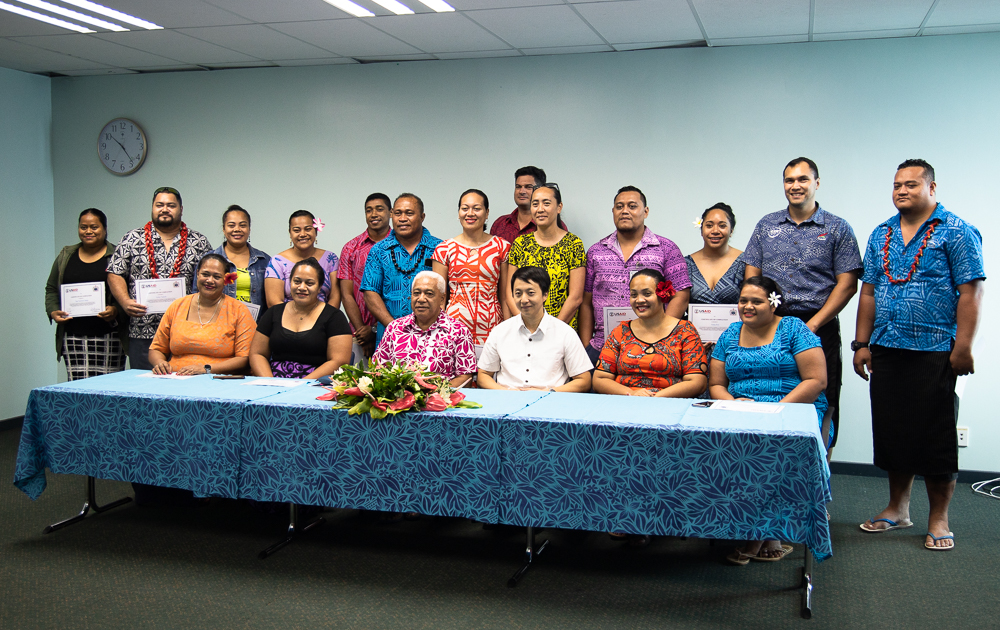 "It started at the end of last year but due to the measles epidemic we had to put it on hold, and we were meant to resume in April this year unfortunately for the COVID-19 lockdown and our professor could not fly in we had to finish the course virtually," he added.
Mr. Wetzell also highlighted that the course consisted of four main sub courses that covered a range of different aspects of the project management discipline.
"And it was very insightful and it allowed me to understand more in depth different principles that can be applied and it's very relevant to my field of work.
"One of the difficulties was balancing work and family responsibilities as well as church responsibilities but overall that's part of being a project manager.
"And project management is about time, quality and cost management, we are very fortunate for U.S.A.I.D. covering the costs."
In addition, like every project, if you are able to discipline yourself, you can overcome it," he added.
"There are three main branches that you need to control in project management: quality, time and cost, so with this course we also dove into detail on how to forecast your financials into the future to help you manage your projects accordingly so that has helped me with a lot of my larger projects and understanding how the financial disbursement will be.
"It also focused on how communication lines are important, and are able to list down your risks, scope out a project and understand what it will have from the start to the finish. 
"I think this is a great initiative, I hope it's not the last time that we have this will go further to other courses with higher qualification."
By Adel Fruean

•
01 October 2020, 4:00PM