Peace and justice highlighted at Tiapapata gathering
The Bahai House of Worship at Tiapapata hosted a celebration for the 75th anniversary of the United Nations on Monday night. The event also marked the International Day of Peace.
UN Resident Coordinator, Simona Marinescu, who could not be in Samoa because of border shutdown, spoke about the importance of the occasion through a video message.
"In the words of Martin Luther King, True peace is not merely the absence of war, it is the presence of justice," Ms. Marinescu said.
Ms. Marinescu explained that peace, justice, equality and dignity are very important words in the United Nations Charter and the International Bill of Human Rights.

"For 75 years, freeing all people from insecurity and need has been our common vision of peace. Recognising humans as equals before the law regardless of race, gender, geography and beliefs is the foundation of democracy, without which, peace and human security remain empty words," she said.
"Yet we are far from declaring success and failure remains our reality every time a life is lost to conflict, poverty or disease.
According to her, from the day the weapons of the world war two were silenced, millions of people continued to die in conflict and she further stated that over ten percent of the population of the planet live in extreme poverty and close to one million people have died of COVID-19 in 2020 alone.
"Over 70 million people are on the move, either displaced or refugees, fleeing to safety and freedom," she said.
 "It is, therefore, not a time for celebration, but rather a sobering reminder that the challenges before us are mounting and there will be no true Peace for humanity until we all live in dignity, away from fear, hunger, homelessness and suffering.
 "We led the global campaign this year titled the World We Want and The United Nations We Need to mark 3 quarters of a century to talk to people of all races, age and geography about the challenges they face and the solutions we seek.
 "Despite differences in culture, age, geography, level of education, social or financial status, people who join the campaign are in consensus with regards to what matters to them now and in the future."
She emphasised that improved access to basic services, healthcare, safe water, and sanitation and education are at the center of the world we want, and greater international solidarity and increased support to the places hardest hit by the pandemic, women's right and inclusion of all marginalised, reversing climate change, greater respect for human rights, settling conflicts, tackling poverty and reducing corruption are all common features of the world we hope for.
According to Ms. Marinescu, 87% of those surveyed believe international cooperation is vital to deal with today's challenges and the majority of respondents believe that the COVID-19 crisis has made international cooperation even more urgent.
"Still over half of the respondents see the United Nations as remote from their lives. The areas where the UN is perceived to be contributing most is in upholding human rights and promoting peace," she said.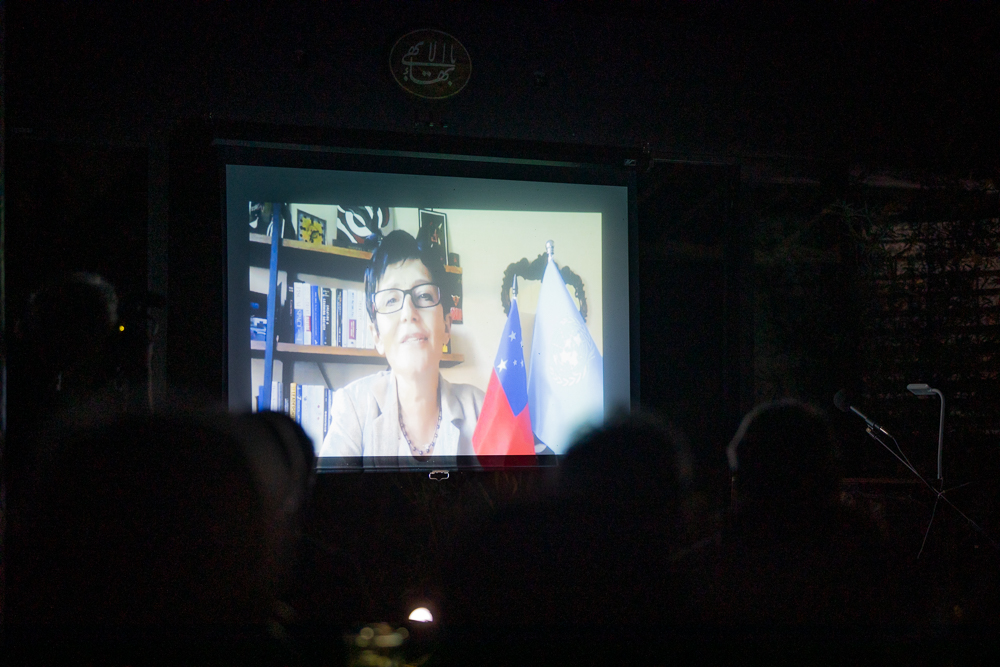 Ms. Marinescu stated that participants overwhelmingly called for the UN to be even more inclusive of the diversity of the actors in the 21st Century and greater inclusion of civil society, women, youths, vulnerable groups, cities and local authorities, businesses, regional organisations and other international organisations must be achieved by the UN in the near future.
"In Samoa the United Nations found a welcoming family of brave people who have embraced present and future with faith, pride and commitment. 58 years of independence and 44 years of the United Nations has seen profound transformation in this country, including significant advancement of human development to the high level category improved income per capita, increased life expectancy and expanding years of schooling," she said.
"While fragility and vulnerability to climate change are our main concerns for Pacific nations, Samoa's commitment to a green future and its dedication to social values including solidarity, inclusion and equity, encourage us to continue working side by side with the government, the civil society and the people to mitigate risks and strengthen resilience.
"And as we come together tonight in one hope for our planet to become a loving home to all, we may as well imagine all the people living life in peace. Imagine no possessions, I wonder if we can. No need for greed or hunger. A brotherhood of man. Imagine all the people living for today, imagine all the people sharing all the world."