Letogo Primary School receives agricultural tools
Letogo Primary School is the recipient of $10,000 worth of agricultural tools and equipment courtesy of the Ministry of Natural Resources and Environment. 
The school is located in the Fagali'i catchment area which is part of the Reef to Ridge Project that comes under the auspices of the M.N.R.E. 
Its vegetable garden project was established last year when new School Principal Ruta Folau took up her position and began to look around for assistance.
The Reef to Ridge Project Manager, Fata Niuava Funefeai, handed over the equipment to the school staff on Thursday while emphasising that their assistance is where the focus of the project is.
"We are keen to donate these equipment for the nursery and for the school's gardening activities," he said.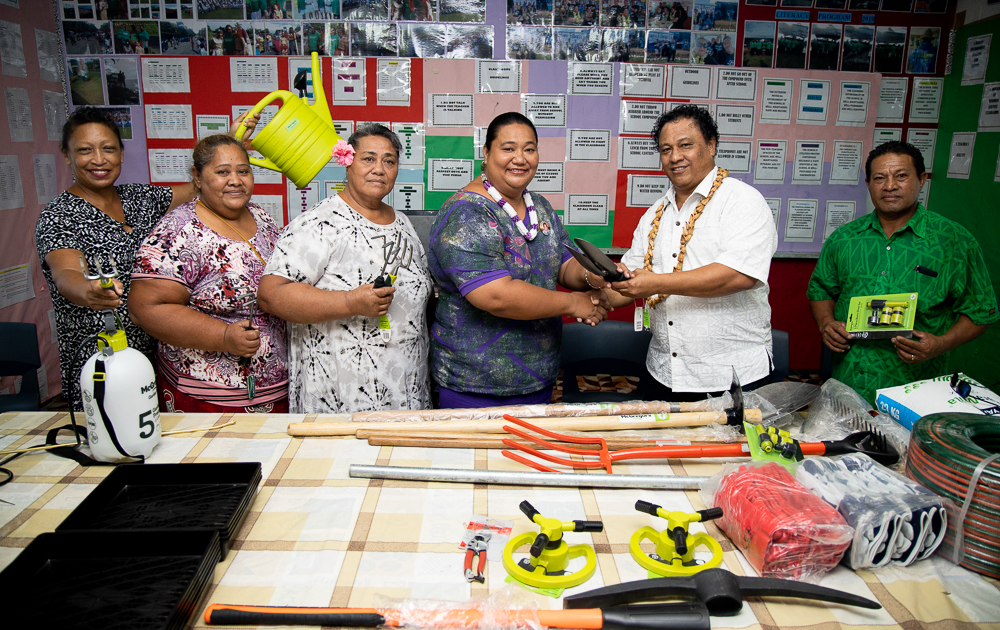 "The health of the nation concerns our kids and so if we teach them how gardening practices [are done] in school, they will go home and they will know how to do it. "
The assistance will contribute to generating income for the school and help students build their capacity.
The Principal emphasised during the presentation that they were not only teaching students on how to plant and raise vegetables but also farming methods, ideas and strategies. 
"We are teaching the children not only on how to raise vegetables, but also the methods, ideas and strategies from M.N.R.E. and the agricultural experts from the Ministry of Agriculture and Fisheries.
"We will earn extra money from the project and we had discussed that we'd use that income for another project."
She said that the income they generate from the vegetable garden will be saved as they have plans to build a hall or a computer room for the school. 
"With technology being advanced, we're also thinking of using the income from the project for a computer room," she added.
"We want the young generation of Letogo to be exposed to such technologies."
The Principal hopes that by teaching the students agricultural skills, they'll be able to practice it in their homes and set good examples for their families. 
She expressed her appreciation on behalf of the school to the M.N.R.E. for accepting their request and coming forward with the assistance.