Vodafone answers prayers for Piula mother with new car
A mother of two, Epi Lini's prayers about a new car have been answered. Courtesy of Vodafone Samoa, the mother is the proud owner of a brand new Hyundai Grand i10.
The car one of three vehicles being given away as part of Vodafone Samoa's "Dream Big, Win Big' promotion worth more than $250,000. 
Mrs. Lini was one of the five lucky drawn participants to partake in an activity to see who picks the winning car keys out of a box of car keys. For the other four participants who did not win a car, they received brand new phones and other accessories.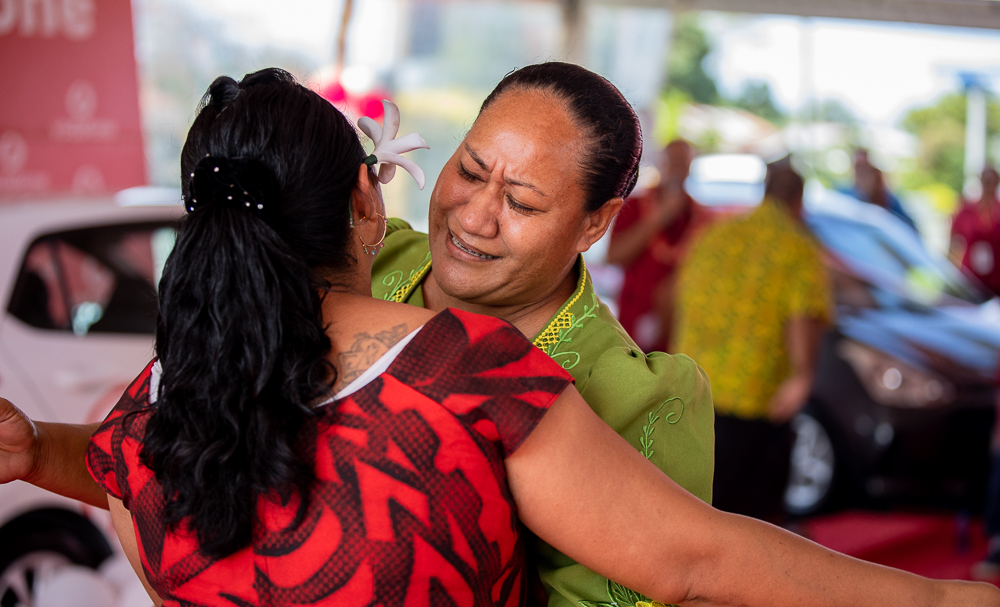 "I am shocked that I picked the lucky key to the new car," she said.
She also said that all glory must be returned to God.
"I thank the Holy Spirit because I believe in the power of prayer.  When I came this morning, I never thought I would win and take home this brand new car but when I was told it was a white car I told the C.E.O. that's definitely my type of car."

"And now that I have this blessing, I acknowledge God for it and Vodafone Samoa."
The 48-year-old has been a customer since 2016 when the company was known as Bluesky.
"This vehicle will help me in serving our church because my husband and I are students at the Piula Theological College. There are times when I can't go anywhere because our car is manual but my new car is automatic which is a blessing for me.
"I never thought that I would win because every week I spend $11.00 to purchase data bundles that I can use for the internet so I can call my children overseas."
Prime Minster, Tuilaepa Dr. Sa'ilele Malielegaoi, congratulated the winner and acknowledged Vodafone investing in the community.
He commended the telecommunication service provider for its continuous support towards Government and the people of Samoa through education, sports and groups that cater to those in need.
Tuilaepa added that through the arrival of Vodafone as a global network, it has led to our people enjoying lower rates and better services.
Vodafone Samoa's Chief Executive Officer, Nofoasaefa Satish Sharma, said the company has done a lot of research and planning in order to create the promotional giveaway which he reiterated will add value to the lives of families.
He also added that the promotions are for their customers who are the people of Samoa.
In addition to the vehicle giveaways, other Vodafone customers claimed cash prizes and Student Sim winners.