Excitement as Vodafone awards winners
The Vodafone Samoa's headquarters was full of excitement last Friday afternoon with the announcement of 36 winners of the Vodafone's Dream Big and Win Big promotions.
According to a press release from Vodafone Samoa, there were 10 winners of the $500 prize money with 10 winners of $200 cash and 16 winners of $100 cash.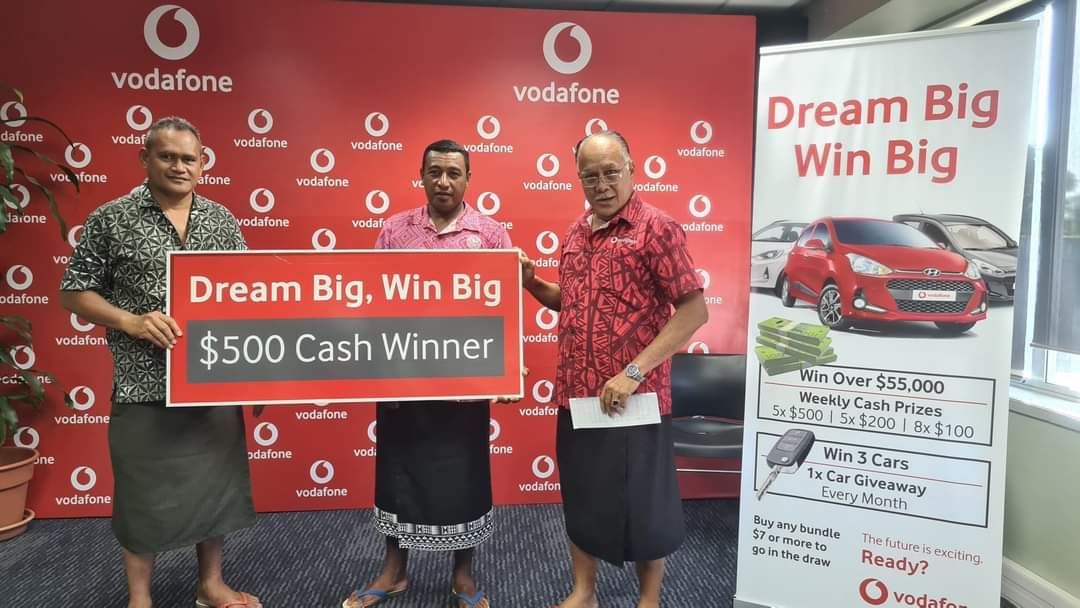 Vodafone's Dream Big, win Big prizes consist of three brand new Hyundai Grand i10 sedans every month for the next three months and a share of over $55,000 tala cash every week [5 x $500, 5 x 200, 8 x $100 weekly] for the next 13 weeks.
The promotion is worth over $250,000 tala and gives everyone on the Vodafone network more possibilities to win. This promotion also provides an excellent opportunity for new customers to switch and join the ultrafast network.
Vodafone's Chief Technology Officer, Leuo Alani Faiai, congratulated the winners for Week 1 and Week 2 and said those who haven't won a weekly cash prize to keep buying any bundle over $7 tala to go into the draw to win cash prizes weekly and a chance to win one or three brand new cars.
"Each tala spent is worth 1 entry, so the more you buy, the more your chances are of winning," Leuo said.
One winner, who traveled in from Savai'i, mentioned how his win of $500 cash was in time for the weekend and will be of great help to him and his family.
"Thank you Vodafone for this great promotion. This has given me money to help him and his family on the weekend," he said.
"Who knew I would win $500 today? Thank you so much Vodafone. I will Top Up again for next week, I might be lucky and get a car."