"It's a miracle" - Recovery and strength on Sunshine Farms
If you shop at a Frankie's supermarket, chances are some of your greens, fruits and vegetables have been lovingly grown and harvested by the residents of Goshen House.
This is all because of a blooming partnership between Sunshine Farms and the Goshen Trust Mental Health Services, who look after a dozen residents of a respite home for Samoans living with a mental illness, that need help from time to time. 
This year, the residents have spent their mornings working – for a paycheque, no less – at the Sunshine Farm in Tanumalala, preparing the hydroponic growing beds, planting seedlings and seeing their work grow into salad vegetables, herbs and flowers.

For long-term respite, care residents like Sonny*, it is a rare opportunity to work for a living in a safe environment as he gradually recovers from his hardships. 
Sonny spent majority of his life in California and has been on and off treatment for schizophrenia much of his adult life. 
After going too far down a path of violence and drugs, he found himself in Samoa with a family who struggled with his illness almost as much as he did.
Goshen Trust chief executive officer, Naomi Sone Eshraghi, says he has been in and out of Goshen House for as long as it has been around.
But when he is working at the farm, his mind feels calmer, Sonny said. 
"I look forward to seeing the result after putting the seeds into the soil. I look forward to seeing what it will look like," he said.
"I love the cabbages and tomatoes. When you cook, those two always go together, [so] I plant them together."

At the farm, Sonny and around 10 other residents work under Farm Manager, Oliver Cris Ubaub, who says he has loved having them as part of the team. He makes sure their jobs are enjoyable and not too gruelling to give them a good chance at recovery, like washing the hydroponic beds, planting seeds and potting flowers. 
"They handle [the work] perfectly well. The women spend time in the greenhouse on the hydroponics and the men can do the heavier workload outside."
One thing he briefed his other workers about before the Goshen crew arrived was not to talk about the residents behind their backs, and to treat them with respect.
And he has seen them grow to appreciate each other as they weeks go on. As well as help the residents with their recovery, Mr. Ubaub said they have grown to be invaluable members of the farm team, reducing an eight hour task to just three or four hours.
To any other employers who might have a fulfilling job for Goshen residents, the farm Manager had just one message.
"Don't treat them the way you think they are, treat them as part of the community, who can do the same work other people can do. I can attest that they even do much better than the young staff I have here, they know what they are doing."
Co-owner of Sunshine Farms, Pitovaomanaia Mayday Cai, said having the residents on the farm isn't just good for them, but good for her other staff too, who slowly but surely get to know people they might not have otherwise.
"One thing for sure, the staff here are more aware of their conditions. They have patience with them," she said.
Before the Goshen crew arrived for their first shift, there was some preparation to best understand the resident's conditions and to prepare the existing staff for their new colleagues.
"I have friends who were in and out of Goshen before and I knew it wouldn't be easy, but all I was hoping for was something for them to do. There is a need for them to do outdoor activities," Pitovaomanaia said.
"It's a miracle," Ms. Eshraghi added. Goshen has wanted to have an employment scheme like in their programme for 11 years, so to see it come to fruition feels miraculous she said.
Eventually, residents of the Goshen Trust are able to 'graduate' from their time living at the residence, with their counsellors, doctors and family confident they can join their home lives again.
Pitovaomanaia became emotional talking about how her farm has played a part in helping the consumers get back on their feet. She said it wasn't until she was asking the whereabouts of some residents on the farm that she learned they had moved on from Goshen House.
"I was emotional to know the farm is actually giving them some hope. Once they started, I realized there is a healing process here.
"Some of us never thought these men and women had any hope. We see them at the market and other places and we never thought they could change.
"The most important thing for us is that we shouldn't look at them differently, we should give them a chance and support, a bit more care and a bit more love. That is what these plants are doing for them."
Five residents that worked on Sunshine Farm have graduated and moved away to do other things, and some may even return independently of Goshen Trust to keep working. 
Mr. Ubaub considers this is an achievement for the farm and it's something that makes him happy. 
Asomaliu has been living at Goshen House since the middle of 2019, and started working at the farm two months ago. She said working at the farm makes her feel stronger. 
"I wake up early ready to [take my] medicine, get in the car to come here and they are waiting for us to start our job.
"It is very nice for me working here, because it makes me strong […] we are helping grow our own food at Goshen."
Another long-term resident, Edward, said he feels useful when he is working, and wants to grow his own vegetable garden now too. 
"It's good when you get knowledge, with people around you, and have things you like around you all the time," he said, joking he wants to eat the vegetables straight out of the ground. 
Like several other residents, Edward has nowhere permanent residence to go to when he is discharged from Goshen House. 
Ms. Eshraghi said this makes it hard for him to truly be rehabilitated into society, without a strong support network to surround him. 
Without that, people will end up living on the street, she said, making the respite home that much more important to keep afloat.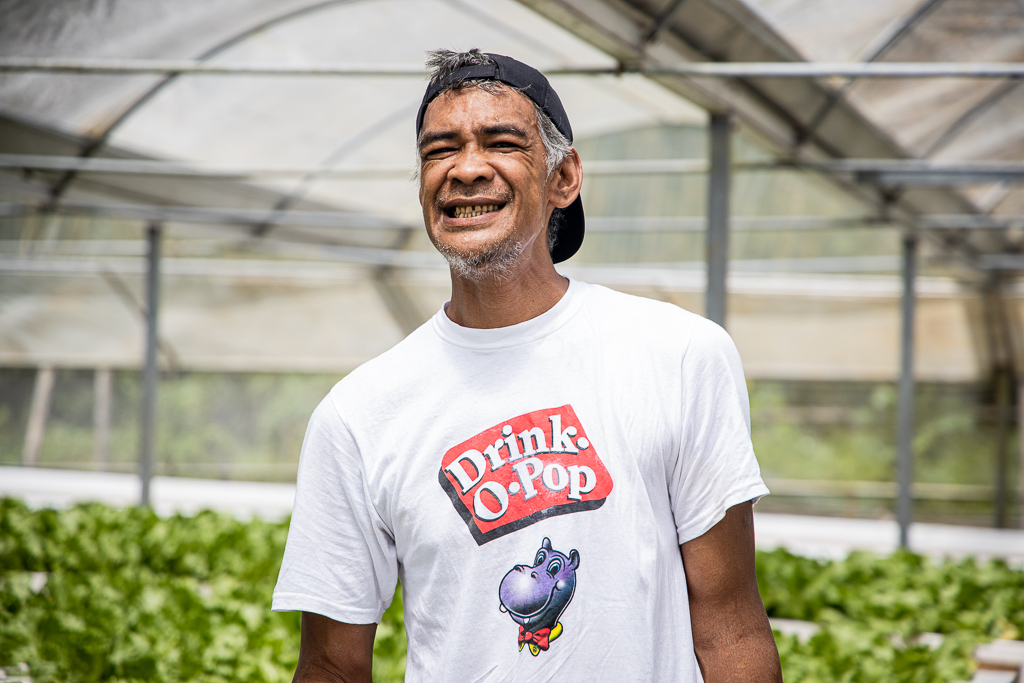 The Goshen Trust gets annual budget support from the Civil Society Support Programme, which keeps the lights on and the water running. And this year, the Embassy of South Korea donated a van to help them get around, which has more than enabled the residents to get to their farm work on time. 
Next month, the Apia Hash House Harriers will run the more than 200 kilometre perimeter of Upolu to raise money for the Goshen Trust for the fifth year in a row. Last their efforts rallied $21,000 and the trust was able to buy a new fridge and freezer, something they had previously had to go without. 
If you want to contribute to the A.H.H.H. fundraising campaign, visit their Givealittle website: Prioritizing Mental Health Samoa. So far they have raised $3363 out of a targeted $26,000.
*The Goshen House residents gave their consent to be photographed and to share their names for this reporting.