More women ready for Board roles
The second Training for Women Directors wrapped up on Friday.
It followed a week-long course aimed at getting more women into government and private organisation boards.
Twenty eight participants were presented with certificates, including one male.  The course was run by the United Nations and the Samoa Institute of Directors (S.I.O.D). 
The five-day training was organized and delivered by the Institute of Directors in partnership with the Women in Leadership in Samoa (W.I.L.S.) Project for aspiring women directors and male champions on gender issues to raise and increase awareness and understanding of the requirement to successfully engage in the Corporate Governance and management of organizations in Samoa.
The professional training also looked at understanding the application process and entice them to apply for directorship.  Also, to increase their understanding of the requirements to successfully engage in the directorship of any size.
Amongst the participants were 2 representatives from Savai'i representing the Business of Salafai Association (BOSA). 
In an interview with the Samoa Observer, Muagututi'a Talaleu Arasi who is the president of BOSA emphasised on the significance of the training. 
"As president of BOSA, I've learned a lot of skills and knowledge from this training as a chairperson within our association," she added
"We had discussed a strategy plan on Thursday and I believe it's a challenge because this is one of the things BOSA is looking at regarding our own strategic plan and the 10th anniversary of the association that we'll celebrate next year."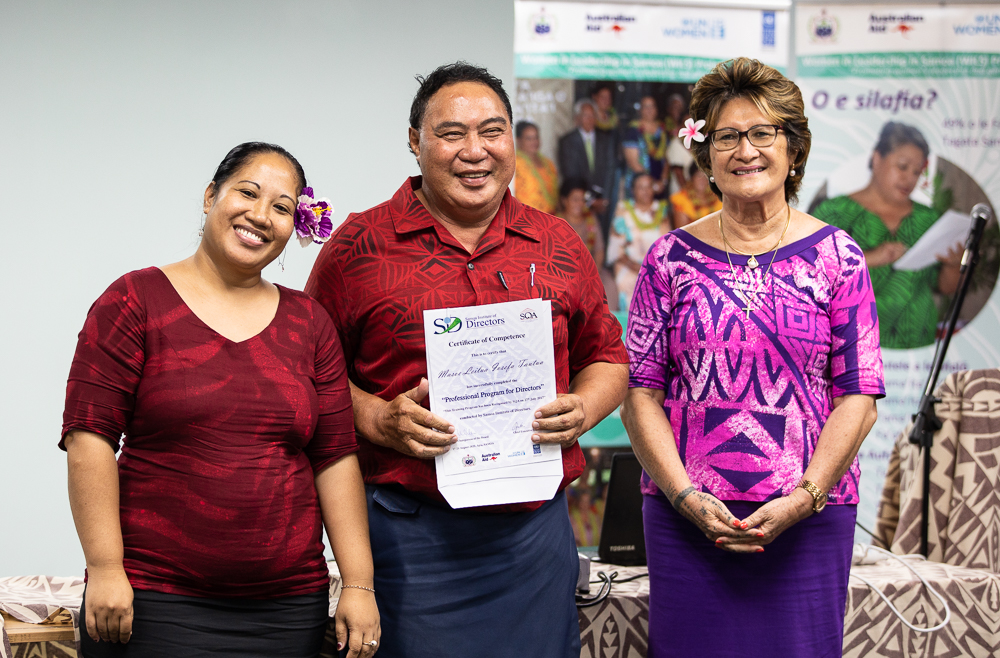 The training was a good networking experience which the association needed to establish communication and mutual understanding. 
Muagututi'a said that it would be good if other's Savai'i get an opportunity to be included in the training and had requested for the next training to be in Savai'i.
"As the saying goes by Tofilau Eti Alesana who is from Savai'i, 'What's good for Upolu is also good for Savai'i," she added
Sales and Marketing Manager of Lava Hotel; Karleen Rasmussen says that she has now learned about financial reporting and analyzing finances to a director's level and expectation through the training. 
She came to Samoa in 2006 and was working for Digicel before she moved to Lava Hotel. 
"We actually have a fortunate experience of reporting to the board of directors and that has given me more of an insight of how they look at things," Karleen added
"And I feel it's going to lift my confidence as to how I present and understand information but I want to do now is go back and share this with our management team so they get some understanding of how a board of directors think."
Another participant who gladly shared her experience was the General Manager for the Chang Holding Co & Ltd; Krystal Chang who talked about how the training was straight to the point and showed her what she was lacking in as a General Manager. 
"These guys just went straight to the point. Firstly about how you treat others whereby you don't go inside with this authoritative mindset that you're up there and these people are down there. No that's not it. You want to have that mindset that you want to work with these people and work with everyone and build up with everyone," she said 
"It's teamwork so if the team goes up, you go up, and they have really set that standard that we should respect everyone's idea but at the same time put your foot down if something's wrong."
And she emphasised that all the women who participated were brilliant women who came to the training with the same mentality to be better and she believed that they had all achieved that through the training. 
The date for the third women's director training is yet to be confirmed.