Fagaloa worth the drive
Somedays, driving around Apia is a chore. Your fellow drivers won't always indicate before they change lanes or turn a corner, and there are potholes big enough to cook soup for six.
But out of town the roads get wider, emptier, and they wind through a side of Samoa that is easily forgotten about during a busy week. 
So if you can fill your tank and take half a day to just cruise head east on the northern coastal road out of Apia and make for Fagaloa Bay.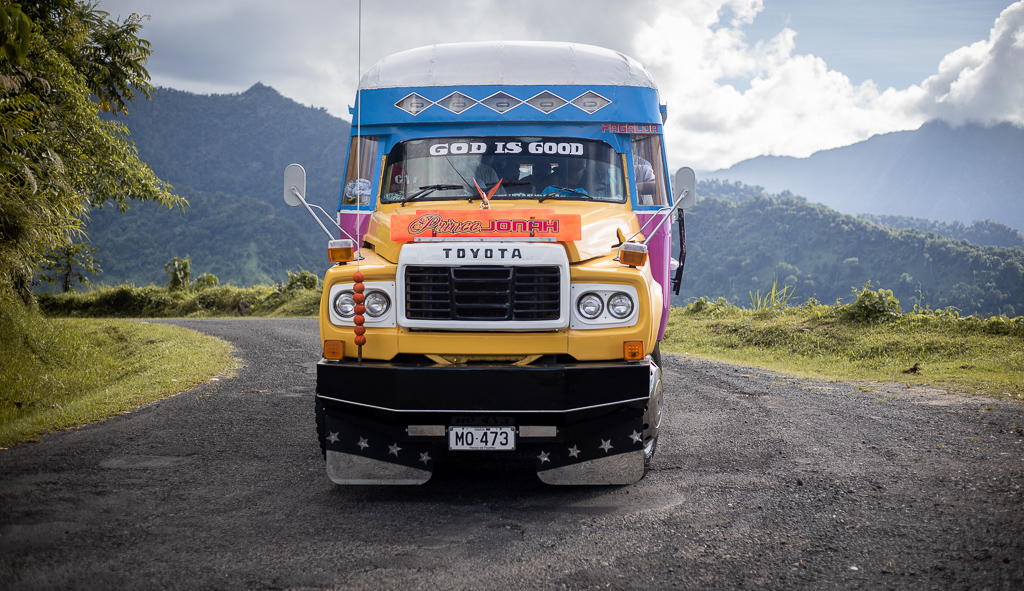 The coastal road is beautiful enough. Villages alongside the sea are painted the brightest colours and their gardens could compete internationally for glossy magazine space.
On the way, you can stop for a swim in either the crisp Sauniatu Waterfalls inside a unique little village owned by the Church of Jesus Christ of Latter-day Saints, who carved out the staircase as a village project just for fun. They don't even charge an entry fee.


Or visit Piula Theological College, not for the lessons but for the cave pool under the church, with the clearest fresh water and a resident eel, who will make space for you to swim should you choose to.
Further along when you leave the coast to start inland is Falefa, where the river breaks in a dramatic waterfall under a bridge. A family maintains a beautiful garden and picnic area for you to enjoy the view, but be careful if you decide to swim in the river, as it is shallower than it looks. 
When you start the climb towards Le Mafa Pass after Falefa, the landscape changes dramatically, with more coconut palms on all sides surrounded by tens of thousands of taro plants, crammed every which way, even on the banks of the river.
Take the sharp left turn, so sharp you could almost fall off, towards Fagaloa, and keep climbing. Soon you will be eye to eye with the mist that settles around the tops of the mountains.
When the corner turns, the sea opens up in front like a tablecloth laid out for a picnic just for you. Steep cliffs of the island slide into the water and the road begins its descent into the mysterious bay. 
On your drive down, just drink it all in. Don't worry, you have to drive back to get home anyway. That is when you should stop for photos on the neatly mowed road shoulders, but watch for other drivers.
Fagaloa Bay is the historical berth place of Samoa, the area where the first people to find these islands may have landed. Research from the 1980s backs this up, suggesting the earliest settlements happened 3000 years ago.
At its height, Fagaloa is 730 metres high, and the Uafato Tiavea Conservation Area is 2,500 hectares of land between Fagaloa and Tiavea. 
U.N.E.S.C.O. (the United Nations Education, Scientific and Cultural Organisation) estimates that 75 per cent of the land here is covered in coconut, and driving around you would believe it. 
There are nine villages in Fagaloa, each more special than the other. They maintain a deeply cultural way of life, and their isolation from the rest of Samoa may contribute to that. 
They are very quiet villages too. Driving around we see hardly anyone out and about, save for a few old men, one cutting his grass, another walking with a fresh harvest of coconuts on his shoulders.
The villages are all coastal, hemmed in against the sea by a massive, forested cliff. Water pours down in slim waterfalls all along the cliff face like it is crying.
By the time you have made it to Uafato, which has its own bay, you might be ready to stretch your legs. It makes the Uafato Bird Hide perfectly located, and a family at the base of the mountain is ready to welcome you. 
Manoa Vaasaomamao Manoa says he has welcomed dozens of tourists to the bird hide since it opened for tourists in March. Families in the village spent months developing the site, carving out a walking path and painstakingly building a modest hut for a patient birdwatcher to spend the afternoon in.
He said it is a pleasure to sit and listen to the birdlife around him. It is thought that there are remaining Manumea in Uafato, Samoa's national and critically endangered bird.
With help from the Samoa Conservation  Society the village trained up several young people to be tour guides. For $30 you can embark on a steep and rewarding hike up the mountain to the hut, and with enough mosquito repellent and a pair of binoculars, spot some native birds flying about.
From Apia to Uafato is slightly over 50 kilometres. Make sure you pack your car with all your options: swimming wear, towels, closed walking shoes and comfortable clothes for hiking in. And most importantly: a charged camera, full of storage.