Wolfpac Tours a hit with locals
Frank Wolf is running his seven-month-old business by himself after his wife and co-owner Mel and teenage daughter were stranded in Australia behind closed borders earlier this year.
Now, home alone with his toddler, Mr. Wolf is learning how to make his A.T.V. tour company work on the back of two disease outbreaks that put a stop to tourism in Samoa.
The operation closed down with the borders, but he has managed to host eight tours since the end of March, renting all six bikes.
He said that all eight tours have been of local Samoan people, which proves to him he can survive without tourists.
"It's new for people here. Quad bike touring is done in a lot of countries around the world but we wanted to be the first to do it in Samoa," Mr. Wolf said.
"After the measles we had tourists only, but since the borders shut we have just done locals."
The Wolf family opened Wolfpac A.T.V. Tours in Leauvaa last December, hoping to offer a unique adventure experience. 
It is an exciting way to see Samoa through fresh eyes. Mr. Wolf's tour winds through neighbouring plantations and dirt roads in Leauvaa, Saleimoa and Tuanai village.
With the handlebars of a bike in your hands, the towering coconut palms look taller, and koko and coffee trees seem fuller as you trundle or whip past them on your way through the 12-kilometre track. 
The company has forged relationships with the villages and families around him who are set to benefit financially from the operation to allow the tour to weave through their land, engine roaring along the way. 
Mr. Wolf is happy to take bookings of groups wanting to rent all six bikes but feels he can't quite run the operation for smaller groups than that.
"I only closed because it's too hard to do it on my own," he said.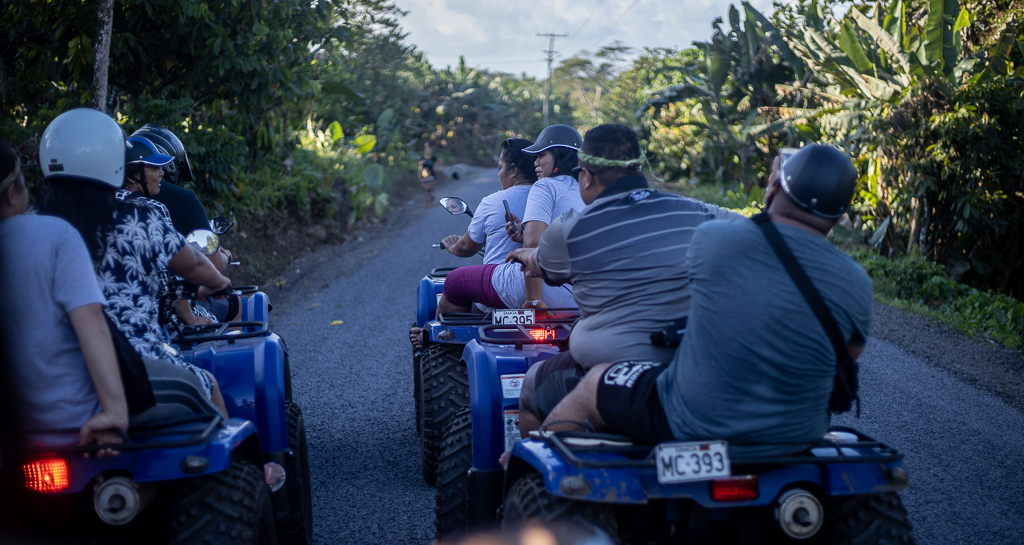 "On the upside, looking after my son is more of a priority than looking after the business."
But the COVID-19 crisis hasn't left the owner with any regret, saying quad bike tours are just the beginning of a business looking to expand into more adventure-style activities.

"We're in it for the long run," he said.
"They say the majority of businesses fail in the first couple of years but we are here to stick it out."
If you want to book a tour, contact Frank on +685 728 3631. Bike rentals are $150 per bike plus $50 with a second rider.