Samoa part of landmark report on women journalists
Women journalists need more protection on the job, from their states, employers and the community, according to the United Nations Special Rapporteur on violence against women.
In her report to the Human Rights Council, Dubravka Šimonović said nearly 100 women journalists have been killed while working since 1992 and regularly face threats of sexual assault and rape to undermine their positions.
The final report was in part informed by Samoa's own submission, compuled by Samoa Alliance of Media Practitioners for Development Co-Founder Lagipoiva Cherelle Jackson, who said the report's 21 recommendations in the report reflect Samoa's desires too.
Lagipoiva, who is also a member of the Samoa Media Council gathered evidence from 18 women journalists across Samoa in 2019 for what she believes is the first major submission by Samoan media to the Human Rights Council.
The survey found women journalists face gender-based violence and harassment while reporting, from the state, including Police officers, members of the church or men being interviewed.
All the survey respondents agreed that getting harrassed was just part of the job. Lagipoiva said how normal daily harrassment has become is a longstanding concern.
"[Women journalists] take abuse in their stride as part of the job. This is the same for male journalists, however women journalists also face the added sexual harassment online and offline," she said.
"The sad thing is that the nature of interactions in our culture lends itself to exchanges that are sometimes sexual harassment and violent in nature. 
"Women journalists, due to the nature of their work face this added layer of harassment and violence that is generally regarded as part of the job."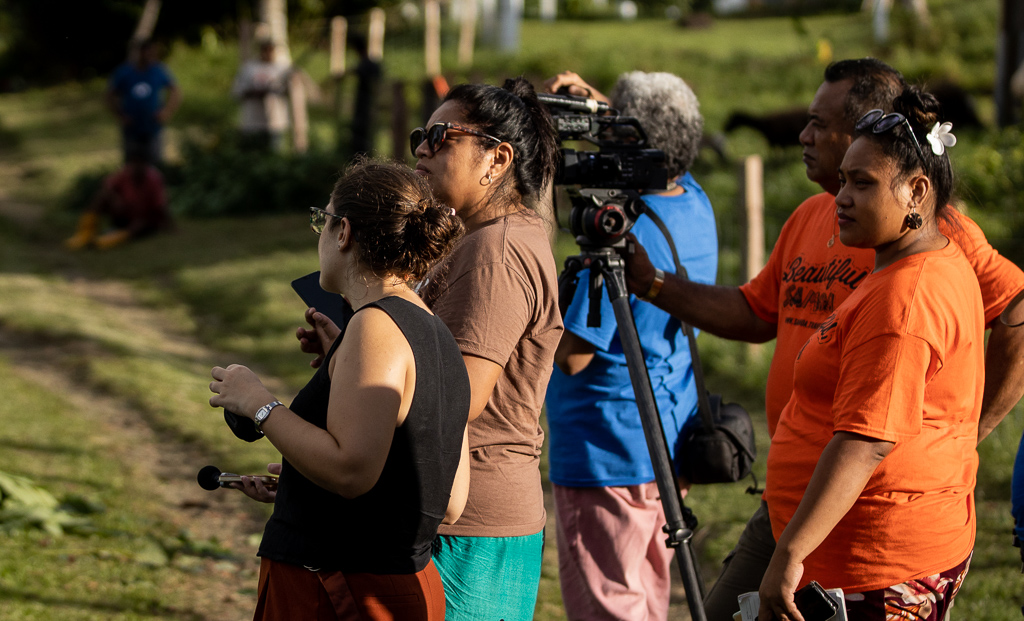 One challenge is that Samoa has no specific systems in place for journalists who are victimised while working, except for to make a complaint to either S.A.M.P.O.D. or the Journalist's Association of Samoa (J.A.W.S.). This does not always lead to legal action.
In a National Assessment Report, J.A.W.S. found the most common threat to women reporters is verbal abuse and threats of harm, and belittling or sexist remarks.
"You are a little girl," is one example. "You should not concern yourself with such matters."
Women reporters have been banned from official Government press conferences, had interview requests refused and given direct threats to their person in public, J.A.W.S. found. 
As well as co-founder of S.A.M.P.O.D., Lagipoiva is the Chief Editor of the Journalism Initiative on Gender-Based Violence (J.i.G.) at the Center for Women's Global Leadership in the United States of America. 
In her role there, she was part of an effort to talk to over 100 women journalists from 38 countries, many of whom struggled with gender-based violence during their work.
"Some have been raped and tortured while in the field and others experienced retaliation against family members and lost their jobs as a result of their coverage," she said.
The Special Rapporteurs report includes 16 recommendations to states and five recommendations to the United Nations on the situation.
Among them is a call reflected in Samoa's submission also: that countries should ratify the International Labour Organisation Violence and Harassment Convention in order to widen the understanding of 'work' as it relates to journalism to improve workplace mechanisms for protecting women and holding perpertators accountable. 
"The workplace for a woman journalist goes beyond the traditional workplace setting, they are not confined to a room or a building or specific setting, and their workplace is largely in the field, which means they don't have the protections afforded to women in an office environment," said Lagipoiva.
"Women journalists covering elections, disasters or doing community stories are sometimes on their own during interviews. In the event they are attacked or harassed, they need the same protections afforded to them in the traditional workplace setting."
The report also calls for all existing laws and policies to be fully compliant with international human rights law, and to criminalise online forms of violence against women.
Police, prosecutors and judges should also be further trained on women journalists' safety, and on the role of the media too.
"Some of the common issues identified by women journalists globally are threats and violence against them by law enforcement officers as a result of their coverage," Lagipoiva said.
"For Samoa, law enforcement officers are generally respectful of women journalists, however there have been incidences where lacking the understanding of the role of the press in events, individual Police officers have deliberately blocked women journalists from effectively doing their work.
"There needs to be a better understanding of the role of the press in the coverage of government affairs, public events and incidences that occur in public places. 
"By the same token, there are also parameters and limitations to access, which women journalists in Samoa are fully aware of."
Both the S.A.M.P.O.D. submission and the Special Rapporteurs report call for the development of databases on threats and attacks on women journalists. 
Lagipoiva said this kind of database would not be about "naming and shaming" but rather about understanding the threats and developing meaningful responses.
"Retaliation is the greatest fear for many women journalists, and Samoa being a small society, this is a real concern," she said.
"A database is not intended for naming and shaming but rather to understand the types of threats, the sources and the implications of such threats on the work of women journalists. 
"By doing this, we can then develop response measures either through policy interventions, training programmes, collaborative agreements and so forth."
The report itself is it's own milestone in the industry. It is the first time a Special Rapporteur on violence against women has specifically addressed the problems for women journalists in the field. 
"Her recommendations give women journalists a platform to request and call for actions by their governments on violence they face in their line of work," Lagipoiva explained.
"The previous Special Rapporteur's report focused on violence against women in politics, the fact that this report follows that, further highlights the extent of the threats and risks faced by women journalist worldwide."
That Samoa's submission is so clearly visible in the final report should be applauded.
"It is a global acknowledgement in a sense that our issues, small island issues faced by women journalists are not only significant but also a part of a greater problem that the Special Rapporteur has clearly identified and called on Governments to do something about."