Apia East Flames ready to bring the heat
A newly formed netball club called Apia East Flames is raring to go as the local netball fraternity gets into gear for the PFL National Netball league. 
Apia East Flames consists of 15 players who share a common passion for the game. 
Though a new club, A.E.F (Apia East Flames) have members who have been playing netball from young ages under bigger club while a few are new to the sport.

Coach, Fa'anofonofo Mulan Lautusi, said the club started with the hopes of expanding the competition as last year there were only 4 teams in the Open (A-Grade) division. 
"Last year, clubs grew in numbers but there were only four teams because a club can only enter one A-Grade team in the Club League," she said
Most of the A.E.F players are seasoned players that have played for the bigger clubs in the past years.
The thought of starting a new club was so that the competition isn't limited to the same number of teams and thus contributes to the growth and development of netball in Samoa.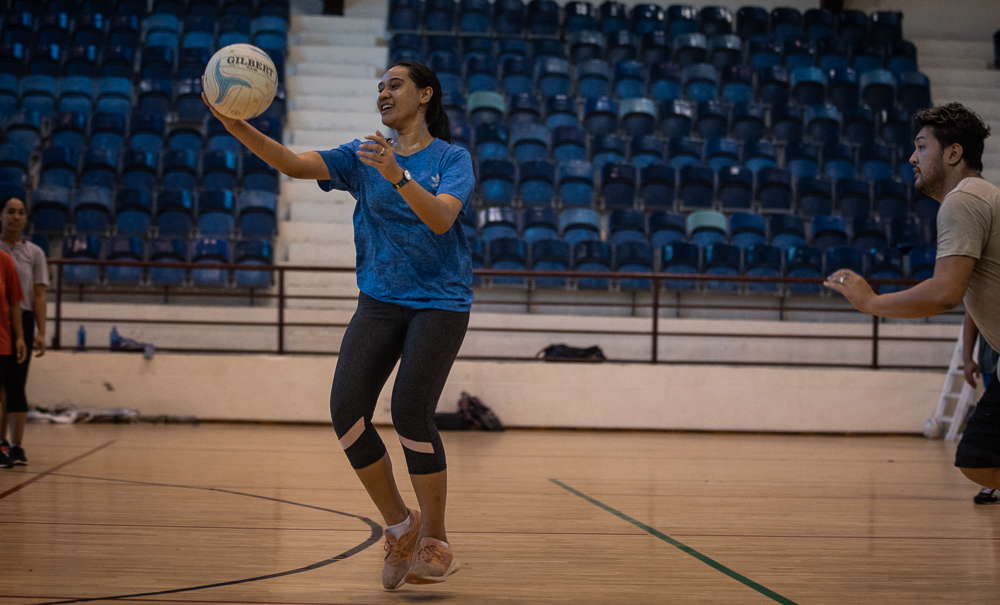 Talking about where the club name derives from, Fa'anofonofo says that they called it "Apia-East" because most of the players are based around the east side of town and "Flames" as they are a new club and for this year, they believe they will bring the heat in upcoming netball tournaments.
Their training schedule is spread out through the week with Mondays being their fitness session training at Malaefatu Park or at Apia Park track, Tuesdays are for ball and court skills at Tuanaimato Multipurpose Outdoor Courts and Thursday are game days at NUS Gym. 
"Because we are a new club, we lack resources and finances to have a consistent venue for training, therefore we improvise and take whatever is free and accessible most weeks," Fa'anofonofo said 
The club has been training together for a month now since SOE restrictions pertaining to sports were relaxed. Fa'anofonofo said that it is a small amount of time to prepare but they have been giving it their very best to train. 
It has been very difficult for them juggling trainings, family commitments and work/studies but Fa'anofonofo says that they have created a space much like a family where they come together not only as a sports team but like a sisterhood sharing a common passion.
Apart from trainings, off-court, they have team bonding activities that allow everyone to bond and connect with each other in order to have that chemistry during the game.
Because A.E.F is a new club, they are only entering an A-grade team to start with as they cannot yet financially support more than one team. 
"Next year if God willing, we plan to expand and form an A-Reserve division team as more players have shown interest in joining AEF Netball Club. Things are looking very promising," she added
A.E.F is looking to growing professionally as netball players and ultimately winning either the shield or the overall competition. The girls are hyped and driven to play this year especially alongside players from other clubs. 
According to Fa'anofonofo, netball is a game of respect and discipline whereby every netball player is aware of this but at times, players may get frustrated in the heat of the moment during the game. 
"We always encourage our girls to practice good sportsmanship by uplifting each other (teammates and opponents- alike) and play with respect, always!" she added
Apia East Flames Players.

 

Position

Faleulu Levasa

GK/GD (President)

Mafa Mulitalo-Simanu

C/WA (Vice-President)

Faanofonofo Lautusi

GD/GK/C (Secretary & Coach)

 

Laupama Mataipule

WA/GA (Manager)

Annetta Iakopo

GS/GK (Captain)

 

Amanaki Simalu Lautusi

GD/C

Tupou Toomalatai

GK/GD

 

Lene Vaifale

WD/C

Shaanarlei Ward-Iteli

C/WA

Grace Arasi Tanielu

WA/GA/GS

Nazarena Lameko

GA/GS

 

Narita Lale

WD/C

Cedrella Moe Pouli

GA/GS

Lisa Time

C/WA/WD

            Shaloni Time

                 WD/C