S.N.P.F. pays out $3.3 million on first day
The Samoa National Provident Fund has paid out over $3 million to its 4000-plus members since Wednesday from its 9.1 per cent dividend payment.
Hundreds of S.N.P.F. contributors have lined up outside the superannuation fund's headquarters at Matafele since early Tuesday to get their share of the total $64.5 million dividend. 
S.N.P.F. Chief Executive Officer, Pauli Prince Shuren, confirmed in an email response to the Samoa Observer that "at close of business on 1 July 2020, 4,662 members had been paid $3,307,239 million tala." 
The disbursement of the biggest dividend in the superannuation fund's history will come in portions with the first payout due in July $14.2 million [2 per cent] and $10.6 million [1.5 per cent] in November. The remaining $10.6 million [1.5 per cent] will be paid in cash to members on March 22, 2021.
While the news of the multimillion tala dividends will be welcomed by the S.N.P.F. contributors, the process of obtaining individual shares continues to be a challenge for many, who have to soldier on with the long queues.
Contributors formed a long queue again outside the S.N.P.F. head office in Matafele on Thursday, making it difficult for the Police to keep people outside the building as they tried to enforce social distancing rules in front of the office.
Asked if the superannuation fund had plans to put in place a more customer friendly system to process its contributors' payments, Pauli said the change will give rise to "confusion and unnecessary delay."
 "This old fashioned way is still the fastest way to disburse the dividend," he said in an email. "The majority of our members change bank accounts all the time which negates a bulk automatic payout.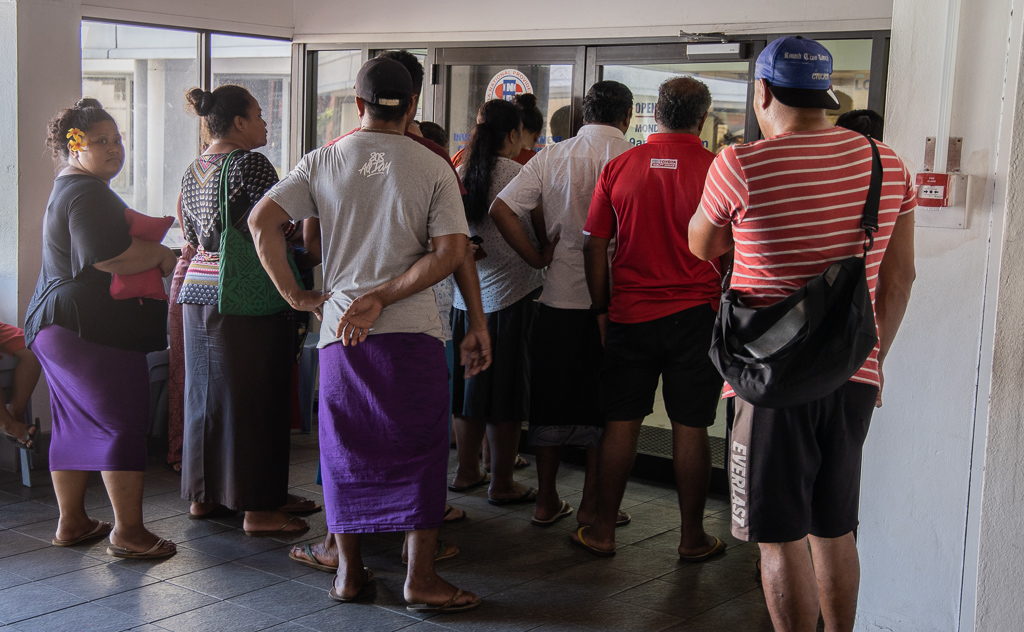 "A significant number of members do not wish to redeem their dividend – this negates a bulk automatic payout."
According to Pauli, "the majority of our members are also not technology savvy enough to utilise an online or app-based platform."
The C.E.O. was also asked about the suggestion of a separate line to service elderly people and those with a disability, however, he said "no" and pointed to past experience where the crowd disappeared after the first week.
"The advice to this group is the jam-packed crowds will disappear after the first week," he added. "They can come in then to redeem their dividend. The cash portion pay-out will continue until C.O.B. 31 July 2020."
When asked about reports of a heavily pregnant woman going into labour while waiting in the queue, Pauli said he has no knowledge of the incident.