Long-serving registered nurse laid to rest
By Hyunsook Siutaia

•
03 July 2020, 4:00PM
One of Samoa's longest serving registered nurses has been laid to rest at her home at Fusi, Safata. 
Gese Masinaoso Timani Leniu Bell, who has been a registered nurse for over 30 years, passed on June 18 at the age of 81. 
She entered nursing school in 1957 and graduated in 1961 to begin work at the hospital in Fusi Safata in 1963, where she met her late husband Auseugaefa Sale Soalaupule Bell.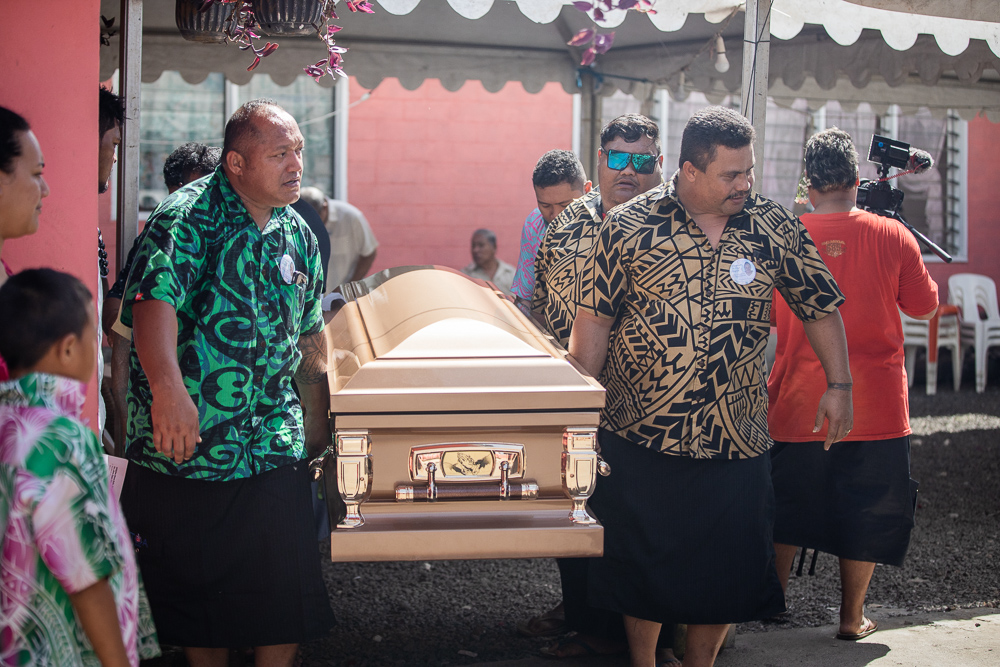 She was given an award in 1975 for services as a nurse in the rural villages and was recognised again in 2017 with the Government acknowledging her long service as a nurse. 
The late Gese has seven children and six grandchildren who all live in Samoa. 
She was bestowed with the title Gese before marriage but when she met her husband back in 1964, she became a faletua as he was the high chief in Fusi, Safata. However, when her husband passed on she retained her original title Gese. 
Her funeral service was held at the Fusi, Safata Catholic Church where families and friends gathered to pay their last respects and to farewell a long-serving member of the village and the community. 
According to one of Gese's daughters, Galumalemana Onolia Bell, her mother had a very strong personality. 
"She strongly strives for everything in our family to be at the very best," she said. "That was how she treated us when growing up, we're disciplined and we're continuously lectured because she wants us to be the best we can be."
Galumalemana said they knew and appreciated her character and most people in the district had known their mother for her strong personality.
"She is very straight forward when she wants to say something and she doesn't complain about it," she added. "When she doesn't like something, she makes sure she tells you the way it is."
She said their mother was determined to do what was best for her church, village and family and that was how they were raised.
Her job as a nurse was also very important to her, according to Galumalemana. Whatever happened at the hospital, their mother would always bring the issue home and share it with her children.
"If she had a patient she looked after during the day when she gets home and we have our family devotions, she'll pray for her patients," she said.
People from their village would also come by their house seeking medical help from their mother, even after-hours while she was still a nurse and even during her retirement.  
"A lot of our village people here would come to her for medical assistance," she revealed. "She checks them here at our house but if she knows there's a need to go to the hospital, she'll then take them to the hospital." 
Galumalemana said they had wanted their mother to retire from work but she was still adamant she needed to work, and it was only when her mother felt that she couldn't work anymore due to her health that she decided to retire completely. 
"Her retirement was extended about three times," Galumalemana reiterated. "Her passion was always to help people through her job."
Gese started off as a nurse in Moto'otua hospital and then moved and looked after the hospital in Fusi Safata. There was also a time where she looked after the hospital from Poutasi to Lefaga. 
She didn't return to Moto'otua and worked full-time in the district hospitals at Fusi, Safata. 
On the day of her mother's passing, Galumalemana said her mother was taken to the hospital as she was struggling to breathe due to being a heavy smoker prior to the birth of all her children.
"My mother wasn't sick and she had a doctor come all the way here for her medical check-ups every two to three months," she said. "The day she was taken to the hospital was when she had struggled to breathe because she is quite the heavy smoker.
"She was a heavy smoker that she could actually smoke one pack a day. Her doctor advised her to cut it down to three or four cigarettes a day but she didn't listen."
Galumalemana said they were at the hospital for about two hours before she passed away.
By Hyunsook Siutaia

•
03 July 2020, 4:00PM