Can Samoans fill the money hole until overseas tourists come back?
By Sapeer Mayron

•
29 June 2020, 2:00PM
The Samoa Tourism Authority is worried. After decades of investment in tourism by the government and private sector growing the industry around a quarter of gross domestic product, a global pandemic has slammed the doors shut for hoteliers, hospitality and hiking for at least another year. 
Like the rest of the world Samoa closed its borders to foreigners and is imposing two-week quarantine on returning citizens and residents from New Zealand and American Samoa for the foreseeable future. Neighbouring Australia looks to remain on the outs until all cases of the coronavirus are stamped out. 
So who will fill the hundreds of hotel rooms, built to cash in on the government's campaign to be the heart of the Pacific, the centre of meetings and conferences and the only island to visit for a holiday?
S.T.A. hopes it will be you. Using a budget typically reserved for hosting travel writers and travel agents from target like New Zealand, Australia and China to relax on Samoa's white sand beaches and snorkel in its coral reefs, S.T.A. took 15 reporters from Samoan media to experience Savaii from a tourist's point-of-view.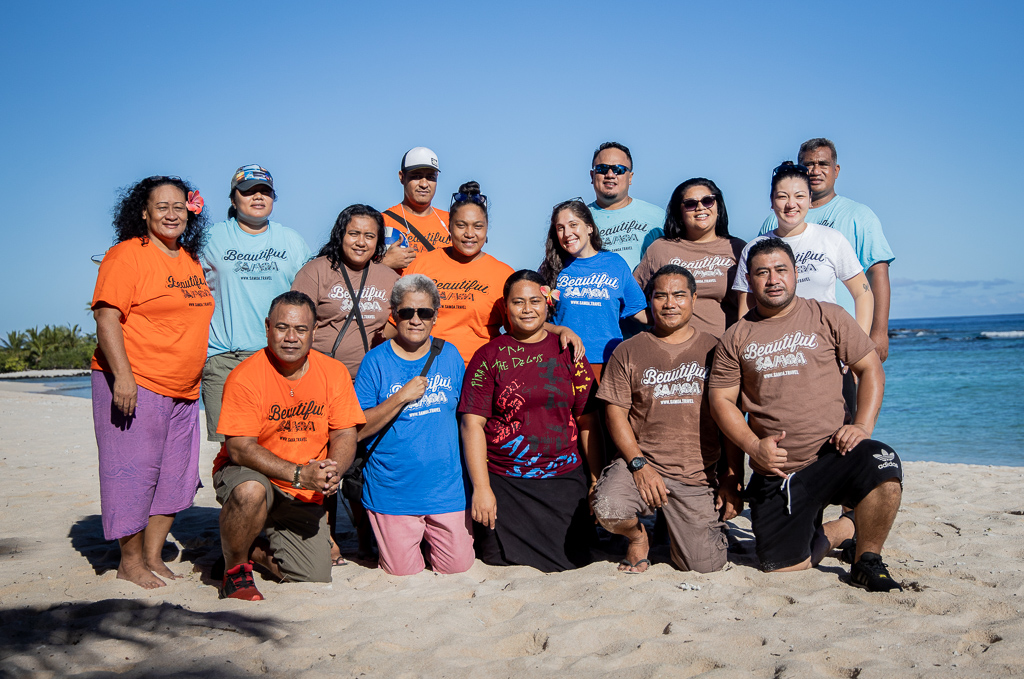 It wasn't always the smoothest ride, with the schedule not quite roomy enough for reporters to interview matai, families and business owners about the trials and tribulations of life in tourism under COVID-19.  
But the junket, and an accompanying S.T.A. campaign #TakeMeToSavaii, hope to have locals fill the gaping hole in the tourism sector by convincing them to holiday at home for the next six to 12 months. 
Our neighbours in New Zealand are facing the same dilemma, with its NZ$40 billion industry facing trying times ahead. But unlike Samoa, 60 per cent of tourism money comes from New Zealanders themselves. 
Kiwis love experiencing their own country. They spend big on motels, camping grounds, tiny eateries in tinier towns and they do it often, with summer holidays around the country part of a national tradition. 
Does Samoa have the same travel culture to tap into in the absence of its international tourists? University of the South Pacific (U.S.P.) Professor Stephen Pratt thinks possibly not. 
"There is a segment of the population that don't have this desire and some people just don't want to go anywhere and they don't seek novelty necessarily in different environments," he said. 
"I think for a segment of the population you are probably never going to convert them to explore their own country let alone another country." 
Professor Pratt is the head of the tourism school at U.S.P. in Fiji, and this month published a paper on Samoan attitudes to travel.  
Based on 308 surveys conducted in Apia and Aleipata, he and his colleagues found Samoans not only barely travel around their own country but when asked, they don't identify themselves as tourists at all, associating the word with foreigners or palagi.
If they are leaving their homes for the night, it is typically for a work or school trip, or to stay with family for fa'alavelave, he found.
But on the other hand, after three months of being restricted in their movements in some way or other, people are cooped up and may be more inclined to travel domestically, he said. 
"Even in Fiji, the very nice resorts are offering good deals and many are making use of it.
Of the respondents, nearly 80 per cent had only ever travelled outside their island, going to Upolu from Savaii or vice versa, and the trips were almost always with family to visit other family for a familial obligation like fa'alavelave.
"All participants when asked to identify 'the tourist' made reference to the 'palagi' never considering themselves as tourists," Professior Pratt said. 
He told the Samoa Observer that while Samoans do travel, and for a variety of reasons, they don't consider themselves tourists when they go abroad, and certainly not when travelling around their own country. 
"The primary motivator for a trip is strongly associated with visiting friends and relatives, and once they are there they stay with relatives and they might do activities a conventional tourist might do, but the motivation tends to be more for family ties.
"They don't necessarily stay overnight, they might go from Apia to the other side of the island to picnic with the relatives and turn back."
Several respondents offered variations on a theme of choosing to stay on their family's own beautiful beach instead of visiting another elsewhere on the island.
A 42-year-old man from Aleipata told the researchers: "Why? In front of my house I have a beautiful beach, I just have to open my front door and cross the road, why would I take my family to another beach, I have my own, I don't want to go to one that belongs to someone else."
Then there is the question of money. With lush resorts priced for overseas currencies and unable to shrink prices any lower than they already have to attract locals (both Amoa Resort and Le Lagoto Resort and Spa say they cannot make ends meet at less than $300 per room per night), how many Samoans are willing to spend on accommodation? 
And if they have family in Savaii, will they accept their relatives staying at a resort instead of at home with them?
In the van on our final stretch to the wharf, a fellow reporter quietly calculates how long it would take him to save enough money for a family trip to Savaii: the ferry tickets, car transfer, accommodation, meals and entry fees to the natural attractions combined. 
"Six months, maybe seven," he says. 
Professor Pratt's survey found that saving for travel is very rare in Samoa, with most people saving money exclusively for fa'alavelave, if they save at all.
While half the people surveyed said they saved their disposable income, just 8.1 per cent said they might use that money to travel and only 6.5 per cent said they definitely saved money to travel. Everyone else, the professor surmised, is saving for family spending.
"From what I see the Palagi people save to travel and Samoans save for fa'alavelave. We have to work hard and save for our large families, cultural and village activities and things we need to do," a 30-year-old woman from Apia told the researchers.
There is no denying Savaii is special. Most Samoans, no matter which island they hail from, agree that getting off the boat and stepping on Salafai soil is grounding, healing, relaxing. 
But Samoans don't need to be convinced of their own country's natural beauty and resources. Instead, the S.T.A. might consider appealing to their people's sense of adventure, discovery and nostalgia, as well their obligations to stay connected to family on the other island to them. 
It could also be frank about the need to spread wealth around the island and keep people employed during a difficult time, Professor Pratt said, as has been done after natural disasters in the region. 
"I think there can be a message that says at the moment we can't go [overseas] so take the time to explore other parts of Samoa you have never seen," he said.
"You could say be a tourist in your own country, that might work in other places but I am not sure it's a great marketing slogan in the Pacific.
"Tourists are often associated with a negative impact as well, that they are maybe not culturally sensitive, that they might not care about the land as much as Pacific Islanders."
This month the Ministry of Tourism in Fiji launched a Love our Locals Fiji campaign, encouraging the industry to price more attractively to locals, and asking locals to go explore their country. So far more than 60 operators have signed up to the campaign. 
Professor Pratt said in countries where international tourists have dominated, some industries may have some work to do to rebuild a relationship with locals who might have previously felt underserved or even shafted by the resorts and hotels now desperate for their custom. 
"There has been a sense that [the industry] hasn't treated the locals as well as the international guests in the past.
"In Fiji a couple of years ago, the Prime Minister stood up at the tourism awards and scolded the industry and reminded them that they need to provide as good a service to locals as the international guests."
The Savaii Samoa Tourism Association specifically asked the S.T.A. to send journalists and media to Savaii to promote the island to its locals and neighbours on Upolu, and hope that over time the idea will bring in a lot of customers. 
But in the middle of a global pandemic straining everyone's last dollar, even the Association President is not sure how long before the domestic market can't afford the trips either.
"Even the government worker is going to start thinking to save their money and they won't spend it on [a holiday]. It's a matter of riding the wave. I literally can't think of any other way," said S.S.T.A. President Vaaelua Faapoipoituuloa Gidlow
"Some might say this is when government steps in but we are the government, we are the people that finance government. If we have no money, they don't."
By Sapeer Mayron

•
29 June 2020, 2:00PM