Saanapu man's plea: let me see wife and children
Ask about the two young daughters he has been unable to see for nearly three years and Kosena Eteuati just can't find the words. 
When asked by the Samoa Observer about the immigration dispute keeping from seeing them in Southland, New Zealand he pauses for several minutes, visibly fighting back tears. He declines to speak further. 
The Sanaapu man is desperate for New Zealand to send him home to see his wife and daughters after he was deported from the country to Samoa in 2015.
"Me and my wife have fought a long time for me to go back to New Zealand, and it seems New Zealand Immigration don't [care at all]," he said. 
Mr. Eteuati is about to celebrate his ten-year anniversary with his wife Danelza but has not seen nor his young daughters for nearly five years. 
But instead of spending the anniversary together as a family, Mr. Eteuati is more than 3,000 kilometres away, anticipating a protracted decision from Immigration New Zealand on whether he is eligible to leave the country. 
Mrs. Eteuati said over the phone on Sunday, the toll of the extended separation has been hard on her and her daughters, seven-year-old Meatuai and four-year-old RaDesha.
"How do you explain to babies that their daddy can't come home?
"The best I can explain is that we are waiting for Immigration to make their decision. He video calls us multiple times a day." 
When the Samoa Observer visited his home in Saanapu, Mr. Eteuati was exhausted. He phones his family back in Dunedin several times a day, between keeping his caring for his local family and looking after his elderly father, Eteuati Lefulefu.
As the youngest of 11 children, Mr. Eteuati is used to the labours of love of a big family. But he is desperate to get back to his children.
For the last five years he has been his father's primary caregiver.
"It's all I am doing, looking after my dad. It's all I'm doing, and fighting Immigration to go back," he said. 
"I get nothing from them; the only thing [Immigration] want from me is money." 
He won't say how large the legal bill has been for the extensive fight but it has evidently added another cost to their ordeal.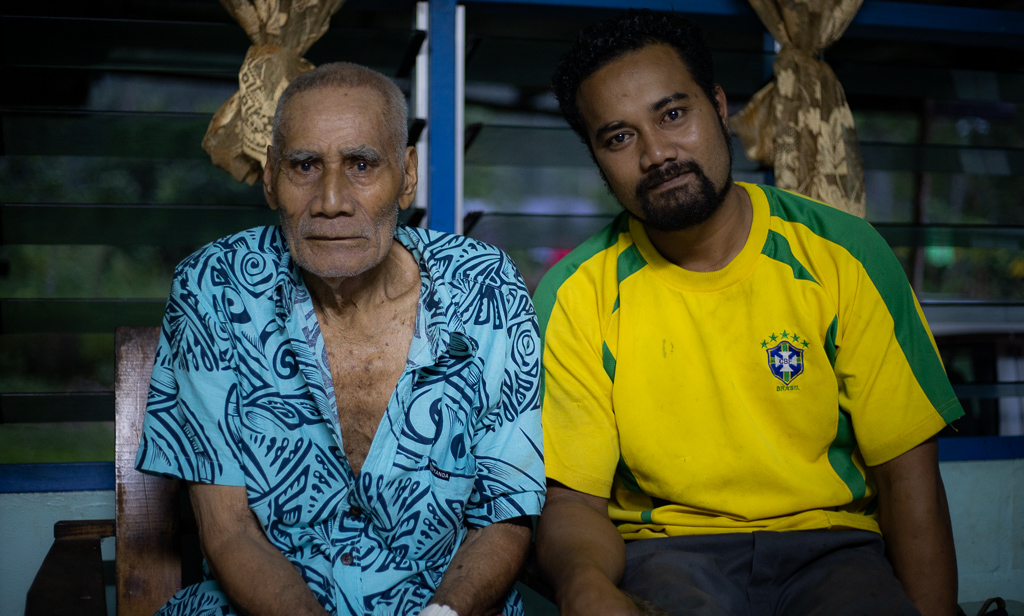 Now, 22 months after beginning a partnership residency visa application, the road to bringing their family back together seems uncertain.
"They've (Immigration New Zealand) got everything to be able to process it," Mrs. Eteuati said.
"We are constantly ignored when I send in emails to find out what exactly is happening. 
"All we get is 'you've got complicated circumstances and this is why it is taking so long,' but even Immigration New Zealand has to acknowledge the fact that it should not be taking this long."
I.N.Z. border and visa operations manager Nicola Hogg told a local media outlet, Stuff, that the department needs more information before it can process his case.
"I.N.Z. acknowledges that this application has taken longer to process than normal, and we apologise for this," she said. 
The family's troubles began after a close friend died in a car crash. After the funeral, a group went to a bar and Mr. Eteuati was swept into a brawl.
He and his wife claim he entered the fight in the defence of a stranger. Samoa Observer has not been able to independently verify this claim and was unable to find the court documents of his case. 
Mrs. Eteuati believes she and her husband were wrongly advised on how to plead in court, whether to give up his passport and how to go about renewing his visa while the court case proceeded.
Because his passport had been confiscated, the pair delayed applying for Mr. Eteuati's work visa, and halfway into his 10 month home detention sentence he had to return to Samoa as his visa had lapsed. 
"So we moved as a family to Samoa, and our girls and I only moved back because we had continuous bad health," Mrs. Eteuati said.
"What I know now is that we were well within our rights to get his passport back, especially for immigration purposes."
The family spent 18 months together in Samoa before Mrs. Eteuati and the daughters returned to Dunedin. 
They knew Mr. Eteuati would have to wait at least two years in Samoa before applying for residency, but never guessed it could take more than five years to be reunited. Since 2015, they have only seen each other for two weeks, during a holiday in Samoa in 2019 over his birthday.    
When he does manage to get back to Dunedin, Mrs. Eteuati said her husband will join her in the business she started, a hair art salon called Xaria Xiomara Hair Art which has taken on new employees for the first time.
"I braid, and Kosena has a gift for barbering so he can do that," she said. 
"Xaria means love and Xiomara means ready for battle, because I am passionate about helping people help themselves."