National debt to rise over $900 million: I.M.F.
Samoa's external debt will grow by hundreds of millions of tala in coming years before exceeding 70 per cent of the nation's Gross Domestic Product, new International Monetary Fund (I.M.F.) forecasts show. 
The Government's outstanding debts for the December 2019 quarter stood at $1.04 billion, official statistics show.
But in figures published on Friday, the I.M.F. reports Samoa's public debt will increase by at least around T$200 million a year and reach nearly $2 billion by the Financial Year 2024-2025.
That will leave the country maintaining debts equal to more than 70 per cent of Gross Domestic Product (G.D.P.), or the nation's total economic output, until at least the middle of the decade. 
The Samoan Government has set itself a target of not exceeding a debt-to-G.D.P. ratio of 50 per cent. The country's external debts currently stand at 52 per cent, according to data from the Fund. 
But that figure is set soar an astonishing 10 percentage points next Financial Year alone, before climbing to just over 70 per cent and remaining there for the three Financial Years until 2024-25, with no projected end in sight. 
Just two years ago, the I.M.F. warned Samoa needed to maintain debt levels of close to 45 per cent or remain at high risk of debt distress but also risk being unable to cope with its next major natural disaster.
Samoa currently spends 11 per cent on debt repayments. 
The Minister of Finance and Chief Executive Officer of the Ministry Sili Epa Tuioti and Leasiosiofa'asisina Oscar Malielegaoi have not responded to questions asking where the growing loan balance is likely to come from, nor how they intend to service such debts. 
By mid 2025, the I.M.F. predicts Samoa's debt will be $1,948,900, up 40 per cent from today's levels.
G.D.P. is also forecast to increase albeit not as rapidly, to $2,661,000 in the same year, an increase of 22 per cent on today's levels.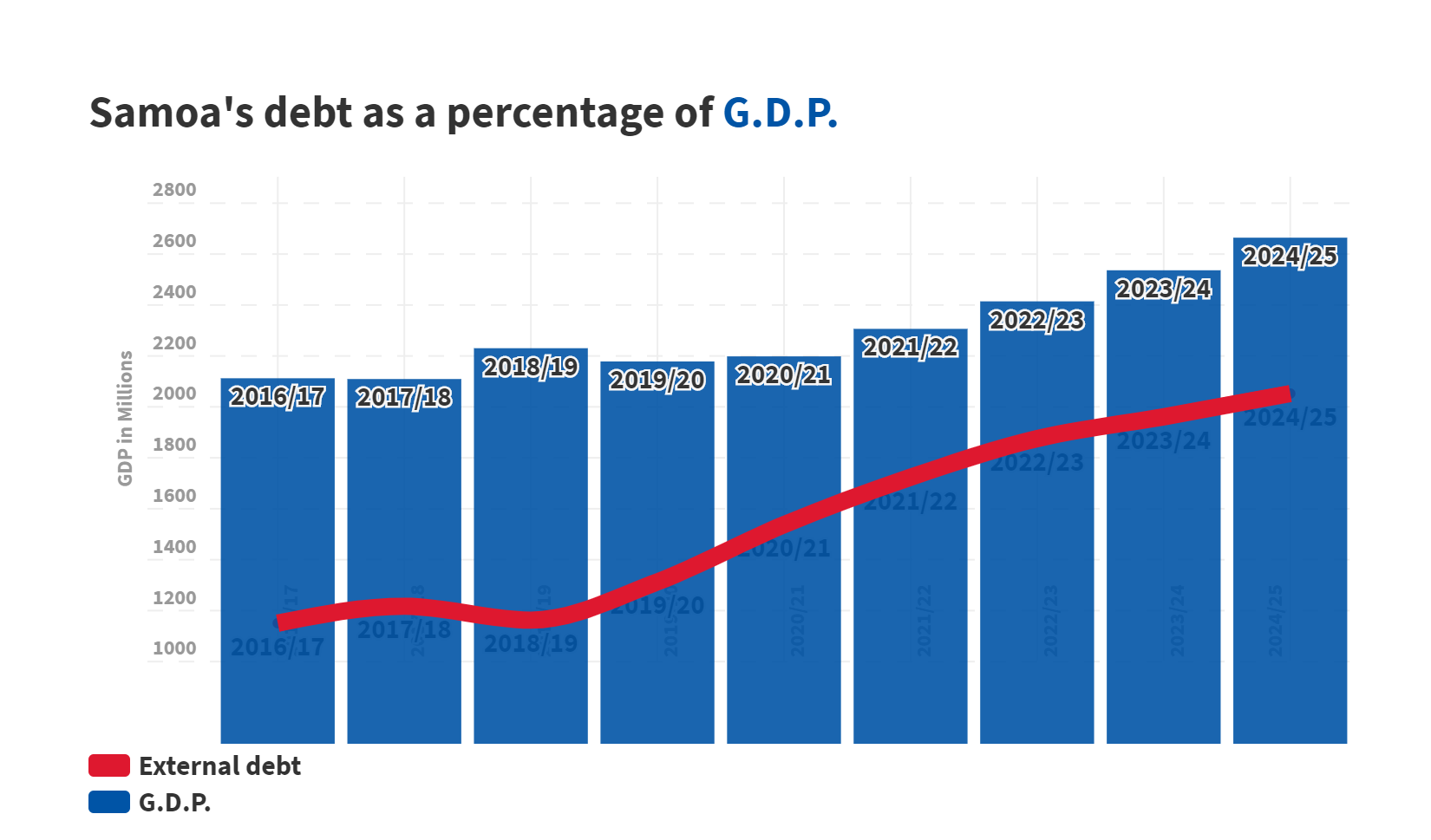 Last week, Leasiosio told the Samoa Observer the Ministry will not go looking for debt relief, but would consider it if it was offered by the lending parties. 
The President of the Tautua Samoa Party, Luagalu Dr. Wood Salele, called Leasiosio's statement disappointing and unrealistic. 
He insists Samoa will almost certainly need some kind of relief from loan repayments in future to ensure its economic well being. 
Speaking to the Samoa Observer, Luagalu said what Samoa earns in revenue each year to finance its budget will begin to shrink, forcing the Government to take out further loans. 
Given that reality, not asking for relief on debt payments or interest accumulation is irresponsible, he said.
"We have to be realistic with what is happening. Under the hard conditions now, he (Leasiosio) has to seek out some kind of reprieve," Luagalu said. 
"We need to be prepared for the worst. We just hope the tourism industry picks up quickly but it will take time."
Luagalu said the coming years will require prudent financial management in order to ensure the economy functions.
"We demand responsibility from Government to spend wisely and to go and find revenue from somewhere. There is nothing wrong with begging for revenue, otherwise we will have to really cut spending and that will affect a lot of people," he said. 
He said for Samoa to entertain a debt-to-G.D.P. ratio of 71.3 per cent is troubling.   
In addition to the coronavirus-led economic downturn freezing the tourist industry, it is also projected to hit remittances hard, which account for around 15 per cent of Samoa's G.D.P. Remittances, or money being sent home from family members, most often in Australia and New Zealand are likely to fall with employment in those countries. 
"There has to be a real commitment from Government to cut expenditure. I know it is a hard ask on our people. Once you walk that line you are looking at losses in jobs, but we have to do it.
"We have to make sure we are self-sufficient in terms of food security to assist us in these hard times, and the Government has to be very prudent in terms of managing the budget.
"Whatever unnecessary spending on Government Ministries or state owned enterprises, they need to cut them, cut all unnecessary expenses and allow the economy to slowly grow back."
The Pacific Islands are among countries whose debt the I.M.F. keeps a close eye on, Australian National University Economist Rohan Fox said.
Because of their extreme susceptibility to natural disasters and the economic shocks they bring, debt levels have to remain under control.
"Really it puts a lot of countries potentially in a more precarious position, especially if there are natural disasters that come after COVID-19 has passed," Mr. Fox said. 
"Pacific countries that do have high levels of debt do need to work together with the multilateral institutions […] to manage how that debt gets reduced over the next few years."
But Mr. Fox said with countries needing to spend more money to soften the economic blow of COVID-19, coming to "generous" lending terms on existing loans needs to be on the table for the Government.  
And because all Governments around the world are dealing with the same issue, he said perhaps it means for favourable conditions between multilateral institutions and Pacific Governments. 
"Hopefully this means that the terms that those loans are on, Governments and multilateral institutions are more likely to be generous," he said. 
In 2018, the I.M.F. predicted a severe natural disaster or a 'most extreme shock' would cause Samoa to breach a 45 per cent debt-to-G.D.P. threshold in 2027. Those figures now appear to have been entirely replaced by deeply pessimistic forecasts. 
As reported in its 2028 Debt Sustainability Analysis, Samoa's losses after a natural disaster have been among the highest in the region. 
In 2012, Cyclone Evan's destruction forced the Government to push its public debt balance to nearly 58 per cent of G.D.P during 2014/15, "well above" the threshold, the I.M.F. writes.
The I.M.F. last week announced a $US22 million (T$60.9 million) loan for Samoa's COVID-19 response, in particular to go towards boosting the private sector decimated by the pandemic.
The I.M.F., like the Central Bank of Samoa, predicts gross domestic product (G.D.P.) to contract to 5 per cent this year, and to eventually return to near pre-pandemic levels by 2025, according to forecasts. 
The I.M.F. has not responded to a request for comment.