Local company launches turmeric tea
A local company has launched its turmeric tea in a bid to break into Samoa's healthy drinks market.
Ri-Vaiv, which is a local firm specialising in making local healthy products, gave out free samples of their first turmeric tea to customers at the Lucky Foodtown and Farmer Joe's supermarkets on Saturday.
The owner of Ri-Vaiv Health Drinks, Clay Paul, told the Samoa Observer that their main focus is promoting alternatives for products that are currently sold at local supermarkets and stores.
"The main focus for us is not necessarily to replace but to create an alternative for the fizzy drinks and sugary drinks and we've created this as a healthier substitute for our kids," he said.
"When kids see healthy drinks or food automatically, they think it's bad and this mindset is influencing their choice of food and drinks. And this turmeric tea is great for them and we are hoping that it will help get them into consuming healthier products."
Mr. Paul said the turmeric tea project has been six months in the making and included tasting and testing two months before launching.
"We have been planning this for more than six months and had tasting and testing for the turmeric tea two months before officially launching and selling it. It was lined up and planned for after the launch of our first turmeric juice last year."
Acknowledging his partner Luana Ross, Mr Paul said she was a major force behind the project and they are excited to finally launch their product. 
"My partner Luana Ross is behind it all and we just recently  launched our Turmeric juice late September and we've planned this for about six months and we are excited for today's launch because we've received orders and positive feedback from our customers. They are very beneficial," he added.
Work on their products is done in the Tuki-Collab (their kitchen), which Mr. Paul indicated is where their products are made with the assistance of the Samoa Business Hub (SBH) and Youth-Collab. 
All the ingredients in their products are organic and found locally and there are no preservatives or chemicals added as stated on their labels.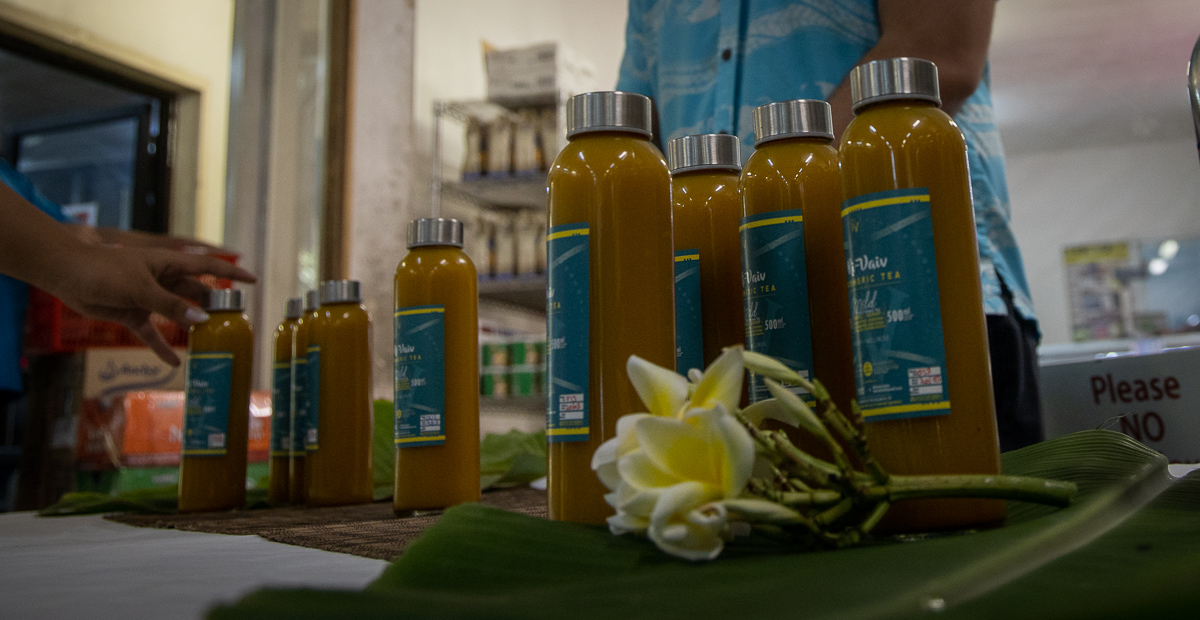 Currently, there are no plans to partner with another firm with Mr Paul saying they will instead consider applying to Government-supported programs such as the Samoa Agro Business Program.
Initially, there were plans to open the Ri-Vaiv Cafe but that is now put on hold due to the state of emergency measures introduced by the Government to address the threat of the coronavirus.
However, the company has plans to introduce a refilling and bottle-buy-back scheme next week, according to Mr Paul.
"We will also be launching a buy back system for the customers to bring in the empty bottles as an approach for the reduce-reuse-recycle system. We will buy them back and sterilise the bottles and replace the caps (tops), we want to give back and help people any way possible."
The couple hopes that the concerns over COVID-19 will subside to open the door for the launching of their cafe. 
Tumeric drinks and Ri-Vaiv products are available and sold at Lucky Foodtown and all Farmer Joe branches.