$10 million to end domestic violence
By Sapeer Mayron

•
07 March 2020, 1:00PM
The Spotlight Initiative, a global project to end violence against women and girls, has been launched this week with €3.5 million (T$10.6 million) allocated to Samoa on its mission to end the scourge of such violence. 
Civil society and non-government organisations slated to receive the bulk of the money, funded jointly by the European Union and the United Nations in one of the largest ever projects in this field.
The Pacific has among the worst rates of violence against women: two thirds of women in the region have experienced abuse, which is twice the global average.
Prime Minister Tuilaepa Dr. Sailele Malielegaoi said the damning statistics require urgent work, and that his country will not be "passive beneficiaries" to the funds.
"The culture of silence must be broken," he said, insisting Samoa will work to liberate women and children from the grip of violence.
He said he intends for the Spotlight Initiative to be different to other work on domestic violence, and that it will generate traction on the nation's issues raised by several treaty bodies and national surveys in the past.
"We are all culturally and religiously responsible for ensuring the safety of women and children," he said.
"Our statistics reflect that we have much to do."
To represent the thousands of women and girls just like her, sexual abuse survivor Leilua Lino took the stage to tell the audience that she only survived her experience thanks to the Samoa Victims Support Group family at her new home, the Campus of Hope.
Taking the stage, she said: "It's Samoa's turn."
Samoa is one of four countries in the region to be implementing national programmes, along with Timor Leste, Vanuatu and Papua New Guinea. The Pacific has been given ten percent (€50 million) of the €500 million project.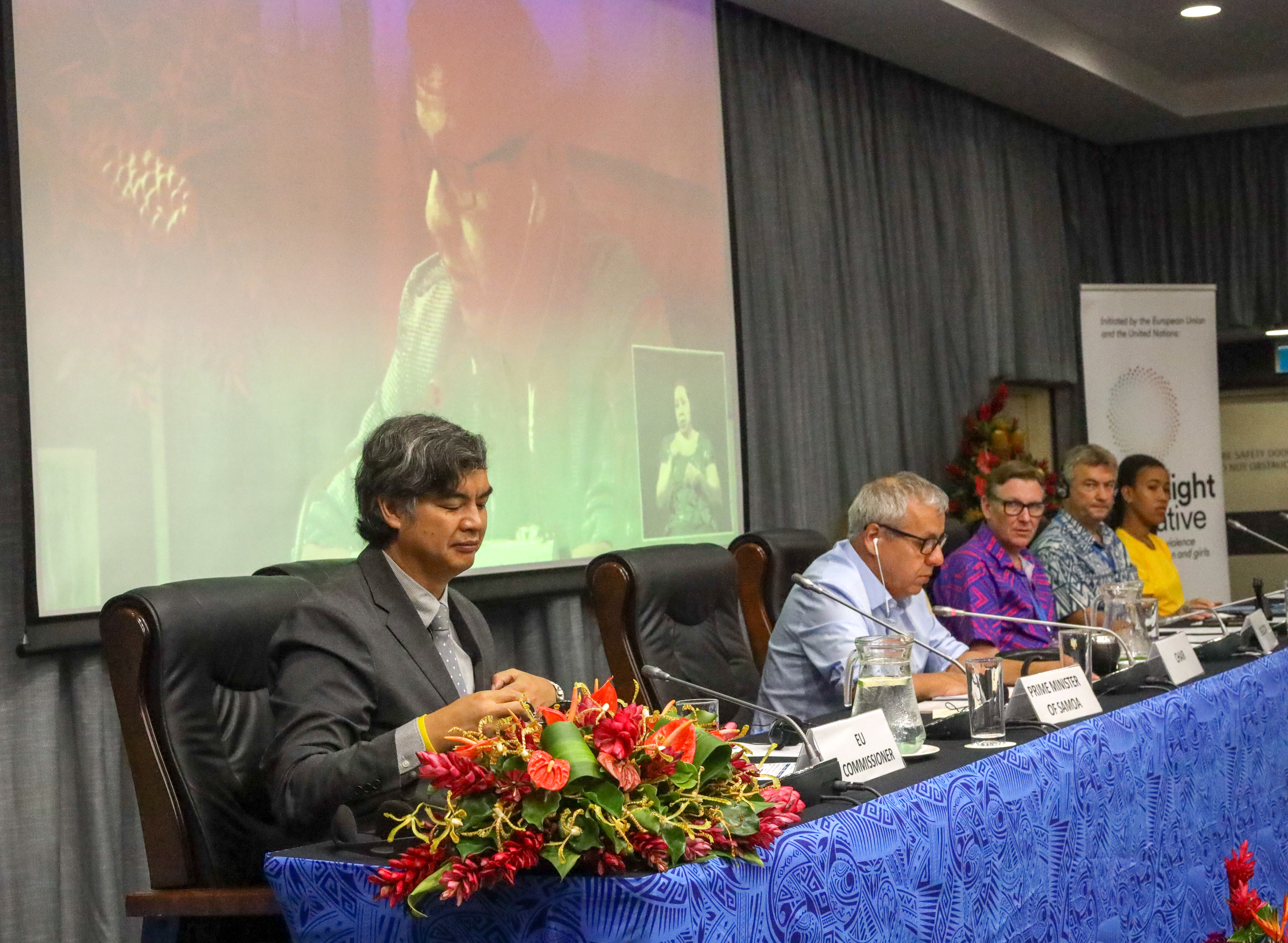 Ambassador of the European Union to the Pacific, Sujiro Seam said Samoa was chosen not for its poor domestic abuse record but for its capacity to make real change.
As one of just three countries with a National Human Rights Institution that has already made inroads into data collection and advocacy on the plague of domestic violence, and as the only Pacific country with a 10 per cent quota for women in Parliament, Mr. Seam said Samoa will be counted on to lead the way forward.
The U.N will coordinate civil society and human rights institutions from around the region to gather periodically and share their work, their successes and challenges, and each U.N. office will report back to a central body to then disseminate advice to the others. 
The funding is intended for legislation and policy development and to embolden local organisations to do their work.
Mr. Seam said as Samoa's partner, the E.U. is able to direct funding to an area that the Government has long not afforded itself to spend on.
"We have to fill the gaps. It has been mentioned the Government of Samoa does not allocate enough resources to address the problem but we recognise that is because the Government has other issues to address.
Chair of the Committee on the Rights of the Child, Luis Pedernera Reyna said children's voices are almost always absent or left out of the conversations.
"[Child abuse] is an ever present subject matter. The Committee has been telling state parties that legislative and political measures must be taken to eradicate all forms of violence against children, women and girls in all contexts. 
"The Committee asks state parties for their perpetrators of violence against women and girls to be charged and taken to court, and also requests [them] to develop public policies for rehabilitation and reintegration of children who are victims of violence.
"In this region where financial resources are rather short, a project such as this is of particular importance." 
As the Acting Resident Coordinator for the United Nations, Jorn Sorenson said he was both saddened and impressed by Ms. Lino, who despite her ordeal spoke with strength and determination to help prevent more children from being victimised.
"Whether it is 60 per cent, 55 per cent, for me that is not the important thing. As long as there is one child that says they were abused sexually, sometimes by their own kin, we do have a real challenge ahead of us."
In the coming weeks, an interim civil society reference group of around 15 organisations will consult with the United Nations on which organisations will receive funding, how much and what for. 
It is anticipated organisations will be invited to submit proposals and apply for funding from the $10.6 million pool.
The Spotlight Initiative was announced in February 2019, and the previous year has been dedicated to allocating the funding between the nations, and to plan regional and national programmes the funding will be spent on.
By Sapeer Mayron

•
07 March 2020, 1:00PM