Samoa finish in tie for 11th at Los Angeles Sevens
Samoa have finished in a tie for 11th at the Los Angeles leg of the World Rugby Sevens Series after losing 28-12 to Argentina in the ninth-place semifinal on Monday morning.
Back-to-back wins over Scotland and Kenya would have given Samoa hope for a victory over Los Pumas, but Argentina proved too classy despite a late Manu resurgence.
Marcus Moneta scored a runaway try from some broken play to put Argentina in the lead with just over a minute played, and they scored again just seconds later, with Rodrigo Etchart reacting first to the spilled kickoff.
The Manu couldn't get anything going with the ball, and when Losi Filipo got isolated and turned the ball over around the 22 metre line, it wasn't long before Argentina were in again.
A bad missed tackle from Filipo cleared the way for Matias Osadczuk to score, and Argentina carried a 21-0 lead into the break.
Their ability to recover kickoffs and absolute superiority at the breakdown made it easy for Los Pumas to dominate possession, and they certainly made the most of that in the first half.
The second period couldn't have begun much worse for Samoa, as Argentina kicked in behind and Marcos Moroni caught a lucky bounce to score just 30 seconds in.
Samoa finally replied thanks to an 80 metre try to Losi Filipo, who had enough pace to break the line and finish at the other end.
They had their second with a few minutes left in the match when Joe Perez offloaded well to Laaloi Leilua to make it 28-12.
But the Manu couldn't hold onto the ball enough to mount an unlikely late comeback, and had to settle for a share of 11th place and five competition points from the Los Angeles Sevens.
That result will keep them in 13th place overall through five legs of the World Rugby Sevens Series.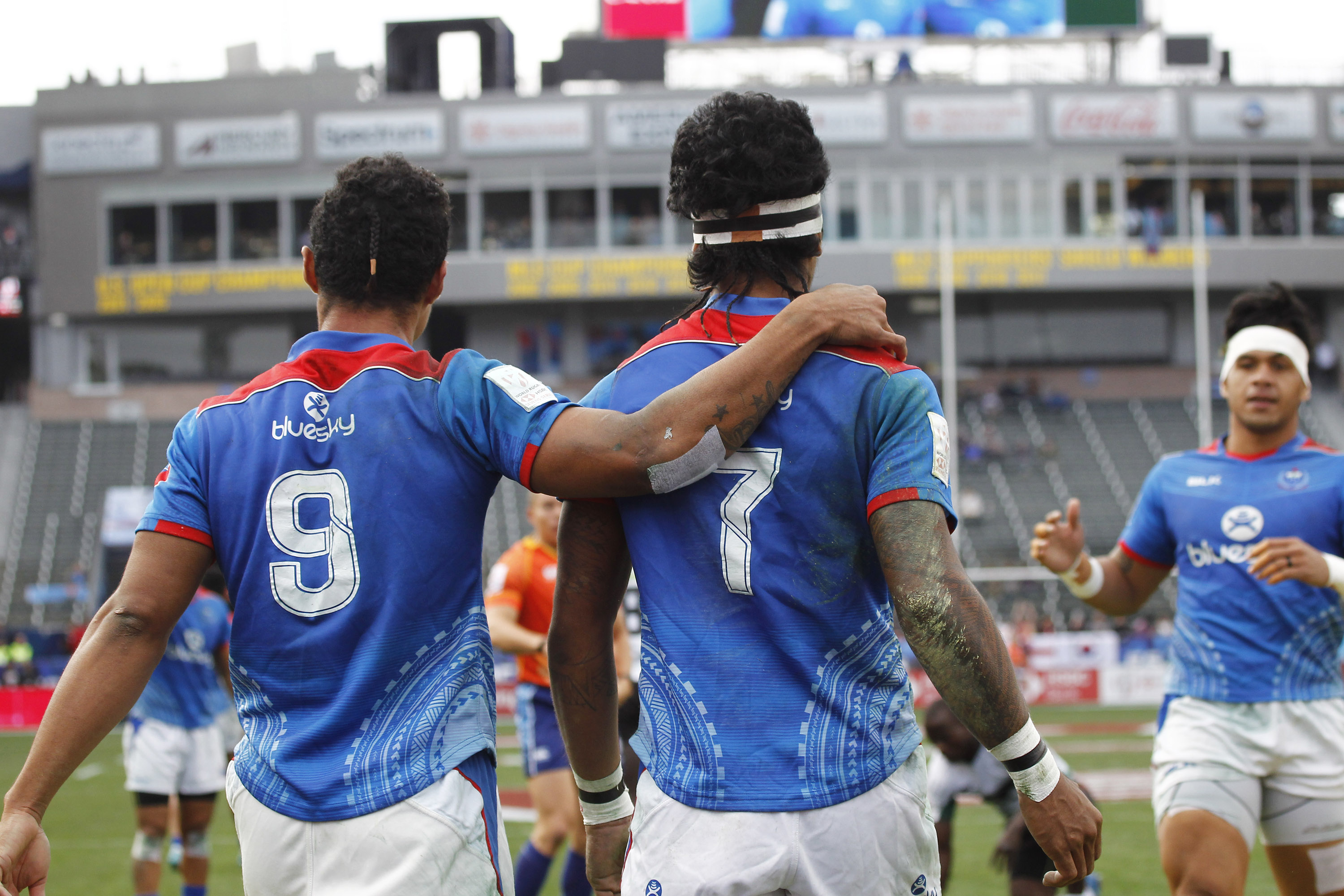 Earlier, the Manu Samoa 7s defeated Kenya 28-19  in the ninth place quarterfinal.
David Afamasaga opened the scoring in the second minute to get Samoa under way, before Kenya hit back through Samuel Oliech and Vincent Onyala to take a halftime lead, 12-7.
Young Tama Uli star Uaina Sione came off the bench for the second half, and scored his first ever World Rugby Sevens Series try to get Samoa back in front.
Onyala scored his second try to make it 19-14 to Kenya with just a couple of minutes remaining.
Sione went over again to make it 21-19 just before fulltime, and Samoa held off Kenya's attempts to steal the win before Elisapeta Alofipo sealed the deal in the 16th minute of play.