Motionless Malaki kicked with full force: witness
A bystander testified witnessing the late Malaki Jeremiah Tauiliili lying motionless on the ground, as one of the men alleged to have been implicated in his death, kicked him in the head with full force. 
Bruce Leiataua gave evidence on Wednesday in the ongoing trial of Herman Westerlund and Suapaina Savai'inaea, who are jointly charged with reckless intent in committing Malaki's murder. 
The men have pleaded not guilty to that charge and an alternative charge of manslaughter. 
Leiataua, a father-of-two from Ululoloa, was among a significant crowd at The Edge Marina, Glass Lounge on November 30, 2018 where the incident occurred about midnight. 
Leiataua was with two other friends at the venue. 
In his evidence, the witness said he heard a loud noise that sounded like something slapping tiles, causing him to turn his head around to see what happened. 
"I saw someone lying on the ground unresponsive," he said. 
"I saw a man walking towards the person on the ground and kicked him in full force and walked back to the bar."
Leiataua said the actions of a man he described as wearing a backwards baseball cap made him feel sick. 
"It was disgusting to see a non-responsive man being kicked on the head," he told the Court. 
"This man gave Malaki a full force kick. 
"It annoyed me and it was a cowardly act on a non-responsive man lying on the ground." 
The witness said he had initially thought that the man walking towards Malaki was going to administer help. 
The prosecutor, Silupevaelei Rexona Titi, asked Leiataua if he remembered who had kicked Malaki. 
The witness said he did and identified Suapaina Savai'inaea inside Court as the man who delivered the kick. 
Westerlund's lawyer, Queen's Counsel Aaron Perkins, asked the witness during cross-examination whether he was aware of an earlier incident in which his client was alleged to have punched Malaki.  
Leiataua said he had not witnessed such an incident. 
"I only heard a loud slap on the floor and it made me turn around," he said. 
"The first thing I saw was Malaki on the ground. I did not see Herman." 
Savai'inaea's lawyer, Leiataualesa Jerry Brunt, asked the witness if there were people standing around Malaki. 
He also tested the clarity of the witness' recollection of the kick Savai'inaea was alleged to have delivered.
"I am 100 per cent [positive] it was a full force kick," he told the lawyer. 
"I don't recall his footwear because the kick was more shocking than what he wore. The lights were also on." 
The witness also said that although there were people standing around Malaki it did not block his view of the alleged kick. 
Next on the witness stand was Robert Ash of Vailima. 
Ash recalled that earlier on the night in question he was at a friend's birthday before he arrived at the Glass Lounge around 11.45 p.m. 
Later on that night Ash said he went to the men's bathroom where someone pushed him twice in the back.
When he finished washing his hands the same person shoulder charged him, he alleged. 
"It was Malaki and it was the first time I [had] seen him," he said. 
"I told him: 'You are strong' and I walked out." 
Ash told the Court that he had never seen Malaki before that night. 
The witness gave evidence that not long after that altercation, he saw Malaki on the dance floor where the deceased twice flipped his middle finger at him.  
The first time, Ash said, he was unbothered but then the gesture was repeated.  
Mr. Perkins asked Ash if he had any idea why Malaki was acting this way towards him. 
Ash said he could not think of any reason why. 
"I felt ashamed [of what he was doing] because people were around and looking," he said. 
The lawyer also asked the witness whether he recalled someone trying to lower Malaki's hand when he made the offensive gesture. 
Ash affirmed that he did witness someone seeking to prevent Malaki from raising his finger. 
He said Malaki then challenged him to a fight; an invitation he accepted.  
This prompted the men to walk towards each other with Ash taking two steps forward, while Malaki approached him from the other side.
"I then slapped him with my right hand and it landed on his left cheek," he said. 
"He then fell [in a] sitting down [position] and he got right back up and said to fight him."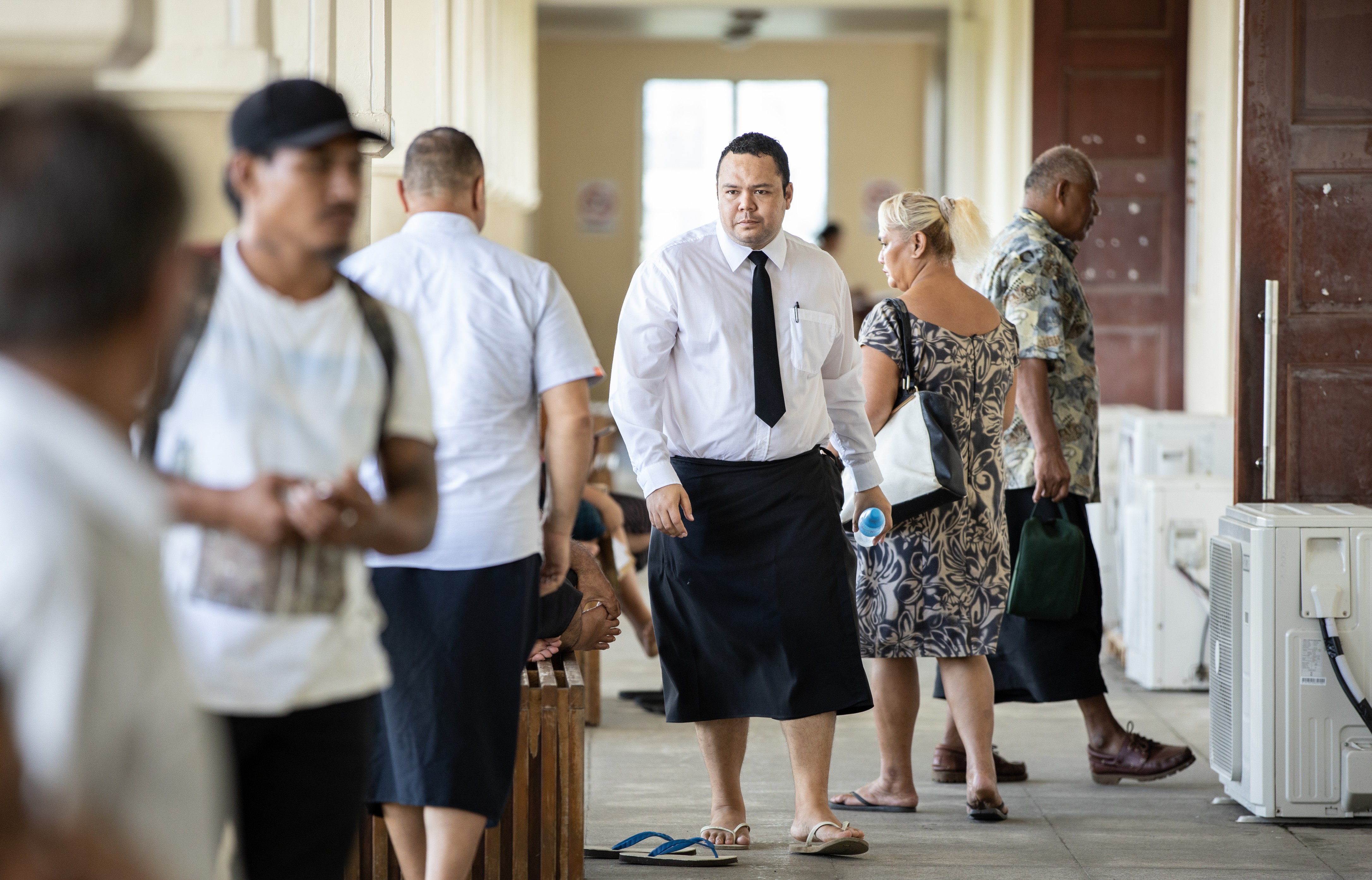 Ash said at this point a security guard told him for his safety that he needed to leave the venue. 
Defence lawyer Leiataualesa asked Ash if he had seen Savai'inaea earlier in the evening at Te Namo before he went to Marina. 
Ash said that he had. 
The lawyer then asked the witness to look at a video exhibit to identify a man wearing a backwards baseball cap.  
Ash said he could not make out the identity of the man wearing the cap in the footage. 
The hearing is scheduled to run for two weeks. 
Justice Mata Keli Tuatagaloa is presiding over the matter.