Samoa warned about African Swine Fever
Samoa has been urged to strengthen border control measures and be vigilant to prevent the African Swine Fever (A.S.F.). from entering its shores.
The point was made by Subregional Coordinator for Food and Agriculture Organization (F.A.O.) of the United Nations (F.A.O.) to the Pacific, Eriko Hibi.
A.S.F. is a contagious viral disease that affects pigs and wild boars with a near 100 percent fatality rate.
Ms. Hibi has warned of the highly resistant nature of the (A.S.F.) virus and its ability to survive for long periods in meat products. 
"Samoa must boost biosecurity and border control measures and be vigilant with preventing such products being brought into the region," she said.
She added that the Government of Samoa through the Minister for Agriculture and Fisheries (M.A.F.), Lopaoo Natanielu Mua, has requested F.A.O. to provide support for A.S.F. preparedness to prevent the disease entering Samoa.
In response, F.A.O. is conducting an A.S.F. risk assessment mission in Samoa this week.
F.A.O. will provide technical support for this mission in partnership with Massey University's Dr. Naomi Cogger and Dr. Art Subharat in close collaboration with M.A.F. 
On Tuesday, the first farm visit was conducted at one of the commercial piggery farms at Magiagi which was attended by Ms. Hibi.

She added that A.S.F. is a very serious viral disease which does not affect humans but has an effect on pigs and wild boars with a near 100 percent fatality rate.
"Although we don't have any cases in Samoa fortunately, there have been quite a large number of cases reported from China, Vietnam that has economically impacted them with millions of pigs culled in an effort to control the disease.
"We need to prepare Samoa so we can minimize the risk of having that A.S.F. coming into the country. In order to do the best preparedness you have to know what the situation is."

Ms. Hibi added that the mission of Massey University is to really look at the reality of what is happening in terms of the pig production, border control because people can bring in meat products that can be fed to the pigs and then the pigs can pick up the disease.
"It is extremely important that we do the biosecurity border control and inform everybody as well.
"Later this week on Friday we hope to debrief the Lopaoo and we will inform him of the preliminary findings and hope to build on that in the future.
"I commend the Government of Samoa for this idea of being prepared particularly after seeing what happened with measles and now with the fear of the coronavirus."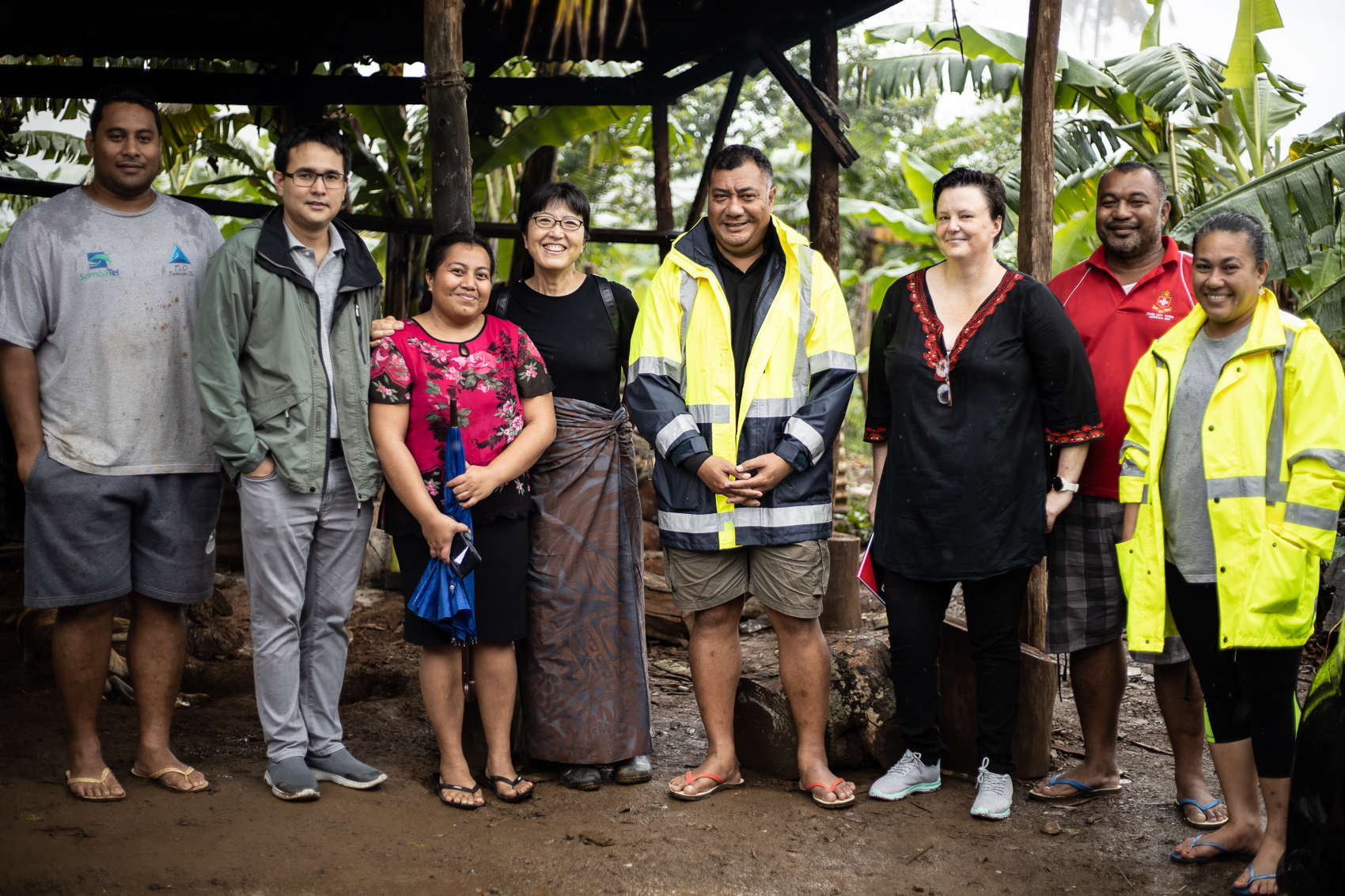 Associate Professor, Dr. Cogger, said that they are doing an assessment on what are the likelihoods or chances that A.S.F. could come to Samoa.
"If it were to come in to Samoa where would it spread and how might it spread," Dr. Cogger said.
"We are interested in terms of the pig farms looking at where are they getting their products from be it food, and where do the pigs go whether alive or dead and what's happening with the waste.
"We're not assessing individual farms per say, we're trying to collect information to work out what could happen and give some scenarios."
She added that if it does get into to Samoa not only will it have economic costs but also people costs in terms of cultural impacts.
The family of Solomona Aimaasu from Magiagi who own the commercial piggery that hosted the first farm visit was very concerned about the disease coming into Samoa.
"The assessment is significant because it has made us aware of the true concerns that we have to prepare for," he said.
Mr. Aimaasu added that despite these diseases happening around the world there is bound to be a chance that it might reach our shores.
"The A.S.F. reaching our country would mean the end of our piggery farm because I was told that disease has a high fatality rate.
"So far, we have 70 pigs not counting the piglets and have been established for more than seven years.
"The main aim of setting up a piggery is to earn income and also help with funerals and other family commitments, the cost of one pig can go up to thousand depending on the size."
According to F.A.O. media release, the A.S.F. disease is not transmissible to humans hence; it is not a direct human health concern. 
"The threat of A.S.F. reaching the Pacific is real despite the geographical distance of Samoa, and other Pacific countries have from A.S.F. hotspots in Asia and Europe," stated the media release.
It also added that F.A.O. is supporting countries in the control and prevention of A.S.F. including ASF preparedness and risk assessment missions. 
"The mission will provide information on high risk and vulnerable areas for ASF introduction into, and transmission within Samoa and how these can be addressed to better safeguard the country.
In addition to the internal risk assessment mission, F.A.O. recommends; 
Intensive biosecurity and customs control of passengers and their luggage;
Warning signs should be placed clearly at the border/customs entry (including airports and sea ports) stating the consequences of bringing pork and pork products from ASF-infected countries/regions;
Instructing passengers to discard pork products in designated disposal places or to hand over to the customs personnel;
Good biosecurity on the farm; and
Awareness and preparedness of in-country stakeholders, public and communities.  
"These measures can assist in preventing A.S.F. from getting introduced and/or becoming established in the country and/or on a farm.
Background
The A.S.F. virus is highly resistant and can survive for long periods (months or even years) in faeces, meat products (frozen, salted and smoked or undercooked) and carcasses of dead animals. Wild boar and pigs can also infect each other by direct contact, particularly where blood is present. Healthy pigs can be infected when they consume undercooked infected pork products, while scavenging or when fed uncooked swill. They can also get infected through contact with contaminated objects such as shoes, tools and equipment. Currently there is no vaccine available to protect pigs against the disease. 
A.S.F. originally started in Africa in the 1920s but since 2007, the disease has steadily spread in Asia and Europe.
A.S.F. is not yet present in the Pacific; however, there is growing concern that the disease will reach the Pacific soon due to movement of people and pork products from A.S.F. infected countries. Timor Leste, a country that is very close to some of the Pacific countries and to Australia, is now infected by A.S.F..