Manu Samoa Sevens winless in Sydney
For the second week in a row, the Manu Samoa Sevens has lost both their Day One games on the HSBC World Rugby Sevens Series.
They came close in both matches; losing 24-17 to France before going down 28-21 to Argentina on Saturday at the Sydney Sevens.
The losses confirm that the Manu will finish in the bottom half of the draw for the third tournament in a row.
Argentina got off to the perfect start, getting their kickoff back for Luciano Gonzalez to score seconds after the opening whistle.
They were almost on the board again, but dropped what should have been an easy try to cede possession hot on attack.
John Vaili kicked over top with no sweeper back, outpacing everyone for a try under the posts on the other end to tie the game 7-7
German Schulz breezed through the line to restore Los Pumas lead thanks to some poor defence from Joe Perez and Losi Filipo.
And when Laaloi Leilua was pinged for holding on just short of the 22, it looked like Argentina would get the last say of the half as well.
Tofatuimoana Solia did tremendously well to counterruck right on his own line and win the ball back for Samoa though.
John Vaili opted to kick again, this time a short grubber which Joe Perez got a hold of to run another long-range try in and tie the game at halftime.
Argentina were able to push up over the 22 metre line and catch a scrambling Samoan defence offside.
But looking tired in the humid, 40+ degree Sydney heat they took to long to get play started again and gave away a free kick.
Substitute Elisapeta Alofipo made a break down the sideline for Samoa before he was cut down by an ankle tap.
He got back up though, and offloaded to injury reserve Paulo Scanlan (replacing Tuna Tuitama, who picked up an injury against France) who had the gas to make it 21-14 to Samoa with three minutes left.
Samoa gave up possession with their fourth kick-in-play of the game, allowing Santiago Mare to tie the scores with a minute remaining. 
Argentina are statistically one of the best sides on the Series at recovering their own kickoffs, and they did so here again when it counted.
A nice passing move found Mare free in the corner to score his second and Los Pumas' fourth as time expired.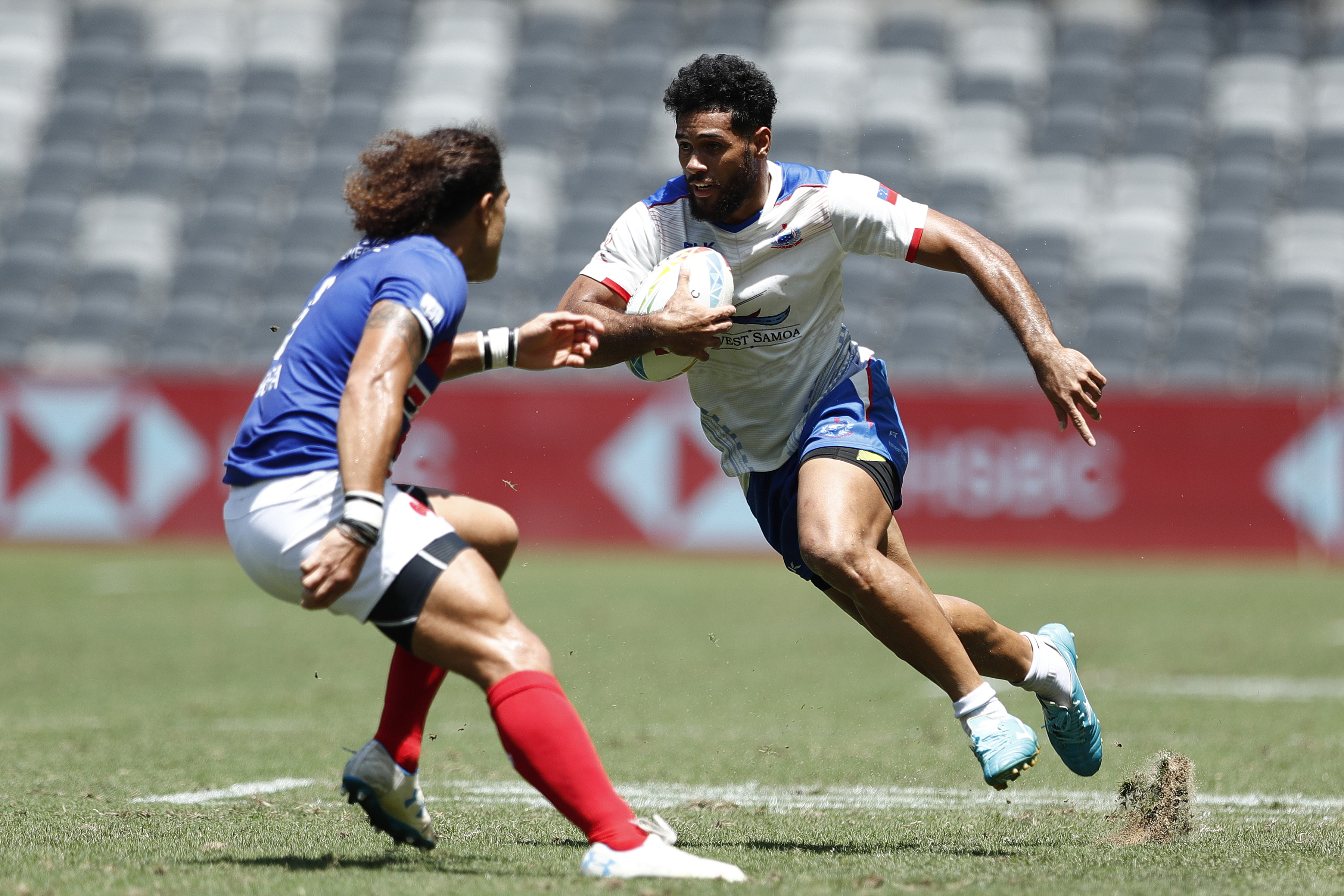 Earlier, the Manu Samoa 7s lost their opening game 24-17 to France.
They trailed by 12 after conceding two early tries, before Laaloi Leilua got Samoa on the board.
Tavite Veredamu was sinbinned for France, but returned to score just before halftime.
John Vaili opened the second half scoring to draw the Manu within five points.
Veredamu then received his second yellow card and a red for some cycnical offside play, meaning France were down to six men in the 12th minute.
Samoa evened the game up through Tuna Tuitama, but skipper Tomasi Alosio took to long with his conversion, which could have given the Manu a lead with less than a minute remaining.
France took the kickoff and retained possession for a good few minutes, despite playing a man short.
Antoine Zeghdar then got the matchwinning try for France with time well up on the clock.