Elders honoured at C.C.C.S. Vaivase Tai
By Soli Wilson

•
23 December 2019, 12:00PM
Vaivase-tai Congregational Christian Church of Samoa held a special service dedicated to the pensioner members of its congregation who have spent most of their years serving the church.
A total of 15 mothers and 14 fathers were presented with a certificate along with Christmas hampers in front of families and friends on Sunday. Some of those tokens of appreciation were claimed by their children as they could not physically be there for the special service.
The programme committee secretary, Reverend Ailani Tanielu, told the congregation that the initiative came from a widely endorsed committee suggestion in October, which was carried with wide support. 
"It was suggested if it was not the time to recognize our deacons who have served the church for years," he said.
"[The motion] was put through a ballot and was widely welcomed by the congregation, and that's why we are here today.
"A service to officially recognize the contribution and life service of our parents within this congregation at Vaivase Tai."
Rev. Ailani said their duties were not limited to spiritual duties during the services but also those outside of the Church.
"This is also a great opportunity to say thank you to our forefathers who were trailblazers of this work, who accepted a covenant with the Lord, and in turn, He has graciously blessed the children of this congregation," the Reverend said. 
Vaivase-tai Reverend Seilala Luamanuvae said it was the first time such a special service had taken place in the history of the church.
 He said it was fitting for the congregation to celebrate and reminisce on the long-standing service and the endurance of the congregation to ensure that the work of God is continued and well established in the church.
"This is for all the service they have done all these years to make sure there is a well established Church for their village and children," he said.
"We are here to honour their hard work and sweat, lest we forget."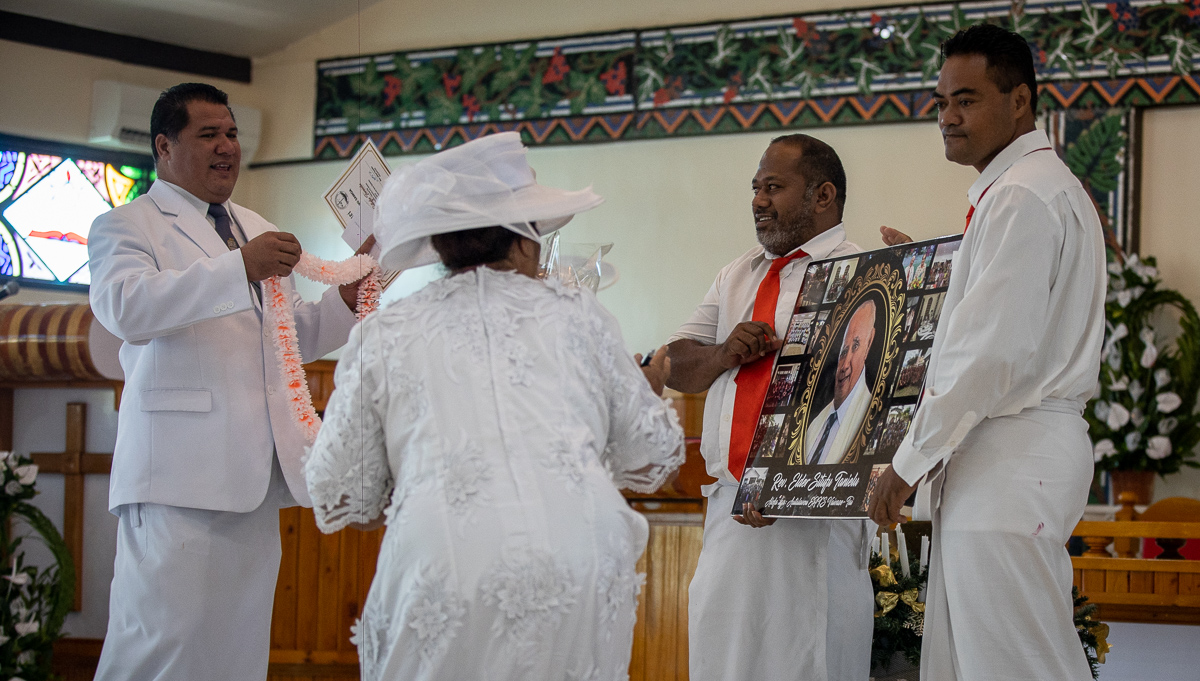 Rev. Seilala reminded the congregation that if it weren't for God's guidance over the 29 leaders honored on Sunday, there would not have been a special service: "Without faith there is no good leadership."
The eldest living pensioner of the church is 91 years of age.
Two fathers who recently passed away but were still mentioned and honored, as they were still alive while the plans for the special service got underway.
A full list of those honoured includes: Alo Papu Vaai, Gaualofa Papu Vaai, Faasootauloa Tupo, Suia Petana, Fepulea'i Liu Sio, Safuneituuga Neri Fepuleai, Fuimaono Poufa Te'o, Seupepe Fuimaono, Aiulu Leasiolagi Tipi, Fuailefau Soonalole Naseri, Rev. Elder Poka Maua, Aiga Magele Siale, Tanuvasa Livigisitone Tanuvasa, ELesi Talosaga Matautia, Dr. Papalii Samuelu Petaia, Pule Momoisea, ALo Pau Vaai, Faumuina Sofaea Vaai, Tafaomaalii Uli Samania, Faletolu Samanaia, Rev. Elder Esekielu Situfu Tanielu, Silaulelei Taito Toomalatai, Solinuu Laulala, Tauaa Penu, Seumanutafa Akerei Salesa, Sapi Akerei Salesa, Togo Sione, and Aruna Vaasili Penaia.
By Soli Wilson

•
23 December 2019, 12:00PM