Christmas cheer and feasts for medical staff thanks to Adventists
The Adventist Development and Relief Agency are working all the way through the holiday season until the State of Emergency expires, to bring festive food and spirit to the wards of Tupua Tamasese Meaole Hospital.
Christmas morning will see a team of helpers bringing hot meals of Christmas roast, and even cake and custard to all the hospital staff and international deployments working throughout the season, away from their family festivities.
Su'a Julia Wallwork, head of A.D.R.A. in Samoa said she was loath to ask her team of ten to work through the season bringing meals and gifts to hospital staff and inpatient children, desperately awaiting delicate treatments to end their suffering.
"Christmas is family time and I was really dreading it. So when I put it out there, and I said I am really worried about you guys and shall we do shift work, they said no. We are in this together, why should we stop now?
There are 93 measles cases across the hospitals, 73 of them are in Tupua Tamesese Meaole Hospital, and 13 in Leulumoega District hospital. From the beginning of the epidemic until today, there have been nearly 1,800 hospitalisations. 
Hospital staff – doctors, nurses, pharmacists, cleaners and security – have worked around the clock with no end in sight. They were joined recently by international emergency medical teams, a much needed respite especially for night shifts.
When they began delivering lunches to the team, Su'a could see how needed their support was. 
"Their (A.D.R.A. volunteers) reward is to know they have played a part," Su'a said, rather than sitting home and not knowing how to help.
"This way they see the expressions on the medical staffs faces when they take their lunch. It makes it all worthwhile to know we have played a role.
"It's been a collection of so many good hearts, not only in Samoa but from overseas. If we have played a small role in that group of hearts, that is good."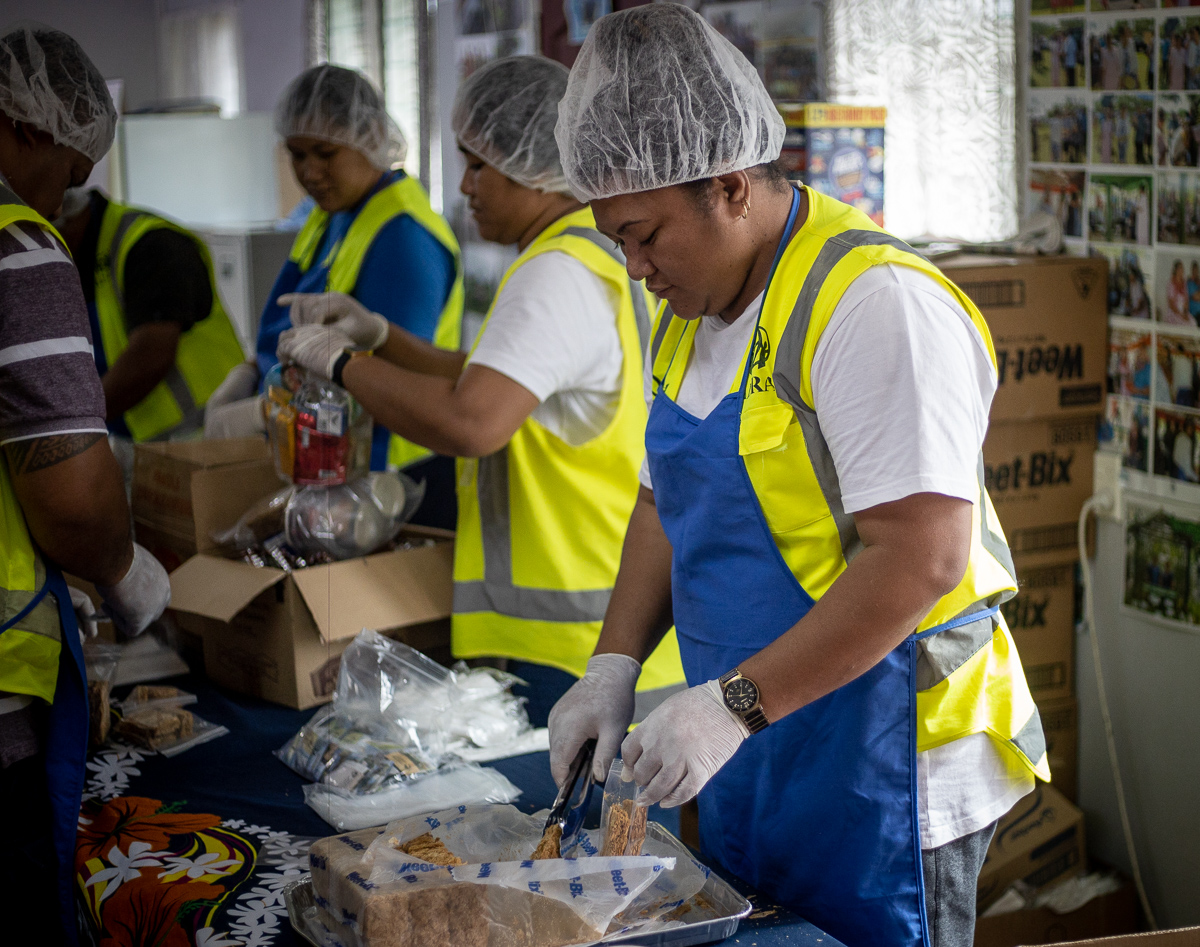 She said her team has been in good spirits all throughout the epidemic, something she is thankful for.
"It doesn't matter how heavy things get, they still find time to laugh and joke. They are like a well-oiled machine now, from the close association of working right through this.
"They know each other well, they can count on each other, they can trust each other. It has become a really strong team. 
The New Zealand High Commission has put up the money for over 300 hot meals, lunch for each healthcare worker each day until the end of the State of Emergency. 
Recently Ah Liki Investment Group sponsored 'sustenance packs,' as Su'a calls them; bags of cup noodles, weetbix and milk, and crackers to keep people going through the day. They go to the 315 T.T.M. staff, and the 100 staff across the district hospitals.
And this week, 13 year old Seirosa Wallwork-Lamb has joined the efforts with a $2000 donation towards Christmas gifts for the staff too – a beautifully bundled ie lavalava and snacks, as well as bright toys and bouncy balls for their children. 
A.D.R.A has received permission to enter the wards and deliver the gifts themselves, Su'a said, a sure sign the peak of the epidemic is over and the surge at the hospital is waning. 
Every morning, the A.D.R.A team gather in their offices – turned into a trestle-table lunch packing site – for a short devotional service before they start the day. 
On Saturday morning, Unasa Pulou Tau led the team in song, followed by a short speech where he quoted King Solomon who said that a merry heart is like a medicine, to encourage the team to be positive in their work.
"The nature of the organisation we joined is a humanitarian one. It involves a lot of sacrifices, especially during this season," said Unasa. Outside of the emergency situation, he is the Operations Manager of the Build Back Safer programme. 
He has responded to other disasters too, but all natural disasters. 
"It means there is no holiday for us, whatever strikes we are on call 24/7 to come here," he said.
"One thing is for sure, we are enjoying it because how people appreciate our service and what we provide, that keeps us going."
Since the early days of the epidemic, A.D.R.A. has sponsored several intensive care nurses to join the hospital teams. At the end of a long day, they sit and debrief with each other and the response team about their experiences. 
Unasa said he can sense the nurses are taking the toll personally.
"We see them getting so emotional after their shifts at the hospital."
Some of the nurses have since gone home to Australia after weeks in the hospital. But their work did not stop there, Su'a said. Some gathered medicals supplies and posted them back to Samoa, having seen for themselves what equipment was desperately needed.
One nurse even brought supplies over with her, as well as brand new baby clothes, nappies and wipes for families in need. Su'a said she has arranged the supplies into packs for multiple families and will be giving them to people whose babies have recently been discharged.