P.F.L. helps bring in critical oxygen cylinders
Pacific Forum Line (P.F.L.) has provided free freight services for 165 oxygen cylinders that are much-needed by the Moto'otua Hospital.
The oxygen cylinders were shipped in from New Zealand. This was confirmed by Teuila Eteuati, Agency Manager of P.F.L. Group.
The oxygen cylinders arrived in Samoa last week and were from a New Zealand gas company called, BOC, which Oceania Gas is the local distributor of its products in Samoa.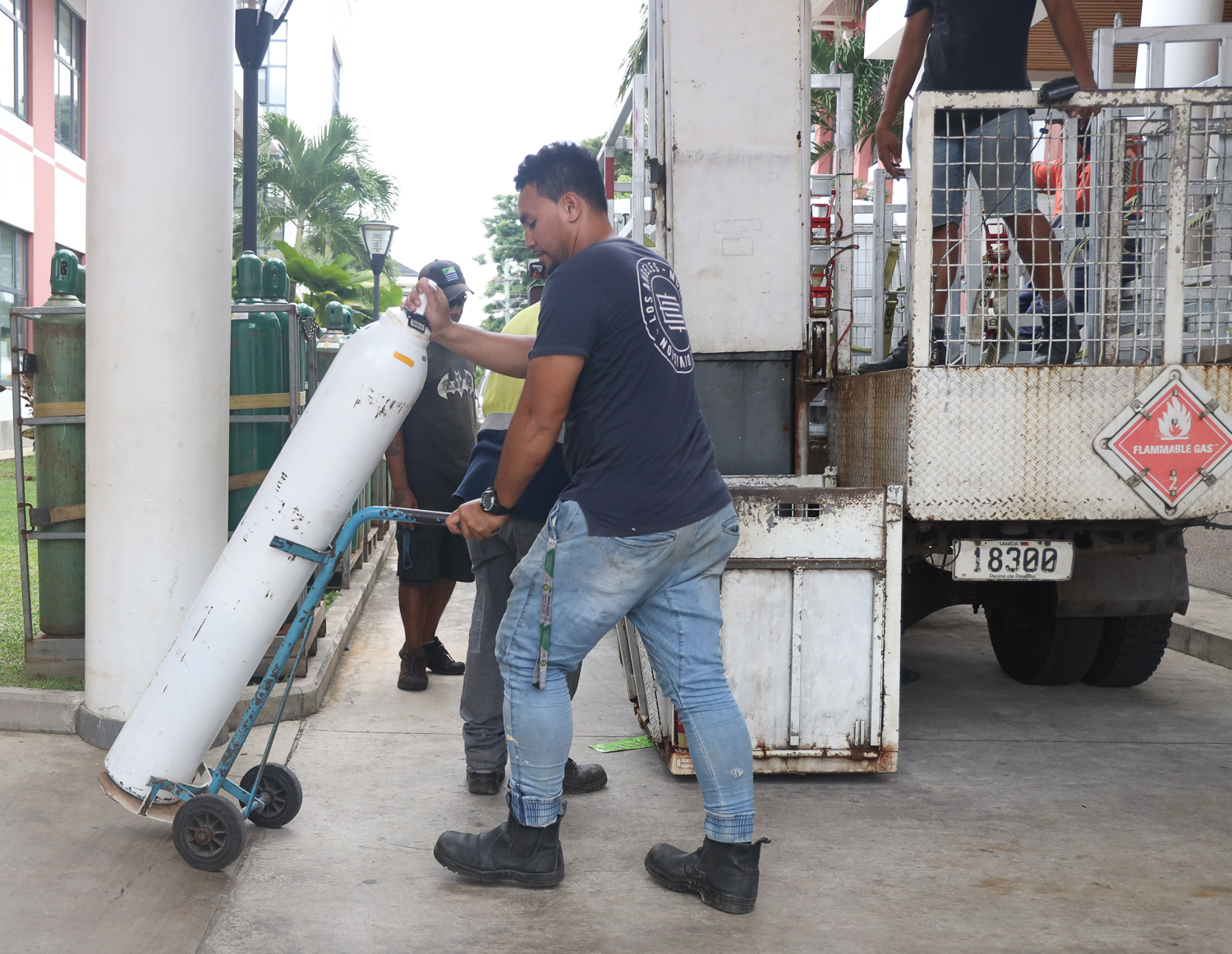 The oxygen cylinders were given to the Motootua hospital on Monday.
According to Oceania Gas's Country Manager, Justin Kelly, they have supplied 296 cylinders to the main hospital with 165 from New Zealand alone. 
Oceania Gas and P.F.L. supplied the oxygen at cost price and shaved off $33,000 worth of tax on the New Zealand shipment alone, he added.
Ms. Eteuati said that P.F.L. paid for everything to be shipped over and will be shipping the empty cylinders back to New Zealand after it is used.
"BOC have given it for the hospital at a discounted price. The oxygen supply is greatly needed at the hospital.
"The reason behind offering this service for free is all for the need to help our people and this is our way of helping our people during these difficult times.
Mr. Kelly added that the first medical oxygen delivered from Oceania Gas was 498,000 liters.
Last week they received 332,000 oxygen litres and another 1,369500 over the weekend. 
A total of 20 oxygen concentrators have been in the hospitals for the last week.
"Fiji is our major production facility, so the order came to them and a 24 hour production routine was put in place to fill the order and ship," he added
"It isn't a normal order, Fiji supplies local hospitals with bulk liquid medical oxygen rather than cylinders, all cylinders from Fiji are new assets created as a direct result of the call for help, also the direct purchase of the oxygen concentrators for Samoa, again which is not a normal offering, but we use our network as we can. 
"From us, no, no cylinders were donated, rather cost base."
P.F.L. is a shipping company that has a rejuvenated service network covering the Samoa's, Tonga, Cook Islands, Fiji and Papua New Guinea to and from just about anywhere in the world.