World Cup dream not over yet for Manusina
In the aftermath of his side's 41-13 loss to Fiji on Saturday, Manusina coach Ramsey Tomokino told the players their World Cup dream isn't over yet.
"We've just gotta take the long way round now," he said.
Having missed automatic qualification out of the Oceania Rugby Women's Championship, Samoa face a playoff against either Papua New Guinea or Tonga next year to qualify for the repechage tournament and keep that dream alive.
Tomokino, whose place as coach is not secure for next year and beyond, said there is the faint silver lining of the regular fixtures the repechage process provides.
"So what we're trying to put in place will still be fresh in their minds," he said.
"It's exactly what Manu Samoa had to do; go through a repechage process to go to a World Cup
"Ours will be a bit tougher, but the one thing about going through the repechage process is it gives Manusina more time to get more games, to grow and build the team."
The playoff against either Tonga or Papua New Guinea is set to be played in Samoa as well; Manusina's first home fixture in many years, which Tomokino called an awesome prospect.
Hopefully such an opportunity would draw more players to the cause, with the coach finding it hard to recruit overseas-based players to bolster the limited depth on-island.
"We didn't have the players that we wanted," Tomokino said.
He praised those that did commit to the Manusina, that chose to represent Samoa and made sacrifices to do so.
"When so many other girls have turned us down."
He noted the lack of Samoan players in the Black Ferns Development XV that also competed in the tournament.
"Obviously a lot of our Samoan girls were holding out to be in that team and weren't," Tomokino said.
The coach wants to build up the local players in the national team, and said they are already key and play a huge part in the team culture.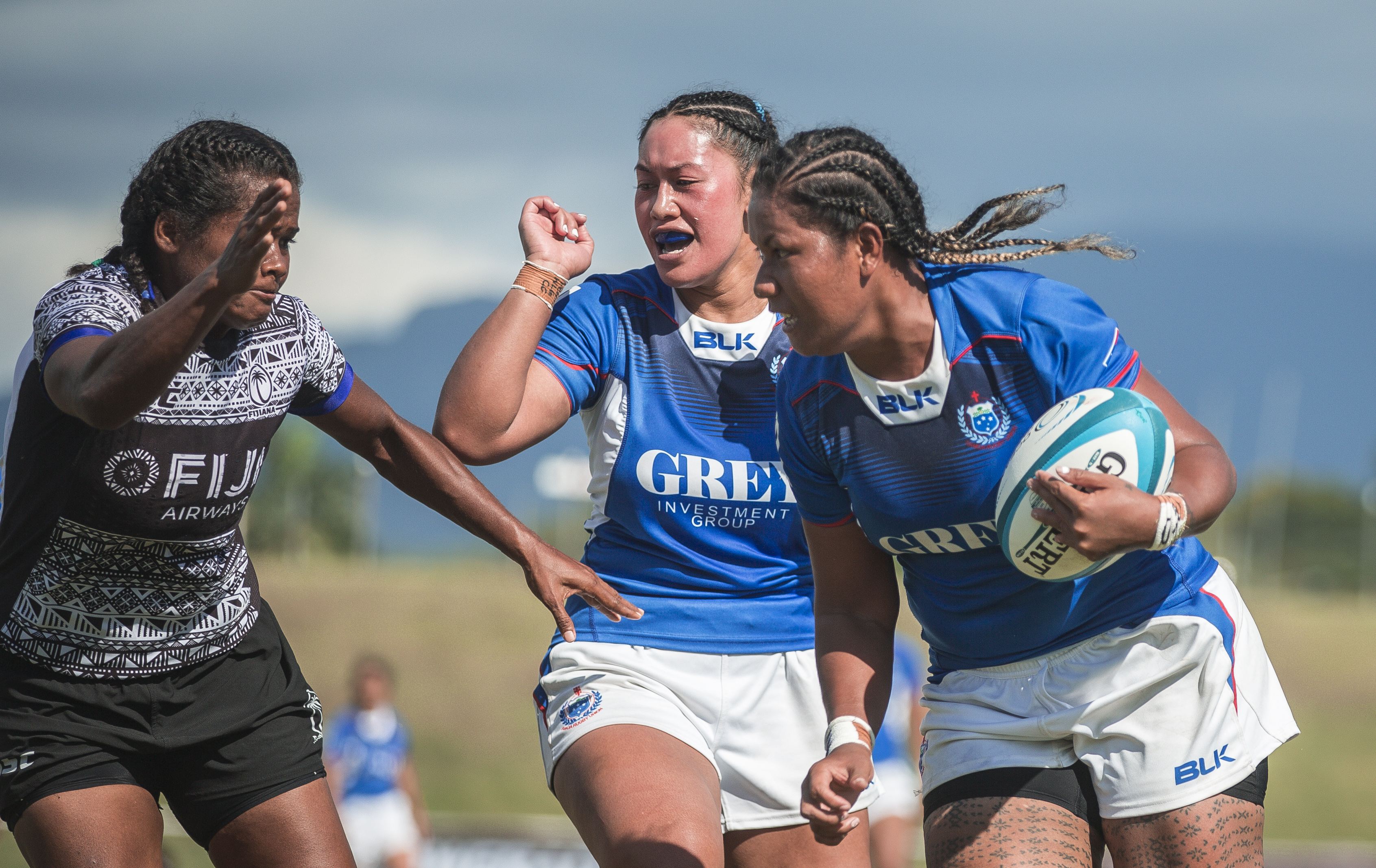 He said they are good players that would benefit from playing regular rugby at a higher level in New Zealand to get up to speed with the pace of the game at international level:
"They bring that mental toughness and that harder edge, we've just gotta add rugby smarts around that and we'll have a good player."
But Tomokino noted that Samoa women, including those that play rugby, are relied upon to be caregivers for their families.
"We've just gotta get to this mindset with our local girls; find a piece of grass, you don't have to go all the way into the [Samoa Rugby Union] High Performance Unit to go to the gym," he said.
"Do some pushups, do some situps, find some grass, do some running.
"It's just gotta become a daily habit for them, and become a lifestyle as well as doing their chores."
But that professional attitude is a hard ask for amateur players who have to take unpaid leave from their jobs whenever they represent their country.
"We simply don't have enough time together, not that we don't want to or it can't be supported by SRU but it is simply an employment issue," Tomokino said.
"The girls were more than grateful for the increased allowances they were given by SRU. We are heading in the right direction but still some way to go."