Baby named after midwife and nurses
Three new lives came into the world at the Leulumoega District Hospital over the last week, under the watchful eye of New Zealand nurse and midwife, Ann Diamond.
She is in Samoa to assist with the measles epidemic as part of the medical assistance offered by the New Zealand government. 
The baby was the Kiwi nurse's second child she helped deliver with two other Samoan nurses who had never been involved in a childbirth delivery before. 
The mother named her baby after the three nurses, making a combination out of their names to come up with: Angelo. 
"We were very honoured, and we have all got pictures with the baby and the mum, which is just a wonderful, wonderful thing," Ms. Diamond said. 
She is part of the first group of N.Z.M.A.T. medical staff who have been deployed to Samoa to assist with the measles epidemic. 
This last couple of days she has been helping vaccinate thousands of people to try and build Samoa's immunity to the highly contagious disease.
Throughout the week she and the team of nurses, doctors and logistics experts have been on the ground, vaccinating hundreds of people each day, and treating severely ill infants suffering the complications of measles. 
But in between all that, Ms. Diamond has delivered three healthy babies.
And the final child was born just yesterday, and all three are doing very well and breastfeeding, the midwife reports.
Ms. Diamond said being both a nurse and a midwife is a helpful combination to have on a crisis response team. 
Already on the team's first day, the antenatal clinic of the Leulemoega District Hospital had to be relocated to Faleolo, and Ms. Diamond helped to run it alongside the local leading midwife. 
Having a midwife on board has helped in unexpected ways too, she said.
"There was a very sick baby and the mum kept saying she wanted to go home and kept mentioning family. 
"We were all concerned as to how sick the baby was and we couldn't get IV access."
With the language barrier a challenge, it was not entirely clear why the mother wanted to go home, and take her very sick child with her and off intensive care treatment.
But noticing the woman was touching her breasts, Ms. Diamond realised and asked whether the mother was still breastfeeding. 
"She was breastfeeding another baby which is why she wanted to go home and take the baby with her.
"So we hand expressed off some milk here which we stored in the fridge and then they decided to stay, which was really good. The medical team treated the baby, the baby recovered which was really good.
"I saw her yesterday at the vaccination clinic with her other baby, and she came up to me and said thank you so much for helping."
She said experiences like that are special moments.
Dr. Scott Wilson, clinical team leader of the N.Z.M.A.T. unit, said without a midwife on hand, the mother may have gone home and taken her critically ill child with her.
"Being able to work through that meant that very sick baby could stay. 
"We never want to speculate about what would have happened if they had gone home but they needed hospital care, they were very, very sick. As a result, we have managed to feed one and treat the other baby.
"There are stories like that, we have had great successes."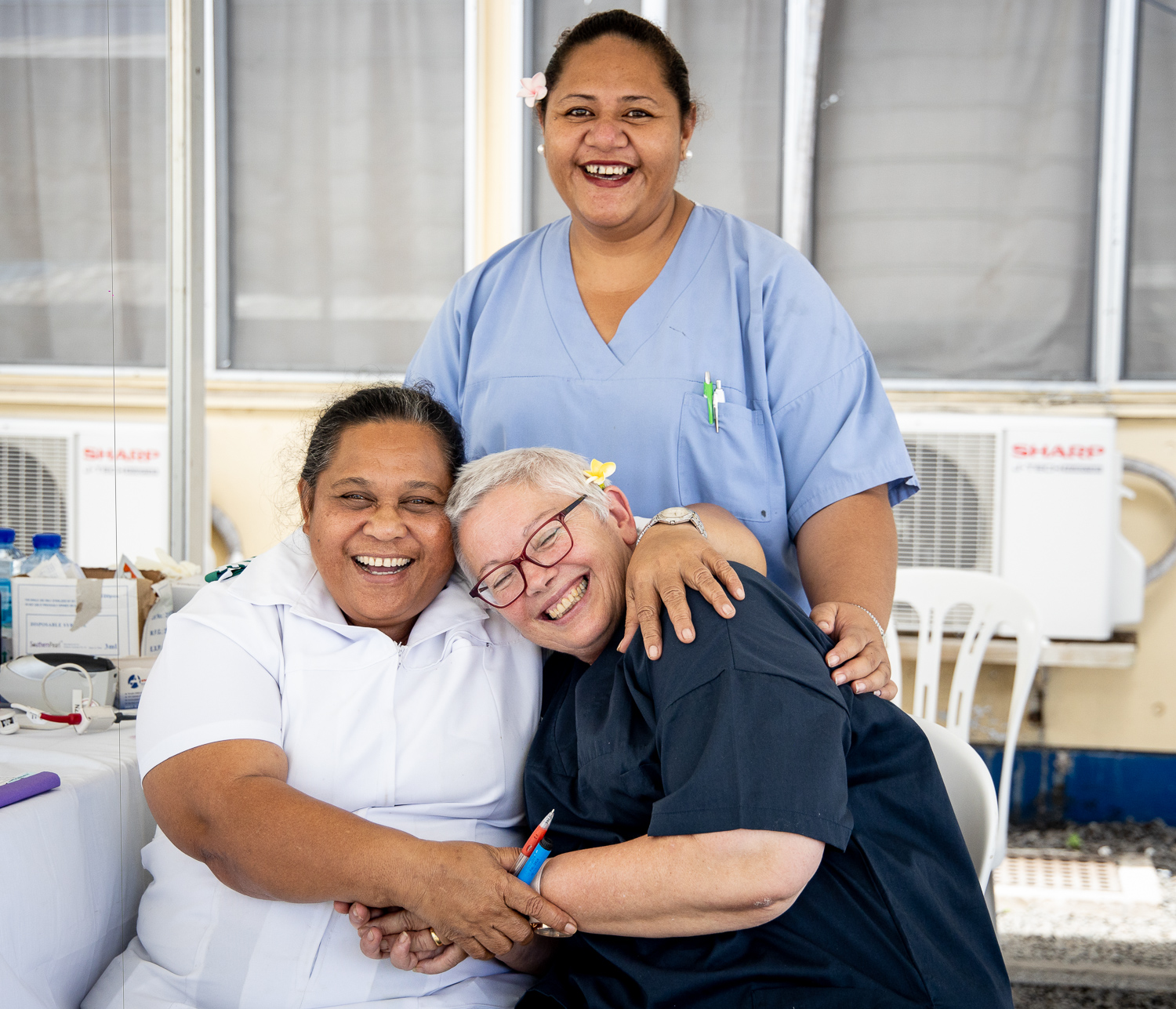 Ms. Diamond said working in the hospital and vaccination clinic over the week has had "swings and roundabouts," but that bringing new children into the world is always joyous. 
"It's always very rewarding and uplifting for everyone in the team when a new baby arrives."
She said no mothers had contracted measles, and that they gave birth in a more isolated part of the Leulumoega District Hospital, which doesn't typically deal with childbirth.
 "If they weren't in established labour they would go to Faleolo or Apia I think," Ms. Diamond said.
"However, the three women were about to have their baby, so we don't send them away on the bus. 
"They stayed in a fairly confined area so they are not in any potential contact with infected people, for their safety as well as the baby."