"It's like you've lost your spirit," Parents share their grief
The grieving parents of three siblings from Lauli'i killed by measles have opened up about the tragedy of having to bury their loved ones.
Tuivale Luamanuvae Puelua and his wife Faaoso Tuivale tell the Samoa Observer they wish they could have substituted their children, Itila, Tamara and Sale, and died in their place.
"I wish I died on their behalf," Tuivale told the Samoa Observer, fighting back tears. "I wish they stayed while I left this world instead. The heart is heavy, full of sorrow but there is nothing that can be done to bring them back."
Two weeks after their children's deaths, the couple is still trying to come to grips with the reality of having to deal with such a cruel blow.
While the outpouring of love and support from so many different people has helped, they say their lives will never be the same.
 "You feel as if you have lost your spirit when two of your own children are taken away from you for good. But it gets worse. When another one dies, you don't know how you feel," said Tuivale.
 "Your mind becomes empty and you are speechless because there are no words on this earth to describe how my wife and I feel about having to say goodbye to our children.
 "My children's deaths came like a thief in the night, so sudden and unexpected. No parent ever wonders when their children will be taken away from them."
The Tuivale children are among 39 people killed by the measles crisis so far.
The 25-year-old mother, Faaoso, said she still questions whether her children could have been saved.
 "My three children who passed away were all sick which was why we took them to the hospital on Sunday evening," she said.
 "Of my three children, the only one the doctor said had to be admitted was Tamara but Itila and Sale were cleared to go home.
Itila was taken back to the hospital the next day. He died three hours after he was admitted.
While they were planning for Itila's funeral for that Saturday, the family was struck another fatal blow when Tamara died on Friday night.
 "I was told by doctors that there was no cure for measles," she said. "My husband came and discharged my son Sale and I from the hospital. We also took him to traditional healers because he was still so sick."
Sale also died.
 "Sale was trying his best to fight but I guess this disease won in the end," said Tuivale.
At the beginning of the month, the Tuivale household was filled with joy and laughter. Today, it is totally different. With three members of the family wiped out by measles, Tuivale and Faaoso are left with their two remaining children, four-year-old Edison and six-year-old Lui.
 "My little ones made the most noise at home," Faaoso recalled.
"It was hard for me tend to daily chores because they were young but now they are gone."
Itila is particularly hard to forget.
 "My father's garden is usually used as a playground for the three-year-old; he would mess up the plants and give his grandfather headaches."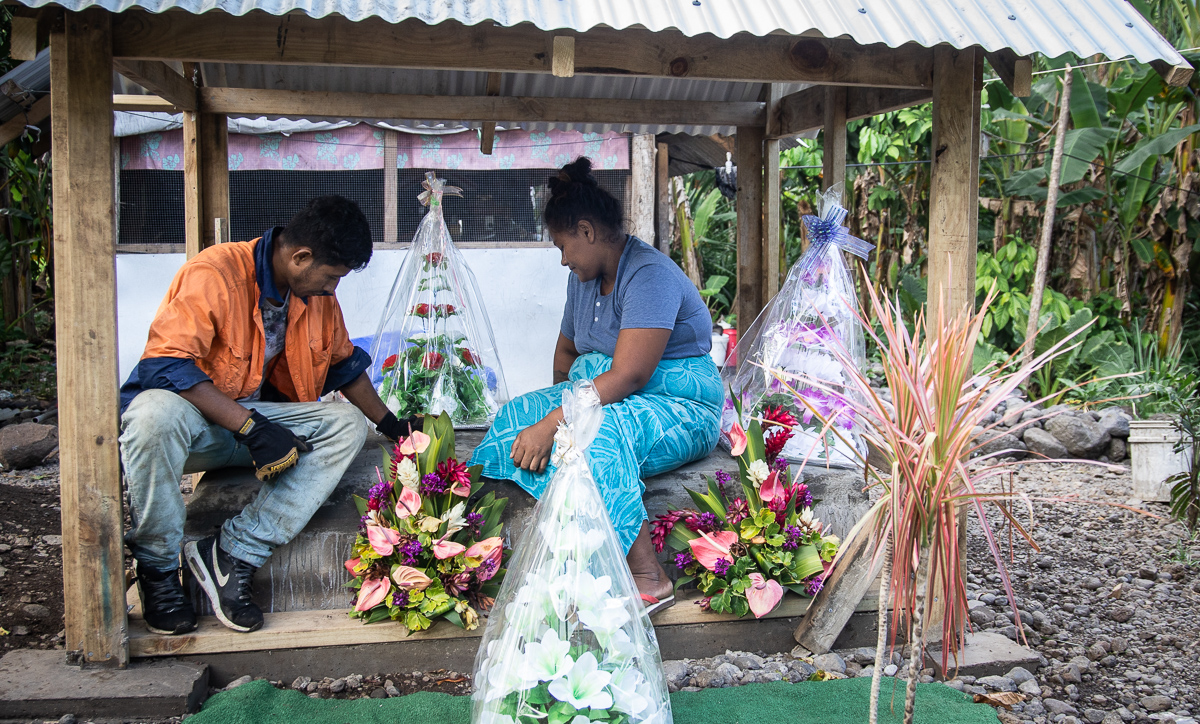 Tamara and Itila were known to be the ones that argued and fought all the time, Faaoso said as she cried, adding that her babies were unforgettable.
 "Sale was the quiet one, he was usually well-behaved, my son could not walk yet while Tamara was the one that could walk," she said.
Despite the couple losing three children their faith in God is still strong and they hope to be reunited with their children one day.
 "I stare at their photos and remember the times when we were all together," said Faaoso. "I also sleep on the graves during day time when I miss them.
 "Itila underwent vaccination but it was incomplete. We stopped taking him for his vaccines when the incident that occurred in Savaii last year where babies died from a human error during vaccination.
 "That also led to the decision not to vaccinate the twins."
Tuivale added that they had hopes and dreams for their babies, especially Tamara.
 "Our family is very poor, we do not have much, and we only have each other," he said.
 "But every time I held Tamara in my arms, I told her that she will be the one to grow up and be a smart and strong woman, but I guess it was not meant to be."
He added that: "I wish Samoa was not affected by this measles disease."
"I am still saddened with what happened, when I took my son Itila to the hospital and they told me he did not have measles. They cleared him to be discharged but he died the next day."