Su'a Suluape mulls retirement
Arguably Samoa's most internationally recognised traditional traditional tattoo artist, Suluape Petelo Alaiva, will make a decision by the end of this week about whether he retires after nearly 50 years. 
Speaking to the Samoa Observer at the International Tattoo Festival on Thursday, the eminent tufuga (traditional tattoo artist) said 2019 was the planned end date for his career, but his final decision will depend on the readiness of his four sons to continue the family legacy. 
Su'a was recognised at the opening of yesterday's three-day International Tattoo Festival for his contribution to preserving tradition through Samoan tattooing in the past decades.
For almost 50 years he has been applying ink using traditional methods but he said he feels conflicted about the subject of his retirement. 
"Well in the beginning that is why the Tatau festival was set up here as I have thought about how my children are now here to continue the work," he said.
"I told myself I should rest and leave the work to be done by my children, but there is still a lot to be done."
Su'a is arguably the most important Samoan tattooist in the world;  he and his brothers have worked assiduously to preserve traditional as new modern approaches emerge on the local tattoo scene.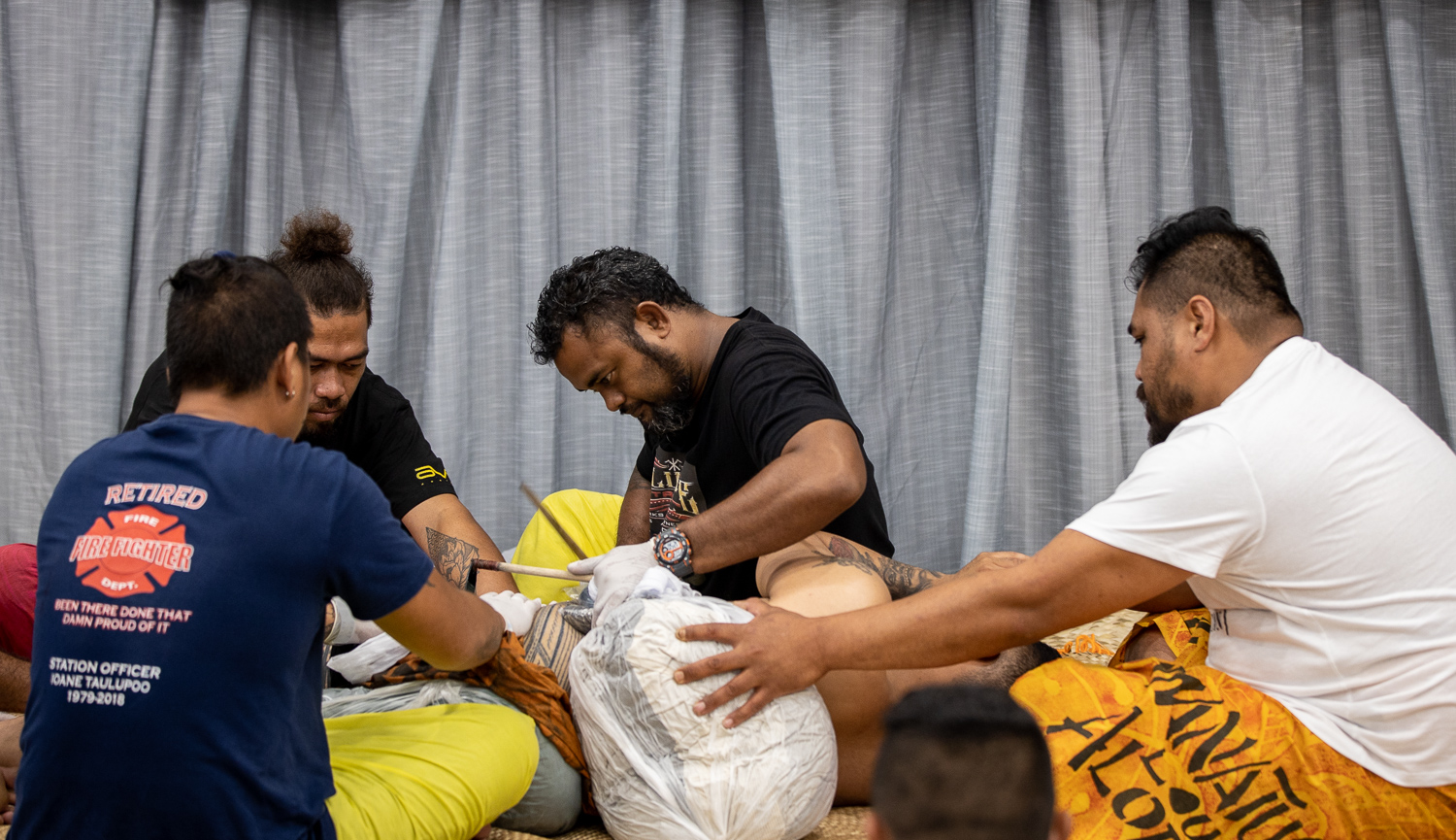 Su'a Suluape said he feels his children are still not fully prepared, and that he should continue to oversee their work, even if he is not doing the tattooing himself. 
"Especially during the times of travel overseas where they get asked about our work [...] these are the areas that I feel my children are not yet well prepared in," he said.
"I need more time to take them around, to have them listen and see so that by the time I leave them the work completely, they know what to do exactly.
"That is why up to now, I still am unsure of what to decide."
The prominent tattooist is from a well-known family congratulated for their years of contribution to the preservation and continuation of the traditional Samoa tattoo, tatau.
Su'a fears for his children's future in the rapidly changing world of traditional tattooing with many others who have entered the markets with new methods and new styles, an issue that has caused controversy because of changes posed to Samoa's 3000 year tatau tradition.
"Right now there are many traditional tattooists around and I think about what would think once they hear that I have retired," he said. 
"I think of what can and will happen between them and my children. Even if I do not do anything but still sit around because once I declare that I'll be resting, I worry that there might be something else behind it.
"Up to now, in my mind, it is just about celebrating 20 years since my older brother passed away and my son's 40th birthday who is also in the traditional tattooing field."
Starting from Thursday until Saturday, a Tatau Festival is being held at the Taumeasina Island Resort which includes a tribute to the Suluape family.
Su'a said the festival could also be the right time for him to hand over the traditional tattooing business to his children.
Currently his younger brother and four sons are continuing the family legacy, plus the others whom he took under his wing to teach the art to.
His vision, along with his family's, is to ensure that traditional Samoan tattooing of the tatau does not end with him but continues to live on and is passed on through generations. 
"In terms of my retirement, I guess the final decision will only be made by Friday night, when [the] showcase finishes," he told  the Samoa Observer.