Faleatiu drug bust
Dozens of undercover Police executed the biggest drug bust in Samoan history on Friday in an early morning operation at Faleatiu that Police say netted about 10,000 marijuana plants, firearms, methamphetamine, ammunition and cash, Police say.
The operation, which began deep in the woods of Faleatiu on Friday morning, led to an armed standoff but ended without any weapons being fired and six suspects being arrested including two women and an escaped prisoner: Uili Manuleleua.

The Police Commissioner, Fuiavailiili Egon Keil, led the operation with the support of 100 police officers performing surveillance and a handful clad in official Police uniform.
Fuiavailiili said they would not have collected that much marijuana if it wasn't for the use of a drone to conduct visual surveillance of the area.

"The operation targeted certain people like escaped prisoner, Suitupe [Faamoe Paufa], and others that are on parole and have reoffended," said the Commissioner.

"We went all the way up top into the woods [where] we have been in 2015, 2016 and this is the most we have ever found in Faleatiu.

"This is about 10,000 marijuana plants and it took us a long time to pull it and carry it from the deep woods of Faleatiu."

The Police are yet to give an estimated value on the plants and other products they seized but the Commissioner said it was the largest drug seizure in Samoan history.
The Commissioner said another prison escapee, Suitupe Faamoe Paufa, was seen by officers who were conducting the raid but managed to evade authorities with another suspect.

The raid began at 6:30 a.m. on Friday morning and was initially handled by about 70 Police Officers.

However, Fuiavailiili said the operation was the biggest in Samoa's history and it required more Police Officers to assist in removing the plants.

"There was a lot of coordination from Police Officers, our intel unit [Police intelligence] and we also used drone which proved to be very effective," he said.

"I'm very happy with the move from the police. They were professional and eager."

Fuiavailiili said Faleatiu is always a dangerous area and the tactical unit were armed for their safety.

He explained the suspects had pointed guns at them but was glad they did not pull the trigger.

"They were armed with high powered firearms pointing at us," he said.

"The tactical team were ready to do what they have to do for our protection.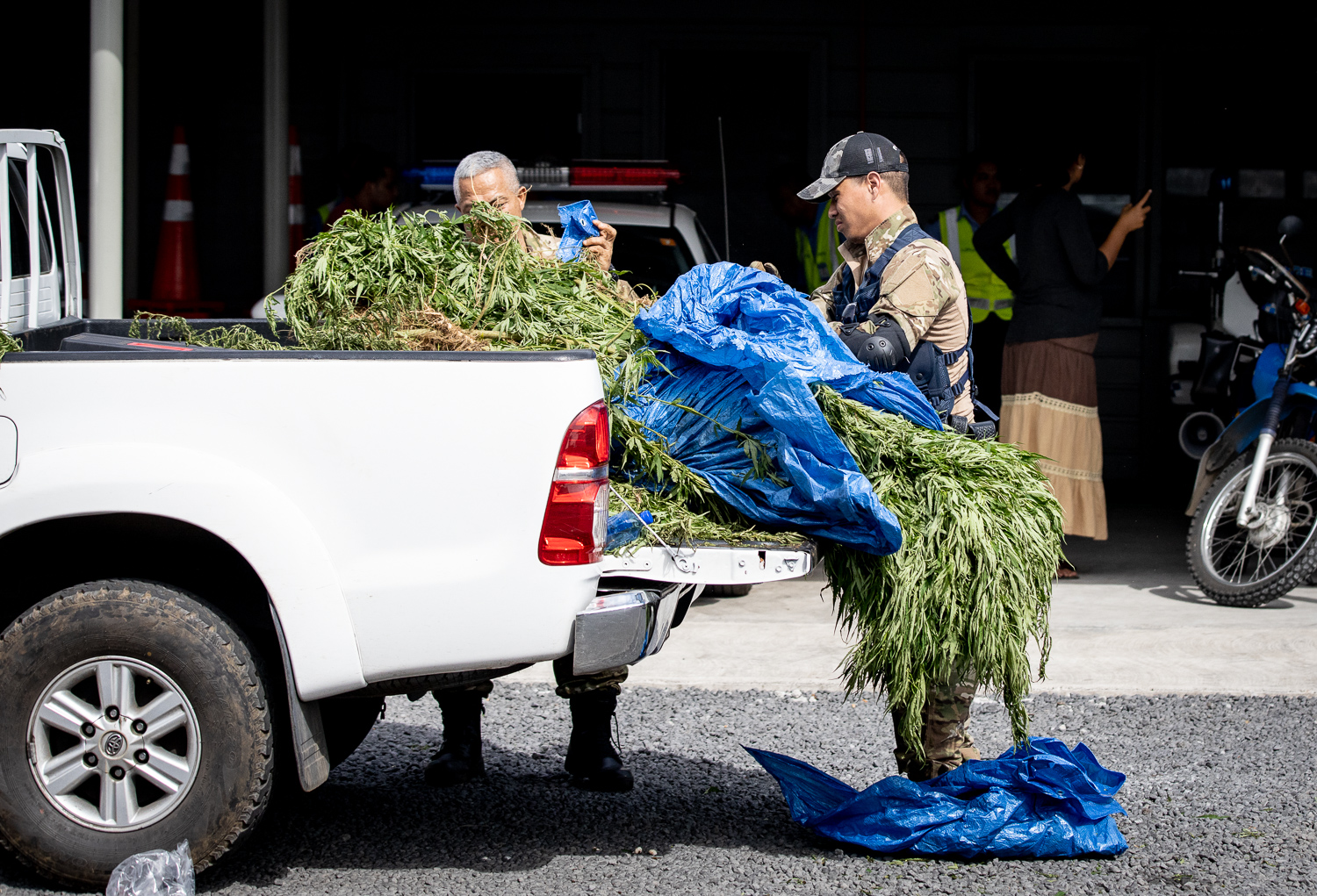 "We don't want to use [our guns] – it is a tool but if we must we will have to but I am glad that no one died or no one was injured. They are all back and safe."

The Commissioner applauded the courage from the Police Officers and acknowledged them for risking their lives to ensure the safety of the community.

About 17 vehicles, involved in the operation, including trucks and a Toyota Dyna, were returned to Police headquarters in Malifa at around 4.30pm on Friday evening after the raid.

About seven trucks were driven in completely laden with marijuana plants, while suspects were brought in under heavy Police guard.

A taxi driver was also arrested and his taxi was brought in my one of the officers.

The prison escapee captured, Manuleleua, had his legs tied and hands cuffed with the other suspects.

Some of the guns that were seized include a 38 revolver and a 12 gauge firearm.

Police say they also seized fertiliser, marijuana seeds, a crack pipe and a significant number of marijuana cigarettes.