Mother and son with extra toes share special bond
Ulimasao Tautala and her four-year-old boy, Archillesdimitri Tamatoa Tenisi, share a special bond.
It's a connection that goes beyond the mother and son bond for the residents of Apolima Island.
Archillesdimitri was born with 12 toes, his mother has 11 toes.
And while some people might give them a strange look, for the mother of three, she considers the condition "a blessing."
During an interview with the Samoa Observer, she said she wasn't always comfortable in talking about it.
 "For my case, I was a bit hesitant to wear revealing shoes when I was a little girl," she said.
"But as I grew up, I realised that it's a blessing to have extra toes and eventually I didn't care what people think of my toes."
It's an attitude she has taken on board with her son, Archillesdimitri, being brown with 12 toes.
Mrs. Tautala said her husband wanted to remove Archillesdimitris' extra toes but she refused.
"I would've agreed if she's a girl," the mother said. "But he's a boy and he's unique is his own ways so I told him and my family that we'll just appreciate my sons' extra toes. It's a blessing."
Archillesdimitri is very popular among the residents of Apolima.
"In this village, he is always running barefoot from house to house. He is the only kid on the island who was born different."
But the toes are not the only aspect that sets Archillesdimitri apart from other village children.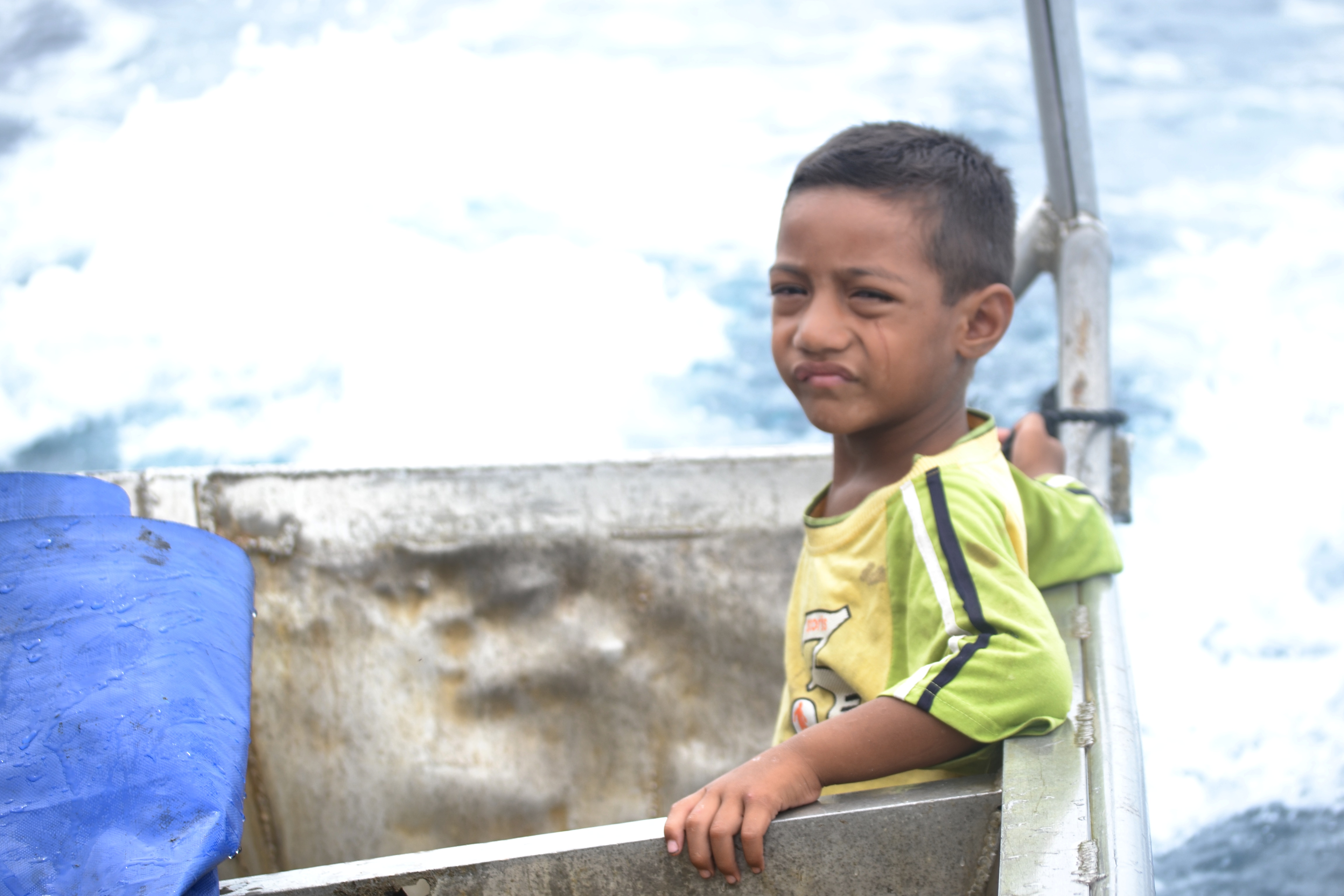 His mother said he is known as the "siren of Apolima" island.
"Our island is very small," she said.
"There are only about ten families on this island. We initially were surprised when families way on the other side told us that Tama woke them up when he cried in the mornings because his voice is so loud.
"That's when we realised that his voice was bit different."
Different he might be but in the eyes of the adoring mother, her son is gift.
"As I said, as long as I'm seeing my boy growing up strong like me, despite the extra toes and his loud voice, he is a blessing."
Asked if the extra toes are part of family genes, Mrs. Tautala said she was not aware of other family members with a similar history.
The family has yet to seek a proper medical explanation for the condition.
In the meantime, Mrs. Tautala said her son loves riding his uncle Tama's boat which transports Apolima villagers to and from the main island of Upolu.
She said that while he is looking forward to going to primary school next year, as caring mother, she feels a bit apprehensive abot it.
 "I'm a bit worried about how my son will be treated in school next year, especially from other students," she said.
"I plan to drop everything when Archillesdimitri reaches five so I can be with him in school at least during his primary school level."
Archillesdimitri is a strong boy, Mrs. Tautala said.
"He hardly gets sick. He has so much energy," she said. "He loves and looks after his Papa Tautaiolevao."
It was not possible to get an official explanation from the Ministry of Health about the issue.
But a senior doctor who spoke to the Samoa Observer said having extra toes is not a disease.
 "It's usually part of a family trait," he said. "From what I know, it is passed down from family members and it can be operated upon, if people want to."