Manusina looking to select best for World Cup qualifier
With the Manusina testing and trials in Samoa, Australia and New Zealand now concluded, coach Ramsey Tomokino will name his squad of 28 for the Oceania Championship next week.
The final trial session took place on Saturday in Auckland; the end of a process which saw over 100 players put forward expressions of interest in playing for the Manusina.
Tomokino said he will be selecting the best players possible that can stick to the gameplan:
"We've got a style of play, at the end of the day what we're looking for is the girls that can execute the basics.
"You've gotta back yourself that you can coach whoever, so long as they've got the basics in terms of being fit, ball-carrying, defending, and game awareness is probably the biggest thing in the women's space."
He said the Auckland trial threw a few good new players into the mix.
"We probably got about four or five gems out of the weekend, possibly a couple more that we haven't seen before, that you can see have got real potential that you can work with," Tomokino said.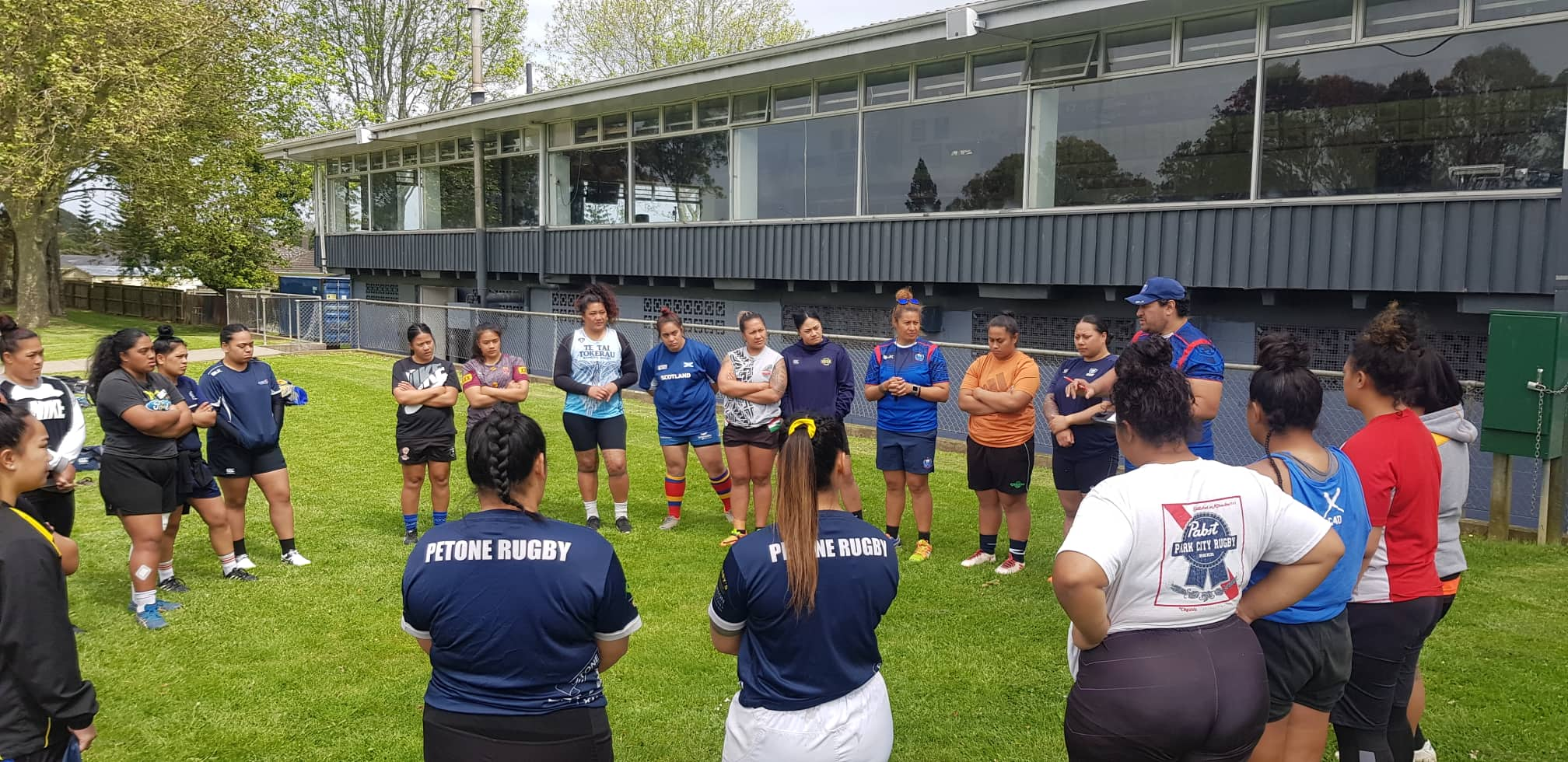 Those players will hopefully add to a core that has been in place since the programme was revived around a year ago for the 2018 Oceania Championship.
"We just need to keep building on that," the coach said.
"All our incumbents that trialled, they were all head and shoulders above most of the other girls."
Although a couple of key players will miss the tournament from the 18th to the 30th of November, Tomokino said the talent pool continues to grow with more girls on the radar:
"We've got a shadow 28 right now, and then we go probably another 10 deep."
He said recruiting players remains a battle though, and it's hard to pull them away from their desire to represent Australia or New Zealand.
"We just want players that wanna bleed blue," Tomokino said.
With the Oceania tournament acting as a World Cup qualifier and the Black Ferns already locked in for 2021, New Zealand have chosen a Development XV to play in Suva.
"We thought we might've had an influx of girls that realised, I'm not actually on the New Zealand radar [having missed out on the Development side]," Tomokino said.
"What will probably end up happening is if we are fortunate enough to qualify, I'm sure we'll get an influx of girls beginning to realise, the World Cup's in New Zealand and we're not gonna be there; they'll wanna be part of it.
"We'll be extremely loyal to the girls that have got us there, that's for sure."
The coach was in Samoa for the national women's championship finals to scout for his Oceania team as well.
"There's still a lot of work to be done there, people have to realise that the Manusina's not development anymore it's a high-performance team, with the funding that's being put into it by World Rugby," he said.
Tomokino said it's similar to the Manu Samoa in that players have to be picked from everywhere in order to maximise the talent available:
"We've got a player in London that's put her hand up, a player in Hong Kong, players out of the U.S. as well that have been part of the trial process.
"We're searching far and wide to get the best that we can get."
The preparation of a few players will be affected by their participation in the Oceania Sevens tournament as well, scheduled for the 7th to the 9th of November.
Tomokino said there are three or four what would have been key players who risk going into the 15s campaign fatigued or injured:
"We'll just have to wait and see if we can select any of them if they come through injury-free from the sevens.
"We have to plan to probably not have those girls… there's a high risk that we won't get them at 100%."
He said they'll need to give their best for the 7s, and wished the Manusina and Manu Samoa 7s all the best for the tournament and potential Olympic qualification.
The Manusina 15s will gather on the 12th of November and have a hitout against New Zealand A before their Oceania Championship commences against Papua New Guinea on the 18th in Lautoka, Fiji.
Also competing are Australia A, the Black Ferns Development XV, hosts Fiji and Tonga, and with Australia and New Zealand having already qualified for the 2021 World Cup, placing above everyone else would see Samoa qualify.