Faafetai Samoa!
Samoa Observer journalist Ivamere Nataro is leaving Samoa after two years on staff. This is her fond farewell. 
It is said all good things must come to an end, and they do, but something one can do in spite of that is to treasure every moment while it lasts. 
That sums up me and my experience working in the media sector in Samoa. Two years ago I joined Samoa's biggest newspaper company, the Samoa Observer, and my home became the breezy hills of Vaitele. 
Two years was one hell of a roller coaster ride.  I left Fiji in 2017 with the mission of broadening and deepening my knowledge of journalism, reporting from a respected regional media outlet and to learn as much as I could from other journalists. 
All these I did. 
Having to work alongside and learn from respected journalists such as Editor-in-Chief Savea Sano Malifa, who fights for media freedom, and Editor, Mata'afa Keni Lesa, was an honour. 
In the span of two years in Samoa, journalists have come and gone at the Samoa Observer newsroom leaving footprints in my life that continued to help and challenge me as a journalist. 
While my experience in the media back at home was having veteran journalists being part of the editorial team, at the Samoa Observer we were young with little or no journalism background at all, but two things you can count on are the enthusiasm and eagerness for us to report and investigate better than we did the previous day. 
At first it wasn't easy being a foreigner and reporting on issues with phone calls being ignored, e-mails not answered and interviews turned down because of communication barriers. But the tables turned and I am glad that I have established connections with top bureaucrats in Samoa. 
Leaving the comfort of the chair, computer and air-conditioned office in Vaitele to listen to the plight of ordinary citizens in rural dwellings always melts my heart as they smile through their struggles. 
It wasn't always a ray of sunshine for the editorial "A-Team", as we like to call ourselves, as transport, photographs and food always ignited the sleeping giant in us, and usually left us laughing at the end of the day. 
Early in 2018, our work colleague Ilia Likou passed away and this was the most painful and saddest part for me as her death took a part of me, even to such an extent that I thought of leaving Samoa. 
But reflecting on why I chose to travel and work in Samoa kept me taking a step at a time and now I am glad I never made the choice of quitting knowing there's a reason why things happen. To know Ilia for a short a time when I joined the Samoa Observer reaffirmed my faith in God.  For those of us who worked with her in the newsroom, it is no doubt she still holds a special part in our lives and work.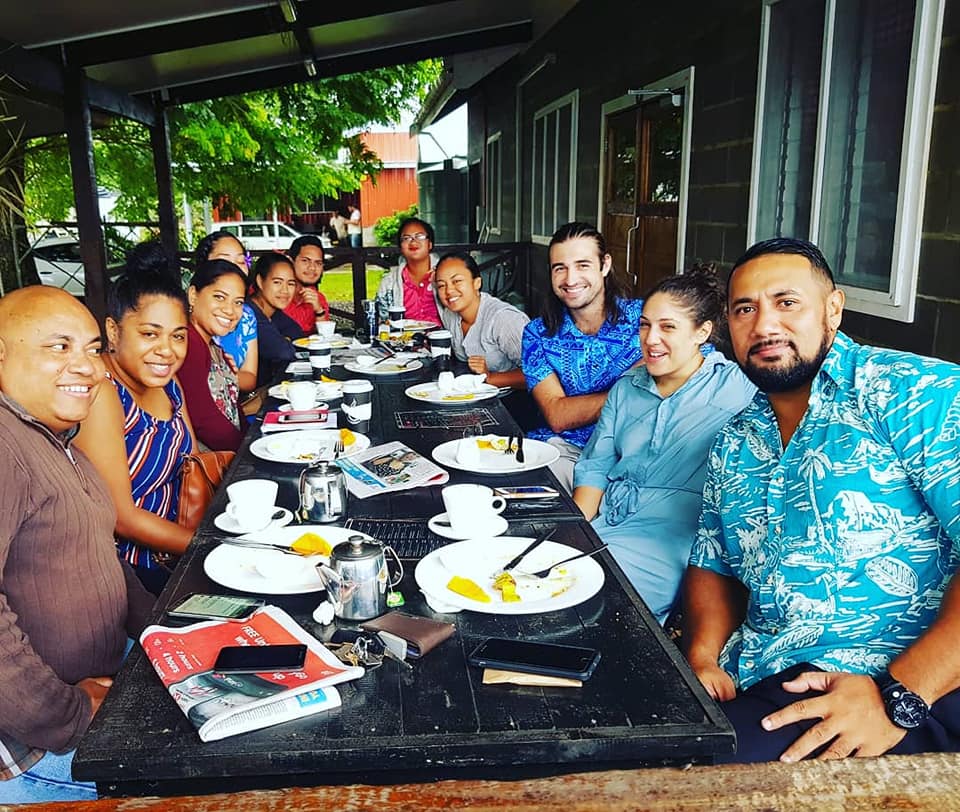 You might think homesickness would naturally follow being away for two years, but it didn't actually in my case. 
I found a family in the newsroom team, the Samoa media fraternity and Samoa's Fijian community. Friendships were created that will last for a life time and for sure will allow us to cross paths again in this Blue Pacific Continent. 
If one thing always made me feel closer to home it was the Samoan culture. History tells that Fiji is a Melanesian country because of our skin colour and Polynesian in our culture. 
And I was blessed with the opportunity to experience and be able to testify to that: attending ceremonial gatherings and witnessing the exchanging of traditional gifts and the use of words such as "tulou" (excuse me), traditional kava ceremony among other cultural norms and historical tales that connect my two "island homes". 
I must say the highlight of my two years in Samoa was having the opportunity to cover the two weeks Pacific Games. It was actually my first big sporting event as I have always reported on news and business, and I enjoyed it. 
The Games theme - One in Spirit - resonated well with how the A-Team covered the more than 20 sports at the Games, overcoming all the hurdles with less sleep, late nights and meals on wheels to keep readers of the Samoa Observer updated on all the events. 
It was the most exciting two weeks for me - and no doubt all of Samoa - as the country delivered a world class sporting event with less than two years of preparations. 
Getting to meet people from other countries, overseas media teams and learning the gist of every sport I covered were among the perks of being employed in Samoa. 
Even more exciting was the fact that we instantly got three stories just like that without having to wrack our brain even in our sleep thinking of leads for the next day's edition. 
But then again, if you have ink in your blood and you believe in the power of the pen, you would not have it any other way. 
Which is exactly what I look forward to every morning, because while it's a new day, there is the challenge to do better than yesterday. 
I now leave Samoa with so many memories that I will surely treasure throughout my life, and to share with family and friends back home. 
From the trips with friends, covering major conferences, laughter and getting told off for making too much noise at the office with work colleagues, hunting and eating food in the office, after work drinks, media gatherings, and forever teasing each other, I will treasure them all. 
Samoa you have been a great host and certainly the pearl of the Pacific. I would be lost for words if I had to try and describe your beauty. Your country of close to 200,000 people and their hospitality will forever be scarred in my heart. 
Thank you to the Samoa Observer Publisher, Muliaga Jean Malifa, and management for the opportunity to be part of your team. 
To the Editorial team that I will dearly miss – Mataafa, Alexander Rheeney, James Robertson, Joyetter Luamanu, Lanuola Tupufia Ah Tong, Adel Fruean, Sapeer Mayron, Thomas Airey, Soli Wilson, Jotham Ulutoa, Rie Naia, Misiona Simo, Vaitogi Asuisui Matafeo and Aufa'i Areta Areta, thank you for shaping me into the journalist I am today. You have all played a part in my life and I will treasure memories I shared with you all. 
How can I forget the layout, production and delivery teams, who in their own ways, always make me laugh even after a hectic day. 
Until next time, faafetai tele lava and tofa soifua Samoa.