Samoa's clean energy progress wins plaudits from neighbours
Ministerial representatives from across the Pacific have praised Samoa as a regional leader on energy policy after securing half of its 2025 goal for a complete transition to clean energy. 
Delegates from the fourth Regional Energy and Transportation Ministers Meeting were given a site tour of some of the nation's renewable projects on Friday. 
The acting General Manager of the Electric Power Corporation (E.P.C.), Fui Mau Simanu, said Samoa has made significant progress on clean energy adoption when compared to the region: 
"It goes without saying that Samoa is the leading island as far as renewable penetration is [concerned]," he said. 
"We are about 50 per cent renewable penetration, and that is very very impressive when we compare to other islands. So that was the main purpose for these delegates to see for themselves what we've done and what we have achieved so far."
Jone Usamate, Fiji's Minister for Infrastructure, Transport, Disaster Management and Meteorological Services said he was impressed by the depth of Samoa's energy policy. 
"Some of the things we have here in terms of the way that you tie up all the solar and renewable energy and the diesel fuel and how they all integrate together so that they'll work much more coordinated, to optimise the amount of energy that uses renewable energy, is very impressive," he said.
"It's very good, there are battery systems that we have here, they're very good, [and] we don't have anything like this in Fiji.
"It's good to see you have [a] long term plan, a road map and that you have implemented it, very glad to see that."
Projects toured by Ministerial delegates on Friday included, Fuluasou Small Hydro Plant, National Control and dispatching area, Tuanaimato Race Course Solar System and Battery Energy Storage System, Fiaga.
Green energy are derived from renewable sources, meaning they are replenished naturally and relatively quickly. These natural resources including wind, water, sunlight, and geothermal heat can supply the entire country's energy needs.
Mr. Usamate said consistent efforts by Pacific nations to reduce greenhouse gas emissions were now bearing fruit. He added that there might be aspects of Samoa's energy policy Fiji want to adopt but that would be contingent on finances. 
"Everything here requires funding; it is always a critical feature," he said.
"I'm glad to see here in Samoa that around 15 per cent of your power is from independent power producers, which is good; that is something also need to see how we can get more people to invest into power generation, so that it is not just Government.
"[There are] lots of ideas, but we will come together and see which ones we can look to implement in Fiji.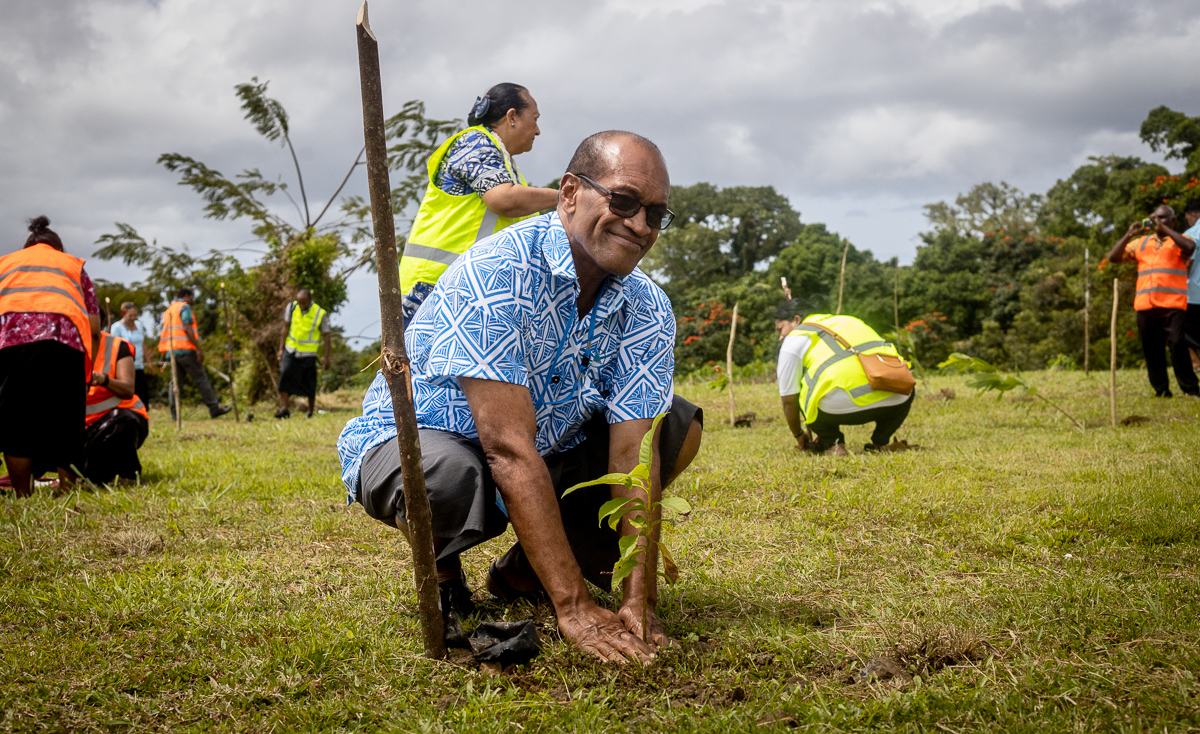 The Republic of Kiribati's Minister for Infrastructure and Sustainable Energy, Ruateki Tekaiara, echoed similar comments.
"With this site visit that we [saw] a lot of solar farm [and] that takes up a very big mass of land, so in Kiribati we have a problem because of the land, we have a land issue so, how can we implement the same project for solar panels," he said. 
"I'm not [interested] in hydro, we have no river or something like that but the diesel, they have four big diesel generators and that's got big power in Samoa.
"A lot of new things and we have to decide to adopt the same story same project that we can."

Niue's Minister of Infrastructure and Transport, Pokotoa Sipeli said their country also has a solar panels feeding the grid for the country, but it is nothing compared to Samoa.
He also emphasised the need to "up skill" workers in the energy sector in Niue.
"The workers here, they have well trained qualified people, compared [to Niue]," said Mr. Sepeli.
"Like the manager said, we need training of people and upskill; that's what I picked out. We lack of that. 
"Because of the new technology but the up skilling of the workers, [we are] behind. They have to go hand in hand."
Fui, the E.P.C.'s acting General Manager, said the utility was totally confident of achieving the national target. 
"100 per cent by 2025, we are as confident as we can be," he said.
"As we tell ourselves that we have a target and we make sure we work and keep working to get to that target, even if we don't get it, but at least we are making an effort to make sure we get there."
Fui also said that the week long fourth Regional Energy and Transportation Ministers Meeting has been very successful from the E.P.C.'s point of view.
"Nobody has a technical solution to everything, and from E.P.C.'s point of view because we are the technical people that do all these things [... and it is really good to] then meet with other technical experts at the meetings to share ideas and experiences and look at how we can improve ourselves," he said. 
"And we compare ourselves to what other people are doing, like other island, like tonga, Fiji and what they have done, what have we done and what can we do better."
To top off their site visits, the delegates also planted trees to contribute to Samoa's target of 2 million trees by 2020.